I'm not really a baker, but even I can't mess up this recipe.
Easy Chocolate Fudge Cake
It's incredibly decadent and buttery from ... oh, I don't know ... maybe the THREE sticks of butter in the recipe. I never said this is a healthy recipe. It is cake, after all.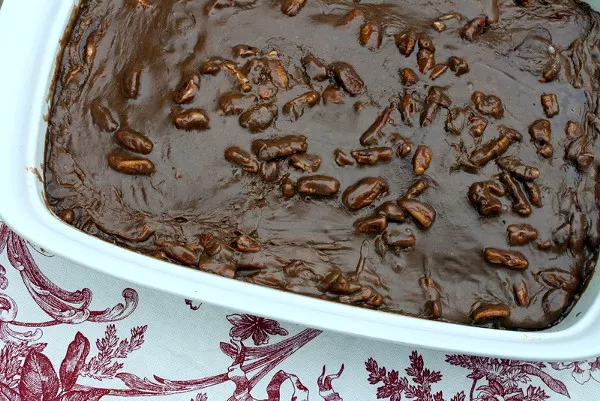 This cake recipe is a family favorite passed down from my grandmother to her daughter and daughter in-law (my aunt and mother), and now I'm sharing it with you. Let's hope this wasn't supposed to be a family secret.
I'm not worried; my grandmother doesn't use the Internet anyway. And if you tell her, I'll deny we ever had this conversation.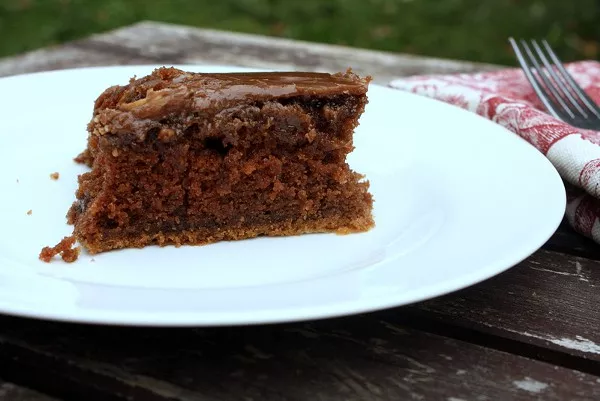 Gooey Goodness of a Piece of Cake
EASY CHOCOLATE FUDGE CAKE (serves 12-16)
This decadent cake is the ideal recipe for you chocoholics that aren't bakers. It's super easy and super fudgy.
CAKE INGREDIENTS:
2 cups unbleached all purpose flour
2 cups sugar
2 sticks butter (1 cup)
1 cup water
3 Tablespoons cocoa powder
2 eggs
1/2 cup buttermilk
1 teaspoon baking soda
1 teaspoon vanilla extract
non-stick spray or butter
extra flour for pan
ICING INGREDIENTS:
1 stick butter (1/2 cup)
3 Tablespoons cocoa powder
1/4 cup + 2 Tablespoons milk
1 (1 pound) box powdered sugar
1 cup pecans
1 teaspoon vanilla extract
DIRECTIONS
CAKE DIRECTIONS:
Preheat oven to 400 degrees F.
Sift flour and sugar together into a large bowl.
Bring butter, water, and cocoa to a boil in a medium sized pot. Stir well to combine once butter has melted.
Pour butter and cocoa mixture over the flour and sugar mixture. Beat eggs in a separate bowl.
Add buttermilk, baking soda, and vanilla to bowl, and stir well to combine. Add eggs to the batter last and stir well.
Grease a 13 x 9 baking dish with non-stick spray or butter. Sift a small amount of flour (<1/4 cup) evenly over the baking dish. Pour batter evenly into dish and bake for 20 minutes or until a knife inserted into the center comes out clean.
ICING DIRECTIONS:
In a large pot, bring butter, milk, and cocoa powder to a boil, stirring well to combine once butter has completely melted. Remove from heat and add powdered sugar, stirring well to combine. Add nuts and vanilla and stir well. Pour over hot cake.
NOTES:
I used 2% milk because I've never seen anything less than whole milk at both my grandmother's and aunt's houses. Instead of buttermilk, I poured 1 Tablespoon of white vinegar into a 1/2 cup mixing up, then filled it the rest of the way with milk. It set for about five minutes before I added it to the recipe. This can be used anytime as a substitute for buttermilk.
Also, make sure you don't make the icing too soon because it needs to be hot to properly pour over the cake. Wait until the cake is done or almost done before starting on the icing.
This cake has been made plenty of times sans nuts for you nut haters (what's wrong with you people?) so feel free to make this modification, if you must.
Kelly Davis is a blogger, freelance writer, food enthusiast, and native North Carolinian. When she's not training for a race or cooking something delicious in the kitchen, she's writing, reading, snuggling her dachshund, or plotting her next project. You can keep up with Kelly's antics and recipes on her blog, Foodie Fresh.