Wandering around the new Whole Foods Market on Sharon Road is like taking a trip to an amusement park for foodies. Bountiful produce and free samples abound. Alluring displays delight shoppers around every turn from the impressive bulk goods section to the incredible cheese selection. From olive bar to wine bar to hot bar, it's a feast for the senses.
If you happen to make it down the midway of food that stretches from the wine bar to the cafe seating, you'll want to fill your biodegradable cup with one of the coolest offerings in the place: gelato made in-house for the Whole Foods Market gelato bar.
I caught up with Ashley James, the espresso bar supervisor and pastry chef turned gelato master for details. I came at a good time, James tells me, because the gelato bar is usually packed out by customers ogling at the eye-catching selection of gelato flavors.
House favorites include salty caramel, cookies & cream and stracciatella, a classic Italian flavor featuring vanilla gelato laced with chocolate. Seasonal flavor lovers can enjoy egg nog and caramel apple cider, the latter a creation James is proud to call her own. And then there are vegan and dairy-free, palate-cleansing sorbets, like the pineapple with basil. A phenomenal choice, by the way.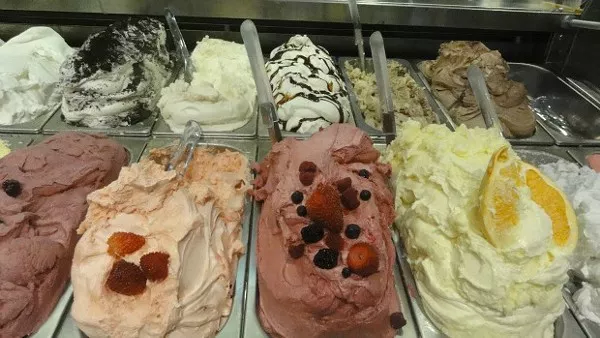 Gelato-making is a collaborative effort. James says the entire coffee bar staff knows how to make the stuff and they are given creative freedom to test different flavors and develop new recipes, some which get passed on to other Whole Foods stores.
The gelato bar is one of the most popular stops in the store and the staff prepares batches in the wee hours of the morning so customers can indulge in their favorite flavors each day.
One bite of my stracciatella took me back to Rome where I indulged in gelato at least twice a day. Those little spatula spoons and brightly colored cups filled to the brim with soft, creamy gelato. Of course, the gelato at Whole Foods still comes second to my Italian experience, but it's the closest thing I've found in the Queen City.
"Italians know what they're doing," says James, "we're just adding an American twist to it."
Bravo, Whole Foods!
Keia Mastrianni-McGrath loves to tell stories about local food products and the people behind them. When she's not scouting out local discoveries, she's steadily working in her vegetable garden, spending time in the kitchen and nosing through cookbooks. She maintains a happy food blog called The Sunnysideup where she shares recipes and her culinary adventures.