Tonight, Halcyon will host the Foggy Ridge Cider Dinner, pairing Foggy Ridge hard ciders with Chef Marc Jacksina's creative dishes.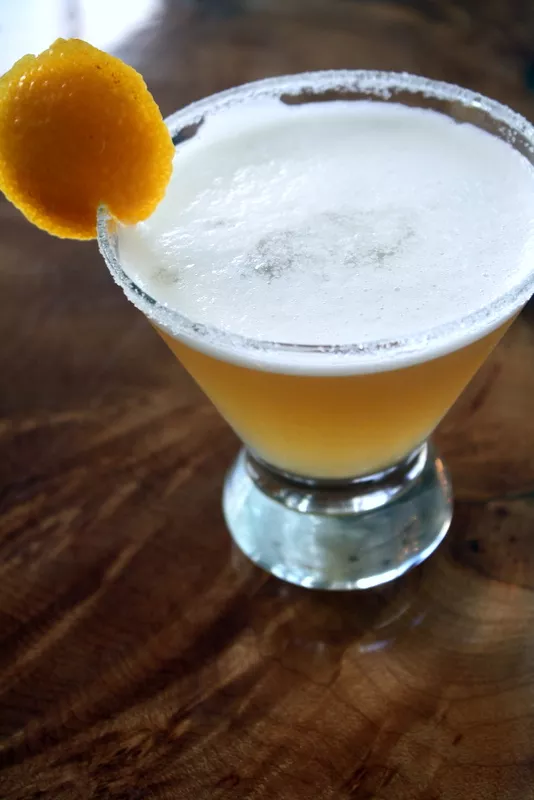 Cider Side Car with Serious Cider
The first pairing on the menu features this Cider Side Car with Serious Cider with a Pumpkin Marrow Bisque. Mixologist Maggie Rupert has graciously provided the recipe to this "serious" cider cocktail so you can make it yourself at home.
Don't let the egg white deter you. This is a popular ingredient that makes the cocktail frothy and, according to Rupert, the alcohol kills any bacteria that may exist in the egg white.
The combination of orange oil and mulling spices reminds me of my mother's Russian tea that I drank on cold days growing up. Except her version with Tang was a little less fancy than this drink, which uses orange oil straight from the orange.
This slightly tart and sweet cocktail goes down easy.
CIDER SIDE CAR
with Serious Cider (serves 1)
This slightly tart and sweet cocktail goes down easy and pairs well with a cheese plate as a pre-dinner treat.
3 oz Carriage House Apple Brandy
1/2 oz Foggy Ridge Serious Cider
1/4 ounce Domaine de Canton
1/4 ounce house made mulling spice syrup**
1/4 ounce lemon juice
1 egg white
1/4 cup sugar (for rimming the glass)
Orange peel
Combine ingredients in a shaker, then shake very vigorously to achieve the froth.
Use a lemon or orange wedge to rim the glass with its juice. Pour sugar onto a plate and dip glass, rim side down into the sugar. Turn a few times to rim the glass with sugar. Pour contents of shaker into the glass.
*Carriage House Apple Cider, which is made in Lenoir, N.C., is available at Charlotte ABC stores.
**Halcyon makes their muling spice syrup in house, but you can purchase simple syrup or make your own using this recipe. Pre-mixed mulling spices can also be purchased this time of year at many grocery and specialty food stores, as well as Amazon.
For the orange flavoring, see below.
Light orange peel on fire and allow the orange oil to drip into the cocktail.

The orange flavoring in this drink is acquired through natural orange oil. To achieve this, simply cut a silver dollar size piece of orange peel from an orange. While holding, use a lighter or match to light the orange peel, while holding over the cocktail to allow the natural orange oil to drip into the cocktail. This also makes for an impressive party trick that is actually quite easy to achieve.
Orange oil is very powerful, so a few drops will do. Cut a small slit into the corner of the orange peel and use as garnish (as pictured above). No need to stir the cocktail; it is now ready to be enjoyed.