We all know the scenario: You head into your favorite Latin restaurant swearing to abstain from those crispy fried tortilla chips and salsa. Before you know it, you're flagging down the server with your greasy little hands asking for more chips. Four baskets later, you're slouching in the booth, hoping no one can see you unbutton your pants as you wait for the main course.
Well, guilt be gone! El Paraiso Restaurant in Cornelius is selling authentic homemade tortilla chips for the best kind of eating: unabashed face-stuffing in the privacy of your own home.
El Paraiso serves authentic El Salvadorian food in a quaint mom and pop restaurant anchoring a strip of retail shops on the cusp of Cornelius and Davidson. Carmen Cruz, the "mom," has been attracting hungry customers since 2004 with authentic recipes she knows only by heart, a talent she acquired from years of cooking for her family of nine. Jose Cruz, aka "Pop," works the front of the house with one of his seven daughters, Elizabeth Cruz.
The Cruz family began selling their tortilla chips two months ago after receiving a phone call from Wes Shi, manager of the Know Your Farms produce stand inside the 7th Street Public Market, asking if the family would consider selling their chips for retail. Word had traveled the seemingly long distance from Lake Norman to Charlotte through a few loyal customers who raved about the chips.
Since then, El Paraiso has been making fresh batches of tortilla chips daily to bag and sell for retail. Elizabeth Cruz tells me that El Paraiso offers two varieties of chips: a baked version and a fried version, which they sell in large plastic bags or smaller, brown bagged versions for individual consumption. Of course, chips without salsa is like peanut butter with no jelly. Sacrilege.
Not to worry: El Paraiso has a small refrigerator stocked with quarts and half-quarts of authentic "Cruz salsa," traditional tomato salsa freshly made with tomatoes, onion, cilantro, jalapeno and lime juice. You know the kind: pureed to perfection for the perfect chip-dipping consistency.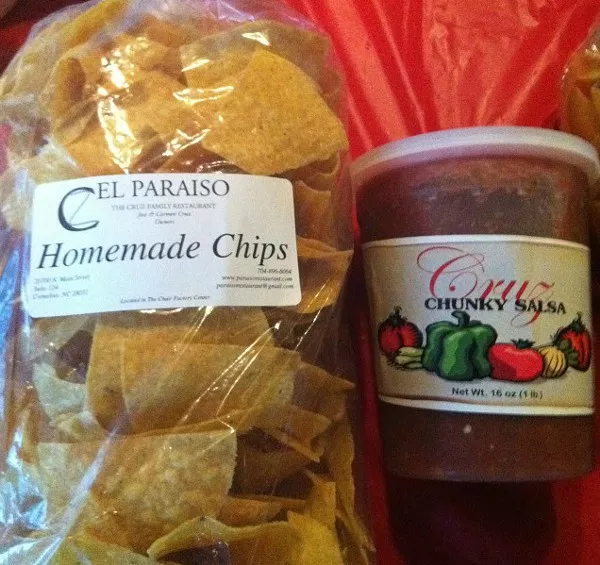 When I visited El Paraiso, Elizabeth Cruz sent me home with a bag of homemade tortilla chips and a quart of salsa. The tortilla chips didn't last long, and since then, the salsa has graced every meal from eggs at breakfast to pork chops at dinner. Get your own batch and do with it what you will.
There's no judging behind closed doors.
El Paraiso is located at 20700 North Main Street in Cornelius. They are open seven days a week 10:30 a.m. until 9:30 p.m.
Keia Mastrianni-McGrath loves to tell stories about local food products and the people behind them. When she's not scouting out local discoveries, she's steadily working in her vegetable garden, spending time in the kitchen and nosing through cookbooks. She maintains a happy food blog called The Sunnysideup where she shares recipes and her culinary adventures.