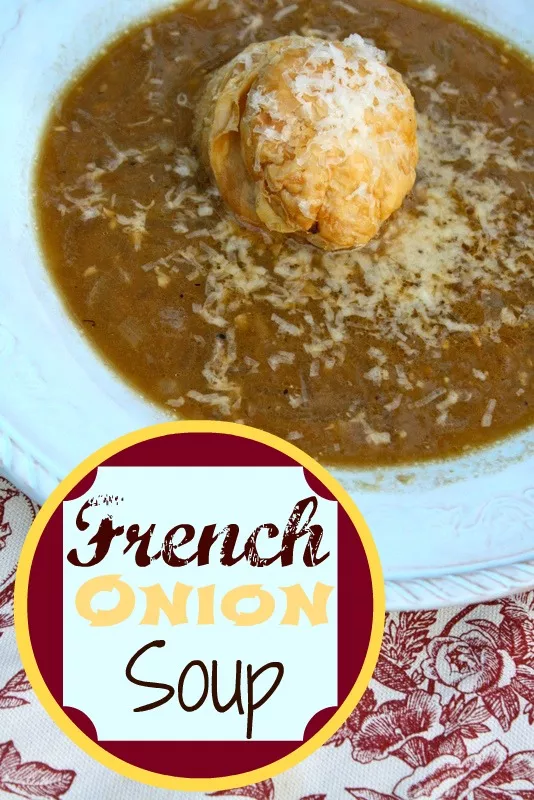 Bonjour!
If everything is going according to plan, I am in Provence right now and hopefully about five vineyards in with more on the agenda.
And most likely, I have also had a slurp or two of this classic French soup — French onion soup.
This soup is so deliciously aromatic, you'll attract visitors as you make it. Even our friendly neighborhood bunny, whom we have named Chester, showed up to see what I was stirring in my large pot of fragrant onion deliciousness. See the bunny in the photo?

Traditional French onion soup is served with a hunk of baguette in the center, sprinkled with Gruyere cheese. But I found a lump of puff pastry long forgotten in my freezer and thought that this was an excellent time to use it. After all, who doesn't love a thick, flaky, crouton in the center of their soup to soak up all that delicious broth?

FRENCH ONION SOUP (serves 4 as a meal, 6-8 as an appetizer)
8 cups beef broth
2 bay leaves
6 sprigs of fresh thyme
2 cups sweet yellow onion, chopped roughly
2 Tablespoons garlic, minced
4 Tablespoons salted butter
2 Tablespoons all purpose flour
2 puff pastry sheets
1 cup Gruyere cheese, finely shredded
Pour the broth in a large pot with the herbs and bring to a simmer. Allow to cook for at least 30 minutes.
Meanwhile, in a large pan, heat the butter on medium heat and once it is almost completely melted, add the onion and the garlic. Stir the onion regularly, cooking on medium heat slowly, until the onion is a rich golden brown.
Use a slotted spoon to remove the sprigs of thyme and bay leaf from the broth and discard. Add the onions to the broth. Quickly whisk in the flour to thicken. Continue to simmer the soup for 15 minutes, while it thickens.
Preheat oven to 350 degrees F. Fold puff pastry so that it is doubled. Use a round cookie/biscuit cutter to cut 4-8 pastry circles (depending on how many you are serving). Grease a small baking sheet with butter or oil. Place puff pastry on the sheet and cook for about 15 minutes or until pastry has fully puffed and has turned golden brown on top.
Ladle soup into bowls, placing a puff pastry round in each bowl. Garnish with plenty of of Gruyere cheese.
Kelly Davis is a blogger, freelance writer, food enthusiast, and native North Carolinian. When she's not training for a race or cooking something delicious in the kitchen, she's writing, reading, snuggling her dachshund, or plotting her next project. You can keep up with Kelly's antics and recipes on her blog, Foodie Fresh.