I arrived just in time to grab a seat at the bar and sneak into what looked like an impromptu tasting with two other guests. A tall, jovial gentleman dressed in the appropriate "behind-the-bar" black tee lined up a row of colorful bottles and began pouring shots of bright liquids- lime green, fuschia and orange.
"This one has beets, carrots, apples, oranges, lemon and ginger," he said.
He takes a small satisfied sip and begins to tell us about the benefits of beet juice, how it purifies the blood and works wonders on the circulatory system, not to mention the kidneys and liver.
I was belly up to the VIVARaw Juice Bar, located inside the 7th Street Public Market. Production Manager and new crew member, Jason Krueger, was walking us through the selection of fresh-pressed raw juices neatly labeled and bottled in the shiny, new coolers behind him.
Working quietly behind Krueger, his back facing the group, was a much more subtle presence. Scott Harris, the brains behind VIVA Raw, was discreetly tending to the daily affairs of his newly hatched business.
VIVARaw opened last October and recently joined the mélange of local food producers in the 7th Street Public Market just eight short weeks ago. Harris left a lengthy corporate career to dive into his new endeavor, a passion he stumbled upon after using raw juices to heal his own medical conditions.
"I didn't know what to expect," says Harris.
To his surprise, the response has been overwhelmingly positive with the majority of the buzz coming from word of mouth. Nodding quietly in the corner was Libby Harris, Scott's mother, who, along with Scott's father, helps to support the business behind the scenes.
VivaRaw will soon be moving their production kitchen into what Harris calls a "vegan commissary," a shared kitchen space with Nourish, a vegan food delivery service, and Chelly's Cakes and Pastries, a vegan baker. In addition, Harris has Krueger managing production and product development (choppin' broccoli, anyone?) along with a raw foods chef who has added food items like raw granola and kale chips to the menu.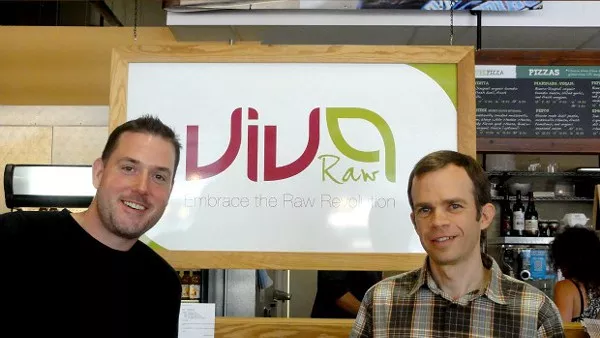 "I feel like Charlotte's ready for this," says Harris of the movement toward healthier living. Krueger attests to that fact. He's lost more than 100 pounds since making a decision to add more plant-based foods into his diet.
Carrying my sack of fresh-pressed juices, I couldn't agree more. Viva la vegetable, gentlemen!
VIVARaw Juice Bar is located inside the 7th Street Public Market and currently delivers fresh-pressed juices for Charlotte-area residents. They also offer three- and seven-day cleansing programs.