Easter Sunday is a mere three weeks away, so what better time than the present to learn classic recipes typically served during Easter lunch.
For the next three weeks, I'll be sharing some of the foods that remind me of my family's traditional Easter lunch, starting with my very favorite — deviled eggs.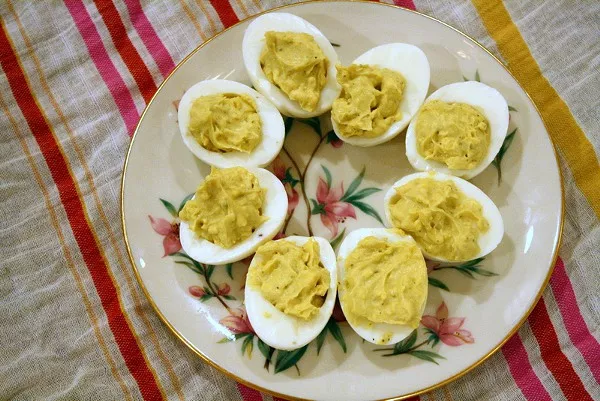 I have always been a HUGE fan of deviled eggs. I like all forms of eggs, but this way is my very favorite. Besides Easter, deviled eggs are typically served with dainty finger foods at parties. But they're so tasty and easy to make, they really can hold their own for almost any occasion.
My version is very simple and may be missing a few ingredients some other versions you've tasted. That's exactly the way I prefer my deviled eggs — simple. But additions are easy to make based on your taste preferences.

DEVILED EGGS (makes 24)
2 Tablespoons vinegar
1 dozen eggs
1/4 cup mayonnaise + 2 Tablespoons
2 teaspoons prepared mustard
1/4 teaspoon salt
1/4 teaspoon pepper
Fill a large pot half full with water. Add vinegar to water and stir to combine. Place eggs carefully into the pot of water and cover with a lid. Put on a stove and turn heat to high. Bring water to a boil, then reduce to a simmer. Allow water to simmer for 15 minutes.
Turn the heat off and remove the pot from the stove. Use the lid of the pot to keep the eggs in the pot while pouring the water out. Pour cold water over the eggs and allow the eggs to set and cool for 10-15 minutes.
Remove eggs from the pot. Peel the eggs by cracking them gently on a hard surface several times, then carefully removing the shell with your fingers. Slice each egg in half, through the yolk. Use a spoon to gently remove the yolk from each eggs, placing the yolks in a medium sized bowl.
Add mayonnaise, mustard, vinegar, salt, and pepper to the yolks and stir, breaking the yolks up with your spoon. Stir quickly until the yolk mixture is completely combined and smooth. Carefully scoop about a tablespoon of the yolk mixture into the cavity of each egg.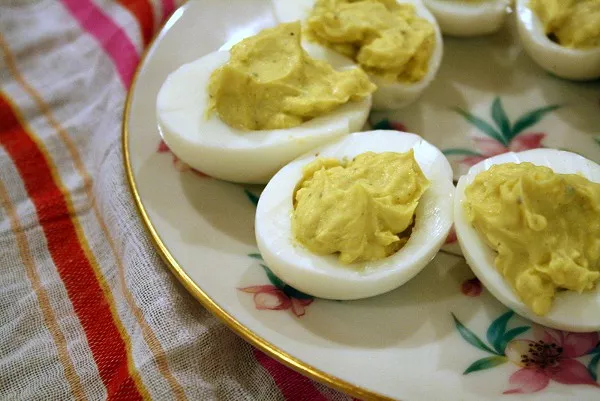 If simple deviled eggs are not your thing or you want to be a bit creative, here are a few ways to spice things up:
Mix ins -
- Paprika
- Curry powder
- Pickle cubes (relish)
Toppings -
- Diced bacon
- Minced jalapeño
- Chopped smoked salmon
- Finely chopped roasted red pepper
What's your favorite dish served on Easter Sunday?
Kelly Davis is a blogger, freelance writer, food enthusiast, and native North Carolinian. When she's not training for a race or cooking something delicious in the kitchen, she's writing, reading, snuggling her dachshund, or plotting her next project. You can keep up with Kelly's antics and recipes on her blog, Foodie Fresh.