The Capital Grille kicked off their second annual Artist Series this past Monday featuring a 2007 Cabernet Sauvignon.
The limited-edition wine, specially made for The Capital Grille, was designed by Atalon Vineyard's winemaker Thomas Peffer and The Capital Grille Master Sommelier George Miliotes.
The bottle label is unique as well – it features a painting called "Pairings," done by artist Patricia Timbrook who won The Capital Grille's art competition.
I was lucky enough to try the wine last night. The wine itself is delicious. Bold, robust, and smooth without too much bite. The wine pairs great with any steak on their menu, and as well as items such as the citrus salmon, according to our waitress.
Try the wine with the Flourless Chocolate Espresso Cake – the jammy flavors of the wine pairs perfectly with the bittersweet dark chocolate cake and berry sauce. And being the pig that I am, I tried it with the Creme Brulee Cheesecake too... It was great with that as well.
The Charlotte restaurant only carries 16 cases of the Artist Series Cabernet Sauvignon, so get there fast. $25 of each bottle purchase will go to benefit Share Our Strength® to end childhood hunger in America. Each bottle sells for $75.
What's kind of neat is that once you are done with your bottle, your waiter/waitress can remove the label and laminate it for you to take home. If that doesn't cut it and you want your own print of the painting, you can enter a raffle to win your own full-sized version.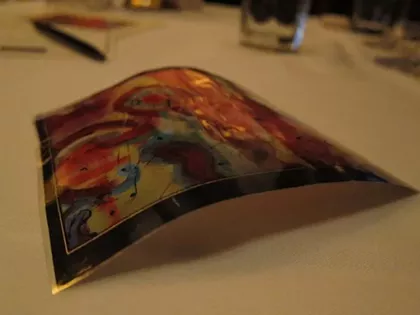 18 slides