(To check out the accompanying list of the Best & Worst Movies of 1984, go here.)
In James Cameron's The Terminator, the title character, played with steely grit by Arnold Schwarzenegger, saunters into a police station. After he's summarily blown off by the desk sergeant, he looks around, leans forward and — in a now-classic quip — plainly states, "I'll be back."
Truth be told, he never really left us. Thirty years later, The Terminator continues to serve as an influential barometer in not only science fiction cinema but also as a pop-culture touchstone, a defining moment that remains recognizable no matter which way the zeitgeist twists and turns. Yet Cameron's killer cyborg hardly stands alone.
When film scholars and buffs mull over the topic of the best year in film history, the answer is almost invariably 1939. Certainly, a movie year that gave us (among others) The Wizard of Oz, Gone with the Wind and Stagecoach deserves its exalted status, and other select years in the 1940s through 1970s have been singled out for celebration.
But what of 1984? As a whole, the cinema of the 1980s has often been downgraded, doubtless in association with the general disdain many often direct at the era. Sure, the '80s gave us Manimal, "Sussudio" and Reaganomics, but it also gave us Hill Street Blues, "Billie Jean" and ACT UP. The same dichotomy applies to its movies: Yes, it polluted the world with such turkeys as The Garbage Pail Kids Movie and Leonard Part 6, but any 10-year stretch that produced the likes of Raging Bull and Ran hardly deserves to be tossed under the bus.
Still, for all the fine films that were released throughout the decade, the greatest compilation would arguably belong to 1984. It's an assertion shared by Sam Shapiro, who as program coordinator and film programmer at the Charlotte Mecklenburg Library will launch a summer series devoted exclusively to that year. (The series kicks off May 24 with a screening of the baseball drama The Natural.)
"I had already been planning to do a series of programs at various libraries around the CML system that would focus on the George Orwell novel 1984 and the movie version that had been released in 1984," explains Shapiro. "While researching this program, I seemed to stumble almost accidentally upon the amazing and diverse releases of 1984. Obviously, I was alive 30 years ago, and I had seen many of these movies when they were first released, but one never seems to realize or fully appreciate the sum effect of a specific year's releases until many years afterward."
Adam Frazier, a CL contributor as well as a film writer for the entertainment website Geeks of Doom, agrees and points to 1984 as the birth year of an assortment of pop culture icons: "The Terminator, Freddy Krueger, Indiana Jones, Gizmo (Gremlins), Mr. Miyagi (The Karate Kid), Peter Venkman (Ghostbusters), Spock (Star Trek III: The Search for Spock), Atreyu (The NeverEnding Story) and Jason Voorhees (Friday the 13th: The Final Chapter) dominated the box office. To paraphrase Dr. Venkman, 'They came, they saw, they kicked its ass!' Hell, even Wolfgang Amadeus Mozart kicked some ass!"
Indeed, it's the diversity that made 1984 such a standout year. "In retrospect," says writer-director and former Charlottean Mark Young (The Killing Jar, Phreaker), "there are some really good films spanning every genre and category. Independent films, studio blockbusters, cult flicks, classic comedies and even breakout hits."
Paramount

Eddie Murphy in Beverly Hills Cop
Several genres rose to the top, particularly the comedy. That's reflected in the year's box office, which found that the two biggest moneymakers were Beverly Hills Cop, starring Eddie Murphy, and Ghostbusters, with Bill Murray, Dan Aykroyd and Harold Ramis. Murphy had already made the successful leap from Saturday Night Live to movie stardom thanks to 1982's 48 HRS. and 1983's Trading Places, but it was his turn as transplanted Detroit cop Axel Foley that launched him into the stratosphere. Interestingly, the movie was fashioned as a straight-up action vehicle for Sylvester Stallone, but once the actor walked, Murphy was signed and the film was turned into a comedy. (In current film news, Murphy will reprise his role in Beverly Hills Cop 4, slated to hit theaters in 2016.) Ghostbusters, meanwhile, also benefitted from an SNL connection with that show's alumni, Murray and Aykroyd, and its mix of humor and sci-fi resulted in a gargantuan hit.
"Ghostbusters is my all-time favorite comedy; it's just so goddamn funny," enthuses Frazier, who, incidentally, was born in 1984. "The cast is incredible, and it has more quotable lines than the Bible."
Suitable for family audiences, Ghostbusters was rated PG, while the more violent and profane Beverly Hills Cop earned an R rating. But the next two flicks on the moneymaking chart didn't fit comfortably in either designation, and thus a new rating from the Motion Picture Association of America was born.
Paramount

Harrison Ford in Indiana Jones and the Temple of Doom
In the summer of 1984, Indiana Jones and the Temple of Doom, directed by Steven Spielberg, and Gremlins, produced by Spielberg, were released within a couple of weeks of each other — and both were rated PG. With its scenes of ripped-out human hearts and chilled monkey brains, Temple of Doom was deemed too intense for its benign rating by scores of adults, and when Gremlins appeared with its scenes of rampant destruction and one critter being pureed in a blender, many felt enough was enough. Thus, the MPAA, reportedly at the suggestion of Spielberg himself, introduced the PG-13 designation, with the explanation, "Parents strongly cautioned. Some material may be inappropriate for children under 13." Today, that rating is still going strong, with far more titles earning that designation rather than PG (which is now barely considered better than a G in terms of getting teens and young adults into theaters).
Along with the expected box office champions, 1984 witnessed an unusually strong crop of prestige pictures. The Academy of Motion Picture Arts & Sciences is frequently criticized for its selections, but I daresay there wasn't a weak link in that year's Best Picture roster: The Killing Fields, A Passage to India (David Lean's last film), Places in the Heart, A Soldier's Story (co-starring Denzel Washington in only his second feature-film appearance) and the winner, Amadeus. Other ambitious titles included Francis Coppola's The Cotton Club, Hugh Hudson's Greystoke: The Legend of Tarzan, Lord of the Apes, and Peter Hyams' 2010, the sequel to Stanley Kubrick's 1968 masterpiece 2001: A Space Odyssey.
Warner Bros.

Tom Hulce (right) in Amadeus
1984 also featured a nice mix of old and new faces at the box office. Only two years after starring in the TV sit-com Bosom Buddies, a fresh-faced Tom Hanks found himself with two commercial hits in Splash and Bachelor Party. Future Oscar winners Jennifer Connelly and Colin Firth made their film debuts in, respectively, Once Upon a Time in America and Another Country, while future superstar Johnny Depp made his as one of the teen victims in A Nightmare on Elm Street. And while many established stars bombed in movies nobody wanted to see — Paul Newman in Harry & Son, Albert Finney in Under the Volcano, James Garner in Tank, Richard Burton in 1984 (the Welsh actor died a few months before the film's release) — Robert Redford scored with The Natural while Clint Eastwood had a decent hit (and even earned Oscar buzz for his performance) with the thriller Tightrope.
Most of the aforementioned movies haven't dated in the least, but the same can't be said of other titles. On one hand, there was the slew of pictures seeking to capitalize on the breakdancing craze, among them Beat Street, Body Rock and Breakin'. The last-named was successful enough that a sequel came out before the year was even over. That would be Breakin' 2: Electric Boogaloo, which failed to match the success of its predecessor but at least contributed an unforgettable moniker to the annals of film history.
There were also the teen movies, headlining various young stars who would collectively come to be known as "The Brat Pack." Chief among these were Molly Ringwald and Anthony Michael Hall, who starred in writer-director John Hughes' seminal Sixteen Candles; Rob Lowe and Ally Sheedy, paired in Oxford Blues; Demi Moore and Jon Cryer, tag-teaming in No Small Affair; and Judd Nelson, flying solo in Making the Grade. And let's not forget John Milius' right-wing wet dream Red Dawn (incidentally, the first film to receive the new PG-13 rating), which found young hunks Patrick Swayze, C. Thomas Howell and Charlie Sheen fighting off invading Russkies.
Of course, mainstream movies were only part of the year's story. While 1984 was disappointing in terms of foreign films (partly because such international giants as Akira Kurosawa, Federico Fellini and Werner Herzog had no new titles hitting our shores), it was a sterling year for independent cinema, with writer-director Jim Jarsmusch experiencing a breakthrough with Stranger Than Paradise and John Sayles earning raves for The Brother from Another Planet. And while the film wouldn't officially be released until 1985, Blood Simple hit the film festival circuit in 1984, thereby introducing the country to the sibling team of Joel and Ethan Coen. But it was the emergence of two other indie projects that particularly earned notice from filmmaker Mark Young.
"I would have to pick Alex Cox's Repo Man and Wim Wenders' Paris, Texas as both my favorite films of 1984 and the most influential to me as a filmmaker," Young reveals. "These movies shared two things: the amazing Harry Dean Stanton and the personal realization that small independent film could be a powerful voice and art form, and potentially something I could do myself."
Still, the presence of such potent indies back then leads to a bittersweet realization now.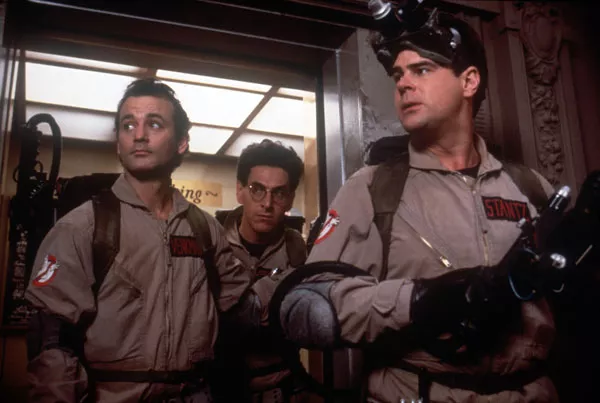 Sony

Bill Murray, Harold Ramis and Dan Aykroyd in Ghostbusters
"It's very disappointing to compare the diversity of film available to an audience then and now," Young continues. "While the studio blockbusters like Ghostbusters still dominated the box office, at least there was room for small independent films with a niche audience. The art-house market seemed to still be alive and well in 1984. For example, The Gods Must Be Crazy took in $30 million. A South African comedy with no recognizable stars would probably never see a stateside theatrical release at all today."
While The Gods Must Be Crazy indeed turned out to be the most out-of-left-field sleeper hit of 1984, proving so successful that it led to a sequel, other offbeat offerings didn't fare as well. Yet a lack of financial success can have the positive effect of propelling quirky films toward cult status, and that's what happened with several 1984 releases. Night of the Comet, The Adventures of Buckaroo Banzai Across the 8th Dimension and the aforementioned Repo Man may have failed to light up the box office, but all have developed sizable cults over the years. None, however, could match This Is Spinal Tap, the "mockumentary" that in 2003 topped Entertainment Weekly's list of the "Top 50 Cult Films of All Time" (yes, even placing above The Rocky Horror Picture Show).
This Is Spinal Tap proved to be one of the more influential films of 1984, leading to a hefty number of similarly styled mockumentaries over the years. Yet other titles from this important year could also lay claim to inspiring the creation of future pictures. Sixteen Candles found youth flicks shifting away from merely functioning as teen sex comedies and actually exploring the feelings of its protagonists (The Breakfast Club, Pretty in Pink, St. Elmo's Fire). And A Nightmare on Elm Street breathed fresh life into the stale slasher film concept.
"Wes Craven's A Nightmare on Elm Street shook up the slasher sub-genre by introducing a colorful, charismatic boogeyman in Freddy Krueger," says Frazier. "Like Arnold's Terminator, everyone knows Robert Englund's fedora-wearing child killer. With his red-and-green striped sweater and finger knives, Freddy Krueger became a beloved oddity of the '80s and remains one of the most entertaining horror icons. The idea that Freddy came for you in your dreams was the perfect hook and caused children of the '80s, myself included, a lot of sleepless nights."
Still, if there's one film that stands above all in terms of its influence, it would have to be The Terminator, Cameron's propulsively exciting tale of a cyborg sent from the future to the present day to murder the mother (a terrific Linda Hamilton) of the future resistance leader. Schwarzenegger was already on the rise as a box office draw, and this only helped speed along his ride, more so after the film became an even greater smash on video.
And yes, the rumor is true: Cameron considered O.J. Simpson for the role of the Terminator but ultimately felt audiences wouldn't accept him since he was "too nice." That, more than anything on screen, is what marks the chasm between 1984 and 2014.