When Jasiatic Anderson was a kid growing up in Charlotte's Hidden Valley in the late 1980s, she would sneak out of her mom's house, take the No. 11 bus down to Tryon Mall and rifle through the vinyl bins at Shazada Music, looking for the perfect beat — the latest from the Real Roxanne, Eric B. & Rakim or Culture Club.
"Tryon Mall was popping in the '80s. It was the place to go. It was where you went to get your pump jacket, your Michael Jackson jacket, your Madonna gloves," says Anderson, who just goes by Jasiatic when she's throwing her Su Casa parties, or cooking up soul-affirming vegan and vegetarian fare for her food business Eat Your Bliss, or shooting photos for local media outlets.
"Effortlessly cool." (Jasiatic photo by her 14-year-old son Sundiata Machen)
Right now, Jasiatic is sipping hot tea at Central Coffee, wearing a black All Saints top, with purple highlights in her hair, purple-painted nails and oval-shaped earrings resting against her mocha skin. If you frequent Plaza Midwood or NoDa, you know Jasiatic: She's the woman with the ever-morphing hairstyles, body full of spectacular tattoos and sometimes intricate designs painted on her face. Jasiatic is walking, talking art.
"She's probably the coolest motherfucker I have ever met in my life. Just effortlessly cool. Cool comes out of her pores," says Carlton Hargro, the former Creative Loafing editor who partnered with Jasiatic in 2011 to bring Su Casa (then Mi Casa) out of her NoDa loft apartment and into the now-defunct South End club Dharma Lounge.
Su Casa's current casa is at Petra's on Commonwealth Avenue, and it's there that Jasiatic kicks off her eighth year of the party this week. The first Su Casa of 2018 will feature resident DJ Justice along with DJ Steel Wheel on the back patio. As always, the funky and soulful rhythms of Afrohouse and Afrobeat will snake their way through other African-based musical traditions, and regulars will be dancing to it. A face-painter will be on hand to color up the vibe, as will artist Dammit Wesley, who does live-painting performances. There will be film, photography and vendors of all kinds.
Jasiatic's vision for Su Casa has always been rooted in the music of the African diaspora — the deep rumble of drums and bass, the soulful stuff that comes primally from the heartbeat of the continent, sounds that have spread with the people of African nations to places as far afield as Paris, Munich and the Caribbean. Su Casa events are often themed — sometimes around African musical figures like Fela Kuti, the great Nigerian singer, saxophonist and political activist who introduced Afrobeat to the larger world, and sometimes legendary American musicians such as Stevie Wonder. It has long been Jasiatic's mission to introduce this music to people who may never have heard the sounds that are at the root of the most popular music we hear every day on the radio.
Su Casa's first tribute to Fela was in February of 2013.
"There are people who don't know what Afrobeat is; they've never been exposed to it, they've never heard of Fela Kuti," Jasiatic says. "And it's exciting to see them discover this music. It's exciting to see them come into this space where they may have had stereotypes around certain things, and watch them have fun."
Jasiatic may not be the first art impresario to throw multimedia events in Charlotte that are both fun and educational, but she's certainly one of the more influential black women on the city's underground scene. Since she launched Mi Casa out of her home in 2010, other younger generations of women and men of color have been inspired by her.
In an interview with CL's Kia O. Moore last year, Amitabha said that he had frequented plenty of parties Charlotte when he was younger, but "it was not until I went to Dharma Nightclub in 2011 that I saw a really diverse crowd and the focus was solely on nothing but the music. Dharma showed me that it was possible to find a crowd in Charlotte that was really into just the music and the fun."
If Dharma's giant, headphone-wearing Buddha and relaxing ch'i helped Amitabha find his place, Jasiatic showed him how music and art could be combined into a larger lifestyle and worldview. Not only does she bring her encyclopedic knowledge of African-based sounds to her happenings, but she brings her life philosophy: she's vegan, she homeschools her children (who were ages 5, 7 and 10 when she started Mi Casa), and she's always incorporated social justice into her events. "Jasiatic influenced my thoughts on parenting, nutrition, community leadership and cooperative economics," Amitabha says.
To Hargro, it's the "economics" bit that's the key to Jasiatic's success. "For all of her cultural acumen, she is also one hell of a businesswoman," Hargro says. "That's one of the reasons I wanted to work with her at all. She's not a head-in-the-clouds type. She's creative, but practical and sharp as hell."
Jasiatic (center) and friends at a 2011 Su Casa event. (Photo courtesy of Su Casa)
In the Hidden Valley of her youth, Jasiatic learned early on that she was different from her peers. For one thing, her parents were not religious people.
"I've found over the years that growing up non-Christian was kind of atypical for the South," she says. But though her parents did not take her to church, her grandmother did. Jasiatic would tag along to House of Prayer, where she heard brass bands and other sacred sounds. "My grandmother also would play Mahalia Jackson for me," she says.
Jasiatic absorbed those sounds, as well as those she heard on trips with her parents to New York City to visit other family members. "I can remember hearing Kurtis Blow for the first time in New York, and coming home and talking about it," Jasiatic says. "It was just so interesting to watch the birth of the hip-hop movement, something that's influenced so many people around the world."
After high school, Jasiatic studied at N.C. State University before transferring back home to UNC Charlotte, where she earned a degree in African Studies. After graduation, she immersed herself into community work — teaching, cooking, life-coaching.
But those early trips to New York had given Jasiatic a lifelong case of wanderlust, and she began traveling on her own — to other countries, where she could dig more deeply into the music and culture of the African diaspora. "When I travel, I find these different spaces and find my vibe or my home in terms of dancing and music," she says. "And so I'm going to all these different places, I'm dancing, I'm having fun — and then I come home and I can't find that same vibe here."
She wanted to dance in Charlotte, too. She wanted to dance to the music in her head and in her heart; the music she knew people danced to in other cities and countries. She looked around her space at Highland Mills on North Davidson Street and had an epiphany.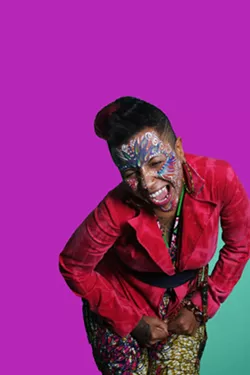 Su Casa's first 'CL' promo in 2011.
"I had built a loft inside the structure, and we had a good amount of space," she says. "So I said, 'I'm gonna start a house party! This is what I want to do. I want it to be a safe space for dancing and music and art, and a space where children, my children, could come, too.'"
She called a friend, DJ Justice, who has become Su Casa's longtime resident deejay. "And so we started throwing these parties," Jasiatic says, "and people were actually coming — to the point where the cops were getting called all the time."
Her first Mi Casa event drew about 20 people, Jasiatic says, but quickly expanded to more than 100. At the time, Charlotte was exploding, and music establishments of all types were getting pushback from some residents, who complained to the city council and got noise ordinances passed. They complained even louder about house parties.
Jasiatic already knew Hargro and told him about her condundrum one day. "He said, 'Why don't you do it at a club?' I said, 'Yeah, yeah.' And he said, 'And why don't I come on and I'll handle this part of it and that part of it, and we'll do this together?' So we did."
Hargo takes credit for helping, but hastens to point out that Su Casa is 100-percent her vision. "Jasiatic is the living embodiment of Su Casa," he says. "The event has her DNA all over it — from the music to the art, etc. It is her."
Jasiatic sips her tea and slowly exhales. We're discussing her imprint on Charlotte's music scene and she's gotten a little tongue-tied. While she's heartened to see younger black and brown people taking more control and getting things done here, she warns that all is not hunky-dory in the city.
Dupp&Swat's Davita Galloway posed for this poster for a 2013 Su Casa.
"I'm always happy to see more black and brown people, and more women, pushing boundaries with different types of music," she says, but adds that it's important not to forget the barriers that have held people of color back from doing things in Charlotte in the past — barriers that are still very much intact. She points to the struggles of nightlife pioneer Bunny Gregory, whose Underground events spurred a wildly creative hip-hop scene that continues to grow, while police harassed her, and her venue was eventually shuttered. And Davita Galloway, whose art space Dupp&Swat serves so many Charlotte creatives, and yet last year it got pushed out of NoDa, the result of gentrification. (Dupp&Swat has since moved to The Plaza in the Belmont neighborhood, and opened a second location at Camp North End.)
"When you're from a place, and you've been here for a while, it's very important to be honest about things," Jasiatic says. "I think sometimes when people..." She pauses. "How do I phrase this? I'm a proud native, but I'm also very aware of the constructs that have stood in front of creatives."
What Jasiatic would like to see is more black-owned spaces. "I think it's very well-known to all of us that, you know, there are people around us who help — they help and they give opportunities to us and all that," she says. "But if there's one thing that I would like to see, it's more ownership in Charlotte in terms of brown and black people."
More ownership would mean more opportunities to not have to feel unsafe in certain spaces, Jasiatic says. She refers to her travel experiences again. "When I've gone to parties in other cities, where there are thousands of people [in venues], and you know security is not going to be harassing people; it's a very safe space, and that is the norm, and it's OK..." She trails off. "I just don't always see that in the venues in Charlotte."
When I ask if Jasiatic has considered opening a space of her own, she shakes her head in the affirmative. "But first I gotta slow down a little bit and give myself a chance to figure out how that could happen," she says. "It's definitely something I'd love to do, but you know, Charlotte is also very tricky in terms of real estate. There are so many walls and areas around ownership that. . ." She trails off again. "Well, you know."
For now, Jasiatic would like to see more different kinds of music in Charlotte — music that may not fit into Su Casa's format, but that's new and adventurous and still created by black and brown people.
"Su Casa is a space for certain kinds of Afro-genres to thrive, but there's so much other music that I'm still not hearing here," she says. "I'm in the process right now of figuring out how to get some of that going. Like black indie music in general — not just indie rock, but all the black indie-soul genres that are outside of R&B that we just haven't created spaces for yet."
Turns out the little girl who once snuck out of her mom's house to go rifling through the vinyl at Shazada Music hasn't changed all that much. Jasiatic Anderson still has a voracious appetite for discovering new frontiers and sharing her riches.