Our country is stark-raving crazy.
But you knew that.
Our city, on the other hand, is getting a little saner. Just a little.
Should we thank the president for this? In some ways, perhaps. The inauguration last year of the man who will remain unnamed in this editor's note was one of the greatest motivators we've had in recent years to stand up and demand sanity. But not just in Charlotte — in cities all across this great nation.
For the second year in a row, women and their male allies descended on Charlotte's First Ward Park by the thousands on January 20. They also gathered at 71st Street and Columbus Avenue in New York City. And they gathered in Las Vegas, where Alicia Garza, co-founder of Black Lives Matter, spoke to them alongside U.S. Rep. John Lewis and Cecile Richards, the president of Planned Parenthood Action Fund.
And they marched in other major cities, including Washington, D.C., Atlanta, Los Angeles, Denver, Chicago, Houston and Palm Beach, Florida, the home of the president's garish Mar-a-Lago hideaway. They marched in cities around the world: Melbourne, Munich, London, Rome. They all had at least one thing in common: utter disgust with the hatred and bigotry and misogyny that's oozed out of the Oval Office in this nation's capital every single day for the past year.
In North Carolina, they marched in cities from east to west — Wilmington to Raleigh, Charlotte to Asheville.
Here in Charlotte, Vi Lyles, the city's first black female mayor, addressed the local crowd early in the day. "We've got to change the power dynamic," she told the marchers, and said that "means the end of power over us to sexually harass us."
In a show of man-splaining at its most egregious, a dinosaur of Charlotte's far-right fringe attempted to shout over the mayor's words. "What about the little baby girls?" anti-choice activist Flip Benham whined, disingenuously referring to fetuses instead of the numerous actual baby girls who were cradled in their parents' arms or secured in baby backpacks during the march.
The mayor didn't miss a beat. "When you come to City Council and speak for your three minutes, I do not interrupt you," Lyles told Benham. "If you would give me that same courtesy."
Then she continued her theme of standing up to injustice wherever it lurks. "I stand because you chose me to stand," she told the crowd. "So I don't fear. I don't have any fear, because I know I've got support. I know that the people care."
Around noon, the mayor gave the order to begin the march through Uptown Charlotte and on to Romare Bearden Park. "Are you ready to show our power? Make a difference?" Lyles shouted. "Let's do it!"
For the second year in a row, Charlotte showed up to demand an end to the climate of hatred in the U.S., and Creative Loafing followed along. News editor Ryan Pitkin captured the action in photos you can see here.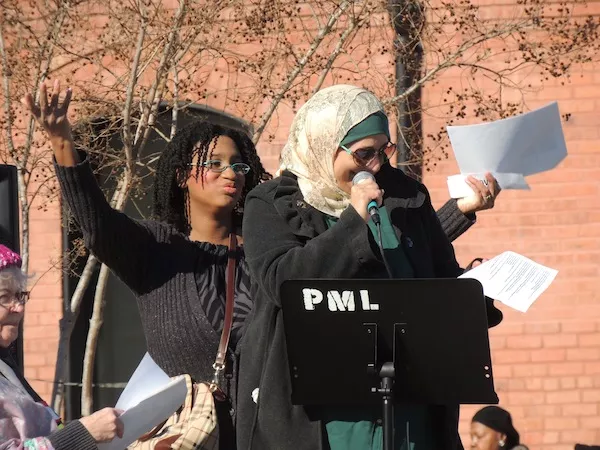 Rose Hamid speaks at First Ward Park, as Regina Grover cheers her on from behind. (Photo by Ryan Pitkin)
In the spirit of this year's Women's March, CL celebrates powerful women throughout this week's issue, beginning with the news section, where Pitkin files his second report in his three-part series on domestic violence.
In the food section, Pat Moran sits down with Letty Ketner, the colorful owner of the southern food restaurant on Shamrock Drive that bears her first name. Letty's is known for its delicious honey pecan chicken, as well as its sweet potato veggie burgers. Ketner tells Moran some stories he did not expect to hear, including surprising details about her family tree as well as her thoughts on cooking. I won't give them away here. Just read the piece.
And for this week's music feature, I caught up with another powerful soldier among Charlotte woman, Jasiatic Anderson, whose Su Casa parties have offered folks who love to dance a kaleidoscope of music from the African diaspora for the past eight years. Jasiatic's events have inspired other women and men of color to take control and put on music events in the city that offer alternatives to mainstream radio fare.
At Su Casa, Jasiatic paid tribute to the legendary Nigerian activist and Afrobeat pioneer Fela Kuti long before the Fela! Broadway musical reached Charlotte's Spirit Square. And Jasiatic digs even deeper into the musical well at her events, presenting deep-cut soul-based music from the African continent to the Caribbean to the Americas.
"There are people who don't know what Afrobeat is; they've never been exposed to it," Jasiatic tells me. "And it's exciting to see them discover this music. It's exciting to see them come into this space where they may have had stereotypes around certain things, and then watch them have fun."
Despite gentrification problems that come with expansion in this city, we're having fun watching Charlotte grow and evolve into a city where anyone can make their stamp. So come along and join us. Having fun amid the madness may be the only way to keep sane in a stark-raving crazy world.