When Eric Bitisu Ndelo was in grade school in Charlotte, being African was not cool.
"There was one point in time, in the third grade, where I was so ashamed to be Congolese that I wouldn't even write my last name," Ndelo said in a 2016 episode of the Baltimore radio show Congo Live. Instead, Ndelo told the show's hosts, he would sign his name "Eric B." That sounded more hip-hop, more American.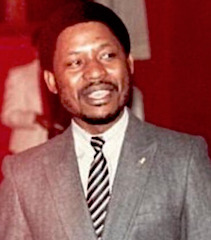 His father was not impressed. Joseph Mbambi Ndelo had immigrated to the United States from the Democratic Republic of the Congo in the early 1970s to study at the historically black Shaw University in Raleigh. He eventually got his master's in business and settled with his wife in Charlotte, where he opened convenience stores and started a family. When Joseph saw what Eric, who was born here in 1979, had scrawled on his school paper one afternoon, he asked his son, "Hey, who is this Eric B.?"
"I said, 'That's me.'
"He said, 'No. Your last name is Ndelo.'"
His son's African heritage, Joseph told Eric, is what made him different — and what would help him thrive in American society.
Fast-forward to 2018: Eric Ndelo, now 39, sits at a conference table inside the Hygge coworking space at Camp North End, wearing a tan hoodie with the word "Africas" in blue lettering below a sun-kissed red and yellow emblem that resembles the Adidas logo. He's with his business partners Ifeanyi Ibeto (also known as the Dynamic DJ Kato) and April Hood. Two years ago, the trio formed AfroPop Nation, which produces monthly AfroPop Charlotte events that celebrate the music, arts and culture of the African diaspora. In a short time, AfroPop has expanded to Durham and Atlanta, and will soon take parties to Miami, Los Angeles, New York and Chicago.
"Our grand plan," Ibeto says, "is to go nationwide."
April Hood (from left), Eric Ndelo and Ifeanyi Ibeto plan their grand strategy inside the Hygge coworking space at Camp North End. (Photo by Mark Kemp)
Ibeto's goal may sound overly ambitious, but these three are ambitious people. On March 17, AfroPop Charlotte will hold its biggest, most visible event yet when it takes over the sprawling Harvey B. Gantt Center for African-American Arts + Culture on Tryon Street.
"We're calling it The Bantu Experience," Ndelo says. The name refers to the massive linguistically and somewhat culturally connected ethnic groups scattered across western, central and southern Africa. "It's going to be a gumbo of African dance, art, fashion and vendors — basically, our normal AfroPop experience, except on another level."
Beginning at 6 p.m., the Gantt Center will transform into a mini African continent in full party mode, featuring a pop-up marketplace with 20 vendors, pop-up fashion shows featuring Ndelo's DRC ApeParel clothing line, a pop-up gallery showing works by local visual artists, African dance and drumming classes each hour, a Kizomba dance room, an early-evening arts and crafts class for children, and other workshops and classes.
And then, from 9:30 p.m. to 1:30 a.m., the Dynamic DJ Kato and DJ Steel Wheel will preside over an after party on the Gantt's rooftop patio overlooking Charlotte.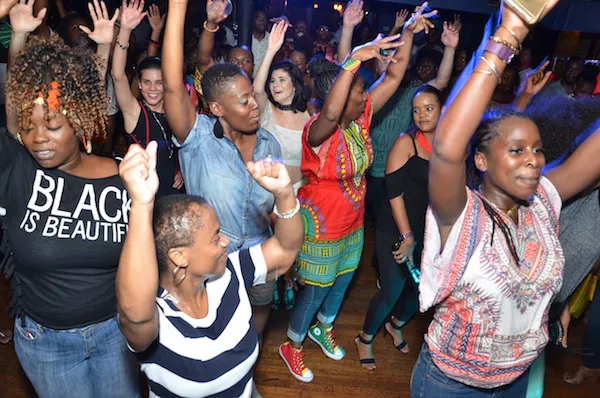 AfroPop partiers raise their hands in the air during the September event at Morehead. (Photo Courtesy of AfroPop! Nation)
Ndelo, Ibeto and Hood are on a righteous mission. Their aim is to bring back into sharper focus the Afrocentrism that became all the rage across the United States and Europe in the 1980s and '90s. [See related story.] But they don't want it to be just a hip accessory to popular music and style; Afrocentrism in the new millennium, they say, should contain all the nutritious context of its source — that massive continent across the Atlantic Ocean that's served as civilization's heartbeat ever since the first Taung Child frolicked through the grasslands of South Africa some 3 million years ago.
The late-'80s rise of Afrocentrism in popular culture had come in large part as a response to South African apartheid. But by the late '90s, when Ndelo set off for college at North Carolina State University in Raleigh to study electrical engineering, pop culture was cycling out of its decade-long flirtation with Afrocentrism that had resulted in a spate of conscious rappers like Queen Latifah, the Jungle Brothers and A Tribe Called Quest. The tide had turned to post-West Coast gangsta rap trappings. What had started in New York City with gold chains and boasting, and matured into dashikis and the dropping of knowledge, had become all about the Benjamins, the Gucci and the Dom Pérignon.
But Afrocentrism had made a deep imprint, and Ndelo found a circle of friends in the Triangle who were committed to keeping the diaspora plugged in to its musical and cultural roots. "I was doing events at N.C. State around African music and African culture in 1997, and it was still a good time to be doing African-based events," Ndelo says. "You'd had the Native Tongues, Erykah Badu, Dead Prez, all that. It was still important to some people during that period to get in touch with yourself and be natural."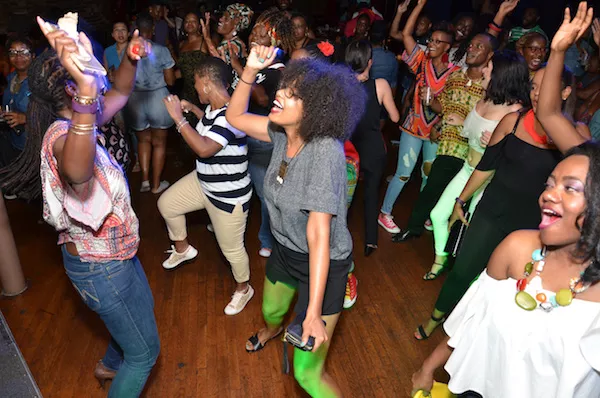 Everybody gets natural at AfroPop. (Photo courtesy of AfroPop! Nation)
For Ibeto, whose parents had relocated from Nigeria to Houston, Texas, where his father studied architecture at Texas Southern University, being first-generation African comes with a heavy responsibility. Born in Texas, Ibeto, 35, moved with his family to Charlotte when he was 8. "My parents came to the U.S. to get their educations, they got their educations, and then they got jobs," he says. "So I've seen all sides of life in America, from living in a poor neighborhood to living an upper-middle-class life."
Ibeto went on to study communications and marketing at North Carolina A&T State University in Greensboro. When he was in his early 20s he and some friends took a trip to Washington, D.C., where they saw Africans celebrating their culture. Ibeto was shocked. "In Charlotte, being African wasn't a mainstream thing and it wasn't cool," he says. "But in D.C. it was all that. So we were like, 'Oh my god, we have to do this in Charlotte.'"
He threw his first African-based party in Charlotte on October 1, 2005 — Nigerian Independence Day. That's when Ibeto connected with Ndelo, who was still living in Raleigh at the time. As it turns out, Ibeto's dad, who owns an environmental engineering consulting firm in Charlotte, had shopped at Ndelo's dad's convenience store years earlier in what was once a modest North Charlotte neighborhood but is now called NoDa. Ndelo laughs. "We were in NoDa before NoDa was NoDa," he says. "I saw the gentrification of that area happen the whole way through."
By 2007, Ndelo was back in Charlotte, where he began throwing events under the name Nappy Luv. For the next few years Ndelo and Ibeto organized events together and separately. April Hood, who was born on the west side of Charlotte and came of age in the Leafcrest projects on the south side, had discovered the parties after falling in love with the Afro-Caribbean sounds of soul-calypso, or soca music.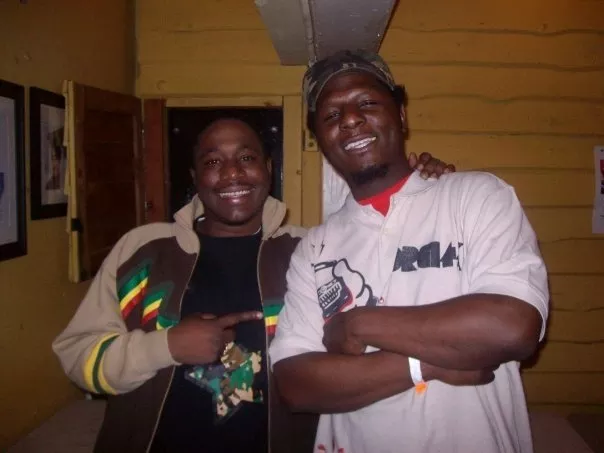 Ndelo (right) at a Nappy Luv event in 2009.
"I had already fallen in love with African music and African culture," Hood says. "And then I had met a young Muslim sister who was doing soca classes, and I fell in love with soca." Hood and some friends started doing events that mixed African and soca music with trap music, she says, "which is part of my culture, as an African American."
A few years later, after having met Ndelo and Ibeto, Hood asked Ibeto to DJ one of her parties in 2012. It was at the Apostrophe Lounge, where Ibeto was doing his Afrobeats events and Ndelo was doing Nappy Luv. The owner of Apostrophe, Kyle Musumeci, eventually suggested that Hood, Ibeto and Ndelo team up for one big event featuring all of their talents combined. The three began meeting in Ndelo's parents' garage, mapping out a plan. And on June 10, 2016, they threw their first AfroPop party. "It all started in a garage," Hood says. "All good things start in a garage."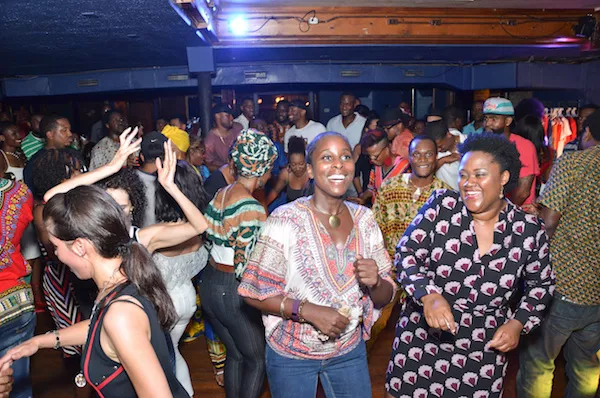 Wide-eyed and in the moment: AfroPop is in full effect by the wee hours. (Photo courtesy of AfroPop! Nation)
Three months after the first AfroPop at Apostrophe Lounge, 43-year-old Keith LaMont Scott was shot down by Charlotte police, and the city erupted in protest. All of a sudden, the party turned serious, and AfroPop had a new role — to serve as place for young Africans, African-Americans and their allies to bond and heal.
"When the Keith Scott shooting happened, we saw that there was a bigger purpose for everybody to come together and party together at a place where you could be free and be yourself, whatever color you are," says Hood, who works the social justice angle for the group. "And now, look at us: We've grown to other cities in other states, where we've taken that same vision and that same idea. On every level, we've brought about positive change, as far as people coming together and getting more involved in their communities."
"The Keith Scott shooting catapulted us to a new level, in terms of the importance of what we're doing," Ndelo adds.
Ibeto remembers an AfroPop block party last year that attracted people of multiple colors and cultures. "It was beautiful to see all these kids — white people, black people, Asian and Latino people — all in one space together, all dancing together."
"White kids with African face paint," Ndelo interjects, with a laugh. "It was beautiful." He pauses. "As you can see, we don't really get down with that idea of misappropriation of culture — we're trying to teach the culture, not shut people out. No matter who you are, if you want to embrace African culture, embrace it. I'm Congolese, but who's to say I can't go and become a Hindu if I want to? And who's to say if you're not African you can't dress African or be inspired by African culture? That's not true. So we want to dispel those myths that we often hear that, in reality, don't exist. That's what AfroPop is all about."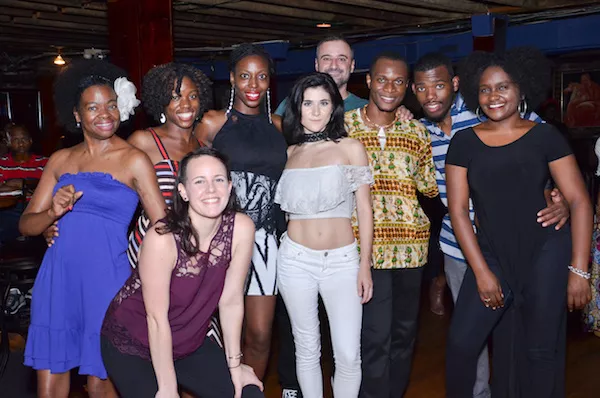 The united colors of AfroPop. (Photo courtesy of AfroPop! Nation)
Reflecting on the past two years, Ibeto sees the Charlotte Uprising as a pivotal moment, not just for the city, but for AfroPop and its grand plan to go nationwide. "If you think about it, the Keith Scott shooting — that could have been a time when everybody in the city became very, very segregated, more than what it already was," Ibeto says. "Instead, we came together. And if you come to an AfroPop event, you won't be able to see any segregation at all. That's amazing. And you know what's more amazing? We're doing this in the South."