The Afrocentrism movement of the late 1980s arose in part as a reaction to apartheid in South Africa, but it also gained momentum with the 1987 publication of Martin Bernal's Black Athena: The Afroasiatic Roots of Classical Civilization. However, while the '80s Afrocentrism movement was hugely significant, art and music from the African continent have always been at the core of popular culture in the United States.
It was in the late-19th-century jazz that developed out of the West African polyrhythms that had come from Congo Square in New Orleans, where enslaved Africans would gather and socialize on their days off from toiling in sugar plantations. It was in the Deep South blues and gospel that became the building blocks of rock 'n' roll. It was in the Latin and Caribbean sounds that made their way onto the pop charts of the 1950s in hits by artists such as Harry Belafonte.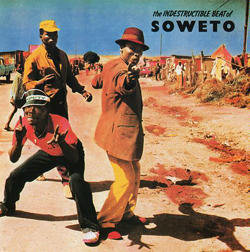 But it wasn't until the 1986 U.S. release of a compilation of music from apartheid-era South Africa — The Indestructible Beat of Soweto — that African folk styles began to transform the way we hear the African roots of contemporary popular music. Not only did Indestructible Beat help put a spotlight on the egregious system of racial segregation and discrimination that still existed in South Africa at the time — ultimately resulting in the collapse of apartheid — but the album re-introduced U.S. listeners to a purer form of the rhythms, percussion, vocal harmonies and song structures coming from the African continent. That same year, the American singer-songwriter Paul Simon released his Graceland album, which featured the warm and hypnotic isicathamiya and mbube vocal styles of Ladysmith Black Mambazo, one of the groups that had appeared on Indestructible Beat. Other white pop stars, including Peter Gabriel and David Byrne, launched labels that released music from artists such as the Congolese singer Papa Wemba, Belgian-Congolese singer Zap Mama and Ugandan musician Geoffrey Oryema.
________________________________________________________________________________________
Listen to the South African mbaqanga supergroup Mahlathini & The Mahotella Queens perform "Umkhovu" from a compilation similar to Indestructible Beat:
________________________________________________________________________________________
Of course, African music had made its way to American pop fans in earlier decades, too — most notably South African singer Miriam Makeba, whose U.S. major label RCA released her 1967 hit "Pata Pata," as well as her earlier folk-pop albums that reach back to 1960. The year before, in 1959, Makeba had appeared in a very early independent anti-apartheid film, Come Back, Africa, and in the later '60s and '70s she became a powerful human rights activist in both America and South Africa. But it was the deep funk of Nigerian musician and political activist Fela Kuti, who had traveled to the U.S. West Coast in 1969, that captured the ears of American and British rock fans. His collaborations with Cream drummer Ginger Baker, both live and on the studio album Stratavarious — which came out on the British major label Polydor Records in 1972 — made an indelible mark on post-1960s music. Fela's subsequent influence on American rock and funk would go on to span decades.
By the early '80s, after Jamaican icon Bob Marley died, his British label Island Records began looking to Africa again, introducing musicians such as the Nigerian singer and multi-instrumentalist King Sunny Adé to white audiences. Still, it took the Afrocentrism movement of the late '80s and '90s for the English-speaking world to see a tangible groundswell of African music, with compilations featuring both new and traditional music from North Africa, West Africa, East Africa and South Africa, on independent labels like Earthworks and Shanachie. Those collections provided opportunities for Americans who'd lost touch with their African roots to hear purer forms of music from the Motherland, freed from the control and context of paternalistic pop stars, major record labels or mixed-up samples in hip-hop tracks.
________________________________________________________________________________________
Watch Fela Kuti perform in Nigeria in a 1971 film by Cream drummer Ginger Baker: