INTO THE WOODS
**1/2
DIRECTED BY Rob Marshall
STARS Meryl Streep, Emily Blunt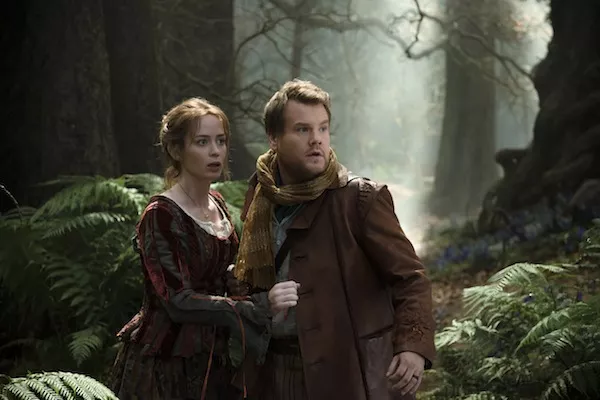 Emily Blunt and James Corden in Into the Woods (Photo: Disney)
It's telling that the first two actors director Rob Marshall cast in the screen version of the stage smash Into the Woods were Meryl Streep as the Witch and Johnny Depp as the Wolf. Subscribing to the Ridley Scott mantra that global superstars are more important to a film than finding the perfect performers for the right roles, Marshall bypassed the great Bernadette Peters (the Witch in the 1987 Broadway version, and only a year older than Streep) for an actress who at this point would get nominated by everyone for simply flossing (which explains the ass-kissing SAG and Globe noms for an OK performance) and bypassed, well, every male in Hollywood for an actor who has devolved into a mugging caricature no longer capable of surprising or even engaging us.
Move past the marquee names, however, and the other players adeptly take us through this revisionist take on age-old fairy tales. As the bumbling baker and his sensible wife, James Corden and Emily Blunt are affable protagonists, while Anna Kendrick again displays her professional singing chops (as she did in Pitch Perfect) as Cinderella. Daniel Huddlestone and Lilla Crawford, the kids cast as Jack (of beanstalk fame) and Red Riding Hood, hold their own against the older cast members, and Chris Pine, the most amusing person in Horrible Bosses 2, is even better as the vain prince smitten with Cinderella. The production looks handsome, but Marshall's direction renders it all a bit stiff, with no real passion behind the proceedings, and the deficiencies in the original source material are present and actually amplified here (Wicked is far more clever in its revisionist take on classic fantasy tropes).
Between the season's musicals, Into the Woods will trump Annie for a number of reasons (larger budget, more star power, other reasons best not mentioned, etc.), but on balance, I'll take the latter's heart over the former's art.