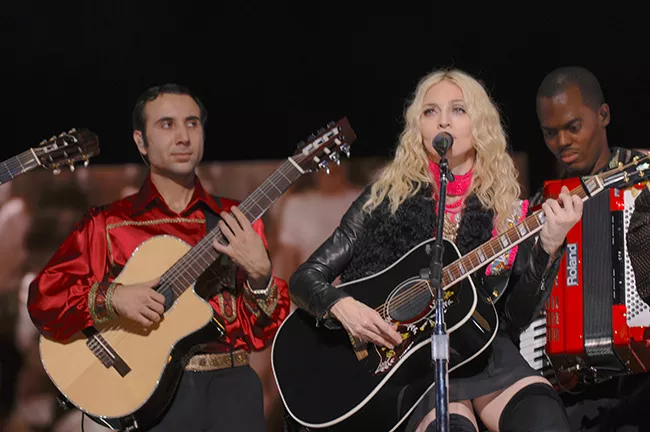 Vadim Kolpakov (left) with Madonna and accordion player Ric'key Pageot. (Photo courtesy of Vadim Kolpakov)
THE YEAR WAS 2008. Charlotte-based Russian guitar virtuoso Vadim Kolpakov was onstage in front of 60,000 Madonna fans packed into Park Izvor in Bucharest, Romania. Kolpakov and his uncle Alexander — the most famous Romany guitarist in Russia — were on tour with the American pop icon to perform the music and dance of Roma culture for hundreds of thousands of Madonna fans around the world.
On this stop, Madonna, cradling a black custom Gibson Hummingbird acoustic guitar and flanked by the Kolpakovs, raised a thorny issue with the audience: racism.
"It has been brought to my attention that there is a lot of discrimination against Romanies and Gypsies in general in Eastern Europe. It made me feel very sad," Madonna began. Some audience members booed, but Madonna was undeterred. "We don't believe in discrimination against anyone," she continued. "We believe in freedom and civil rights for everyone."
More boos ensued, and a few of Madonna's Romanian fans later complained to the Associated Press. "What business does she have telling us these things?" 23-year-old Ionut Dinu said. In comment sections on websites across Europe, some people were up in arms about Madonna's statements, many of them making racist remarks about "Gypsies" and the pop star's support of them.
The American press didn't know exactly how to cover it. We're not accustomed to confronting discrimination against Roma culture. We talk a lot about Islamophobia, anti-Semitism and racism against African Americans. But we don't talk much about Romaphobia, which is a big deal all across Europe and, more subtly, here in America, where stereotypes of Romany people in popular culture typically portray them as Gypsy thieves or fortune tellers, or romanticize them in the wispy clothing and slithering dance moves of pop singers like Stevie Nicks.
Kolpakov had Madonna's back. (Photo courtesy of Vadim Kolpakov)
Madonna's scolding in Romania had not come without context. The year before the singer's concert there with the Kolpakovs, the country's president, Traian Basescu, was overheard calling a Romanian journalist a "stinky Gypsy." The president later apologized, but his remark had reopened a nasty wound and poured salt in it: While discrimination against Romany people is bad all over Europe, it's particularly egregious in Romania. The Eastern European country that borders Hungary, Serbia, Bulgaria and the Ukraine is home to upwards of 2.5 million Romany people, according to a 2017 Reuters report. And their day-to-day lives can be unbearable.
Vadim Kolpakov had discussed the discrimination issue with Madonna between tour stops. "We talked about it. We got information from human rights organizations in Roma communities in Romania, and we told her about it," Kolpakov says. He's sitting with his son Gregory and nephew Sasha at a window table at the Russian-owned Crema Espresso Bar & Café on East Boulevard in Dilworth. It's a Saturday morning, and the guitarist, wearing jeans and a gray jacket over a Zoo York T-shirt, is having tea and crepes, and telling me about his 36-year journey from Soviet Russia to Boston to Charlotte, where today he lives, works and performs with his Estonian wife Marina, a flamenco and Russian-Romany dancer.
Nearly a decade after Kolpakov's jaunt around the world with Madonna, the guitarist remains passionate about his Roma culture and its music. With his various ensembles, Kolpakov takes every opportunity not just to entertain people with his mind-bending dexterity on the Russian 7-string guitar, but also to educate them on the centuries-long plight of the Romany people.
On April 6, Kolpakov's latest project, the VS Guitar Duo, with the equally talented Sasha, will perform at Grace on Brevard in Uptown. The Brazilian bassist Nelson Rios, Kazakhstani drummer Natalya Petrova and Indian percussionist Divakar Shukla will accompany the duo, and Marina will perform flamenco and Russian-Gypsy dances. The show is an effort to bring attention to International Romany Day, celebrated around the world two days later on April 8.
The VS Guitar Duo: Sasha (left) and Vadim Kolpakov (PhotochemistryByLuba)
The hostility Madonna's remarks spurred in Romania, Kolpakov says, still haunts him. "We were shocked," he says. "Being onstage and experiencing that [from the audience], I can't even. . ." He trails off. "But we're very thankful to Madonna for bringing it up. She always wants to do the right thing, and I love her for that."
FOR VADIM KOLPAKOV, the road to Charlotte began with the 1991 collapse of the Soviet Union. That's when the world changed for the 10-year-old budding guitar prodigy who was already familiar with American popular music. His father had collected lots of Western music on vinyl — records he had acquired on the black market during the Soviet years in Saratov, the sprawling city on the massive Volga River in southeastern Russia where Vadim was born. One of his father's records was a famous live trio album from 1981 by the great jazz guitarists John McLaughlin, Al Di Meola and Paco de Lucía.
"Friday Night in San Francisco — that's a classic," Kolpakov says. "My father had this album and I was listening to it as a teenager. And I was like, 'Oh my gosh — amazing guitar playing.'"
By then, Russia had begun its rocky transition to a market economy, and Vadim and his generation of friends were being inundated with American music — hip-hop, R&B, pop and rock. Vadim liked to dance to Michael Jackson records, as well as to the traditional music of his own Roma culture. And he'd already begun to play around a little on guitar. After all, his uncle Alexander was a world-famous Roma guitar virtuoso who'd served as the musical director of the Romen Gypsy Theatre in Moscow for 25 years.
Vadim didn't get serious about the guitar, though, until he heard McLaughlin, de Lucía and Di Meola's fingers flutter across the strings of their instruments on tracks like "Mediterranean Sundance/Rio Ancho" and the multi-part "Fantasia Suite." It was then that Vadim Kolpakov knew what he wanted to do. And in 1996, the 15-year-old moved to Moscow to study guitar under his uncle, attend the Roma performing arts school Gilori, and eventually join the Romen Gypsy Theater as a guitarist, singer, dancer and actor.
Kolpakov was 17, and already a guitar virtuoso, the first time he touched down in the United States. He and his uncle had been tapped by the World Music Institute in New York City to tour as part of the Gypsy Caravan, a showcase of Romany performing artists that appeared at Lincoln Center and then traveled to several other U.S. cities.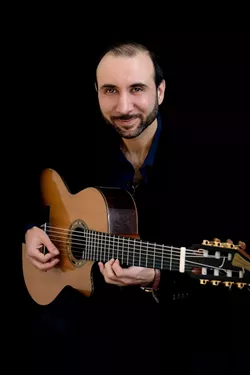 Vadim Kolpakov (PhotochemistryByLuba)
"I was very impressed by the United States," Kolpakov remembers. "The first place I came to was New York and it was like . . . well, it was a little like Moscow, but still, of course, it was very different, too."
After the tour, Kolpakov returned to Russia, but came back four years later when the Duke University-schooled musicologist Oleg Timofeyev invited the Kolpakovs to collaborate on a recording of 19th century Roma music with the Russian-American early-music group Talisman. The album, A Tribute to Stesha, came out on the classical music label Naxos in 2005, and the group performed a showstopper that year at the annual Boston Early Music Festival.
Still in his early 20s, Kolpakov soon became an in-demand guitarist and lecturer, performing his music in numerous ensembles, giving talks at Boston University, Harvard and other academic institutions, and appearing on National Public Radio. In 2004 he moved to Boston on an O-1 visa, which allows non-citizens who have extraordinary talents in the arts, education and other disciplines into the United States. "I ended up staying," he says. "I loved it."
While in Boston, Kolpakov put together another group, Via Romen, with another musicologist, singer Petra Gelbart. The group began performing in clubs and at Romany festivals across America. Kolpakov also met and fell for a young singer who was studying in Boston, and when she got a job in Charlotte in 2006, he tagged along. After landing a position of his own, as artist-in-residence at UNC Charlotte, life happened fast for Kolpakov. Within a year, the girl was history, Kolpakov had met and married his current wife, and Madonna was calling.
That opportunity came out of the blue. Kolpakov's old pal Eugene Hütz, the Ukrainian-born front man of the Gypsy-punk band Gogol Bordello, was working on Madonna's directorial debut, Filth and Wisdom. Hütz had landed a lead part in the movie, whose soundtrack featured music by Vadim's uncle. Hütz called up one day, and said Madonna had requested the Kolpakovs attend her birthday party in London.
"I was like, 'Oh my gosh, well, uh. . . OK, let's do it!," Kolpakov says, and laughs. "I was working at UNC Charlotte, and then I'm on tour with Madonna."
The Kolpakov Trio — Alexander and Vadim, along with violinist Arkady Gips — performed their traditional Roma music with Madonna throughout 2008 on her "Sticky & Sweet" tour, playing in massive stadiums across Europe, North America, Mexico and South America. The first performance, Kolpakov remembers, was overwhelming. "It was a little scary," he says. "I had never played in a stadium before, and it's a challenge to play for 100,000 people." Within a week, though, Kolpakov was a seasoned stadium pro. "You play every day and you get used to it, and then it's like... I dunno, it's like playing at home, you know. You don't even think about it," he says.
The Trio was having a blast. "It was the biggest, most expensive and most colorful tour that Madonna had ever done before," Kolpakov says. "We enjoyed ourselves, and if you enjoy your music — if you play it from the bottom of your heart — then you will have success."
_________________________________________________________________________________
Watch the Kolpakov Trio perform with Madonna:
_________________________________________________________________________________
ON A FRIGID NIGHT in February, the nearly sold-out crowd inside Charlotte's Knight Theater for the first Tosco Music Party of 2018 jumped to its collective feet and let out a roar of applause. The VS Guitar Duo — Vadim in a shiny red silk shirt, Sasha in blue — had just performed a dazzling medley of traditional Roma music. And they'd performed it from the bottoms of their hearts.
Vadim and his 24-year-old nephew have only been playing together for a few years. Sasha, who still lives in Russia, travels back and forth to practice and perform. Still learning English, he's shier than Vadim. "I started studying guitar at 7 years old in the same city we are all from, Saratov," Sasha tells me in a hushed tone, avoiding direct eye contact. "I grew up in the Putin era, so it was very different from when Vadim grew up."
The medley they performed at Knight Theater is one of eight songs on the VS Guitar Duo's debut EP, Under Cover, a set of instrumental Romany interpretations of pop, jazz and traditional songs. It includes material ranging from Michael Jackson's "Billie Jean" and Adele's "Rolling in the Deep" to "Seventeen Moments of Spring," the theme song to a Soviet-era TV mini-series of the 1970s, and the "Gypsy Medley" that the duo played at the Tosco Party. The Kolpakovs also showed off their virtuosity during that February show on an Indian song, their fingers dancing over the nylon strings of their Kremona acoustic guitars like spiders flittering up and down their webs.
Sasha (left) and Vadim Kolpakov (PhotochemistryByLuba)
"Vadim and Sasha excited the crowd with their fiery guitar style," John Tosco said of the duo's performance. "They've played several Tosco Music events over the years, and they always astonish listeners and bring a tremendous energy when they perform." John Tosco is well-known in Charlotte for presenting eclectic bills of local musicians, and he calls the Kolpakovs "a perfect fit for that part of our mission, as they represent the Romany Gypsy guitar style. They illustrate just how rich Charlotte's music scene really is."
We should take this opportunity to talk about that word "Gypsy." It's cropped up throughout this story. When applied to people, it is an offensive term rooted in the mistaken belief by 16th century Britons that the Romany people who arrived in England during that period had come from Egypt (they actually came from India). The term was later applied negatively to other nomadic peoples. In the centuries since, Gypsy has been used to caricature Romany people, and the shortened verb, "to gyp," has been used as a pejorative to describe the act of swindling.
"It has nothing to do with real people," Kolpakov says. "It's a terrible stereotype."
On the other hand, Gypsy is widely used as a description of traditional Romany music. Because Romany styles encompass, among others, the French Gypsy jazz of guitarist Django Reinhardt, the flamenco music of Spain and the Russian Gypsy sounds of the Kolpakov Trio, it remains an acceptable term for music. "Gypsy music is not people," Kolpakov explains. "Gypsy music became the style. Django was Romany, and he developed this new style of jazz, but it was Gypsy music just like ours is Gypsy music. It's all Gypsy music. It all comes from the same heritage."
That heritage can be traced back to the Indian subcontinent. Romanies left India in about the 10th century, as far as anthropologists can tell, and traveled to the Middle East and Europe. "The language survived verbally, by oral tradition — it was never written," Kolpakov says. "And that's what makes Romany people come together — same language, same roots. But as you know, in India they have so many dialects, and it's the same with Romany people. We have about 80 dialects, but the same linguistic roots — Sanskrit. And we're tied by blood; we're an ethnic group."
What few people know is that Romanies have no homeland and therefore have been discriminated against everywhere — enslaved, beaten, expelled from countries. "Very much like the Jewish people, a very similar history," Kolpakov says, then pauses. "But they got Israel about 70 years ago." He lets out a muted laugh. "We're still waiting, I guess. Maybe there's some land in India somewhere."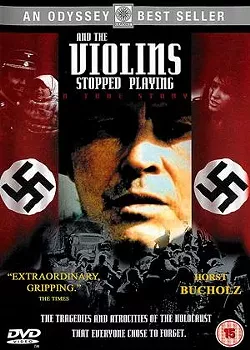 Also like Jewish people, Romanies were rounded up by the Nazis during the second World War and taken to Auschwitz. "Not many people know that the Roma holocaust was existing at the same time, from 1940 to about 1945," Kolpakov says.
In 1986, Romany holocaust survivor Roman Mirga wrote about his experiences in the concentration camps. His father had been a musician, and the Nazis would use musicians in the camps to calm those who were being led to the gas chambers.
In Mirga's writings — which became the basis for the 1988 Alexander Ramati film And the Violins Stopped Playing: A Story of the Gypsy Holocaust — he remembers hearing the sound of Romany music: "In the distance violins were playing 'The Blue Danube'. . . It was intended to calm the Jews going inside, soap and towels in their hands, no doubt believing they were taking a bath. Except that it was not a bath house, but a crematorium. The Gypsy orchestra was there. . .their music helping to make a smooth transition for the Jews from life to death."
Romany holocaust survivors settled all over Europe, where today 12 million still live and suffer indignities and discrimination. Part of Kolpakov's mission is to expose this discrimination and to shatter misconceptions about Roma culture. Because that culture is virtually invisible to most Americans, Kolpakov and the musicians and academics he works with want to bring it out into the open.
Although Kolpakov says he has never experienced the kind of discrimination against Romany people in Charlotte that he's felt in Europe, he was initially amazed that few Americans are even aware of the Roma presence here. "Not many people in America know that 1 million Romany people are living here, and this drives me crazy," he says. "A lot of Romany people are hiding and they don't want to openly say that they are Roma. I'm not sure why. It was strange to me how that could be happening in America."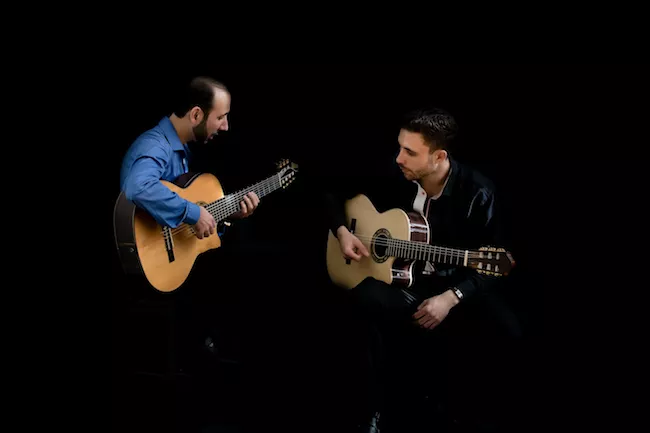 The VS Guitar Duo: Vadim (left) and Sasha Kolpakov (PhotochemistryByLuba)
For more than a decade, Kolpakov has taken his Roma music and culture across the U.S. with his ensembles, and around the world with Madonna. These days, he would like to share it more often with his fellow Charlotteans, so that we, too, will know that Romany people will be invisible no more.
"My focus right now is the VS Guitar Duo project with Sasha," Kolpakov says. "We have this CD Under Cover out, we're playing shows, we're recording a new CD of original music. We specialize in Russian traditional Gypsy music, and we want people to learn about it, so we try to make it in a way that modern audiences can appreciate. That's why we cover Michael Jackson and Adele songs. It puts a little twist on Gypsy music — a fusion of pop and jazz and Russian Gypsy music. You can listen to those tunes and then you see what we are talking about."
______________________________________________________________________________
Listen to the VS Guitar Duo perform a Russian classic, "Dark Eyes."