It was a long road for guitar virtuoso Vadim Kolpakov to go from the Russian city of Saratov to Boston to Charlotte, but we're glad he took it. He brought his seven-string guitar and his nephew Sasha, the other half of one of his groups, the VS Guitar Duo, to play us some tunes in person, including their Russian gypsy cover of MJ's "Billie Jean."
We also discussed how Vadim found himself onstage with Madonna, playing for hundreds of thousands of fans in stadiums around the world, and why, despite the use of the word to describe his music, terms like "gypsy" and "nomad" bother Kolpakov and other Romany people.
The VS Guitar Duo will perform a concert at Grace on Brevard on April 6 from 8 to 10 p.m. For more info, go here.
This is our first "Local Vibes" episode as a member of the new Queen City Podcast Network, so be sure to visit their website to check out some of our other favorite local podcasts. And catch up with our past episodes on iTunes or Stitcher, or just type "Local Vibes" in to your Spotify search bar and find us that way.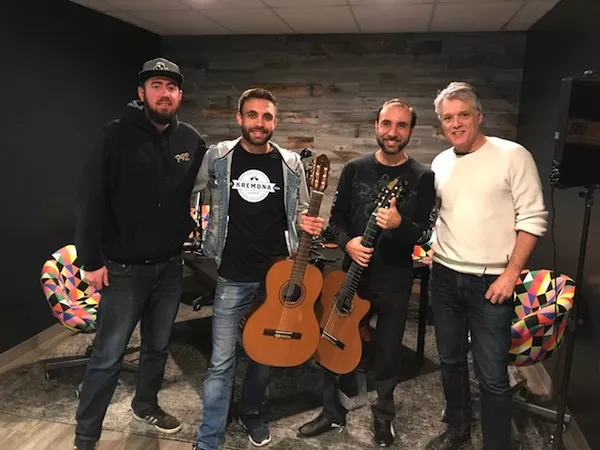 [From left] Ryan Pitkin, Sasha Kolpakov, Vadim Kolpakov and Mark Kemp.