Not very long from now and in a neighborhood not very far away, empirical grocers will wage a war against one another for consumers like you and me. Although grocery stores compete on razor-thin margins, once they have moved onto a competitor's turf, they will drop prices to beat out the other guy.
The grocery galaxy has changed significantly since we last did "Store Wars," or a grocery store comparison, in 2010. For one, and probably what you've noticed in your own weekly shopping, is the steep price increase. In 2010, ALDI sold a gallon of whole milk for $2.79. That same gallon is now $3.85. One dozen Grade A large eggs were $.89. Today, those eggs cost $1.59. A whole chicken was $.79 a pound; today, $1.59 per pound. You'll find yourself spending more money on food in any grocer.
We've also seen national, regional and locally owned companies open in the market: Whole Foods, Grand Asia, Super G Mart and the most recent newcomer, Publix. The Florida-based company has plans to bring more than 10 stores to the Charlotte area through 2015. Meanwhile, in January, the city's beloved native Harris Teeter was bought by the Cincinnati-based Kroger Co. Recently, Teeter employees were sporting bright green "Low Price" T-shirts and store items impacted by lowering prices have a "New Low Price" green sticker. For those who do not remember, Kroger had been in the Charlotte market (in the space now inhabited by the Habitat for Humanity Restore on Wendover, for example) but left in 1988.
With so many places to grocery-shop, where can you go to get the best deals? Once again, Creative Loafing sent me out on what seems to be a continuing mission to seek what is good, or lacking, in Charlotte's grocery stores. For this fourth installment of "Store Wars," I visited 12 located within 10 miles of SouthPark, all in the span of 48 hours. We added Grand Asia Market, Publix, Super G Mart and Whole Foods to our comparison list, rounded out by previous contenders ALDI, Compare Foods, Earth Fare, Fresh Market, Trader Joe's, Walmart Supercenter, Harris Teeter and Food Lion. I compared the prices of six commonly bought grocery store items: one store-brand gallon of whole milk, one dozen Grade A large white eggs, fresh whole chickens, vine-ripened tomatoes, Nature's Own 100% whole grain bread, and a 32-ounce jar of Duke's mayonnaise.
The low-price winner? Publix.
Publix won two categories: milk ($3.79) and Duke's mayo ($2.91). Harris Teeter won one category, Nature's Own bread ($2.29), but this was a sales price. Harris Teeter tied in a second category, eggs ($1.59). Food Lion had identical results as Harris Teeter: first place in tomatoes ($1.29 per pound), tied for chicken ($.99 per pound) prices. Both Food Lion wins, though, were sale items. ALDI tied with Harris Teeter in egg price. Walmart tied with Food Lion's price on chicken, however, $.99 per pound is Walmart's regular price. Some may be surprised that Walmart had higher prices than Harris Teeter and Publix on milk and eggs.
A couple of things to consider. One: Not all grocery stores within the same chain carry the same products. Grocery stores tend to reflect their neighborhoods in foods offered. Higher-end neighborhoods have stores that offer higher-end products. And two: Quality is not the same as price. Some stores carry only organic products and free-range eggs, for example, which cost more.
What else did I find? Here's a snapshot of each grocer presented in alphabetical order:
ALDI
This no-frills German discount market sells only 1,400 items — many from Canada and Germany — but offers cut-rate prices. The Charlotte ALDIs sell wine and beer, the latter from Germany, Guatemala and Netherlands. The appearance is similar to a small membership club with items kept in box frames. But ALDI has consistently had very good prices on dairy products and has tied Harris Teeter for the lowest price for a dozen Grade A large white eggs at $1.59.
This market only trades in cash or debit cards (that's right, no credit cards), and to get a cart you must insert a quarter into the lock, which is returned if you take the cart back to the corral. Bring your own bags for your groceries, or you can buy reusables at checkout.
QUICK TAKES
Location: 28210 W. John St., Matthews
Hours: Monday to Thursday and Saturday 9 a.m.-7 p.m.; Friday 9 a.m.-8 p.m.; Sunday 12 p.m.-6 p.m.
Layout and ambiance: Small store, but wide aisles. No music.
Produce: No local or organic produce. All prepackaged.
Fish Department: Frozen.
Meat Department: Packaged.
Bakery: Limited packaged baked goods.
Prepared Foods: None.
Specialty and International Items: German cookies and candies.
Finds: Pretzel buns.
---
Check out our price-comparison chart from two days of shopping at 12 supermarkets.
---
COMPARE FOODS SUPERMARKET
The Compare on Sharon Amity is smaller than the Arrowood location, but still has much to offer. Dried chilies such as pasilla, puya, morita, ancho, arbol and guajillo are sold for $4.99 to $5.99 per pound. Hass avocados, papayas, and green and mature plantains are abundant and inexpensive. There's also a variety of Mexican beers, and an endcap of six-packs of Coca-Cola mini bottles commemorating the 2014 FIFA World Cup.
The fish counter offers many fin fish — white bass, mullet and red snapper. The sausages are made in-house, including Mexican chorizo, while the meat bins are filled with packaged oxtail ($7.29 per pound), seven-bone steak, and offal, as well as a variety of pork and chicken cuts.
One side area is devoted to dairy cases containing brands of queso fresco and other Latino cheeses. There is a selection of the popular yerba mate from Argentina and another half aisle dedicated to Jamaican foods. Language can be challenging at the butcher and fish counters.
Compare Foods has Latino herbs and spices not found elsewhere. Last summer while in Peru, I searched the local markets there for quina, a bark from a Peruvian tree that is the base for tonic (as in gin and tonic) syrup, but to no avail. However, packages of quina are available here in Charlotte at Compare Foods for $.99.
QUICK TAKES
Location: 3600 N. Sharon Amity Road
Hours: Daily 7 a.m. to 10 p.m.
Layout: Easy to navigate, good signage.
Produce: Excellent fruit prices. Extensive dried chile section sold by the pound.
Fish Department: Good selection of the less expensive fin fish, whole catfish.
Meat Department: Includes Latino cuts of beef, house-made sausages and offal.
Bakery: Small and Latino.
Prepared Foods: Inexpensive restaurant attached.
Specialty Items: The entire store.
Finds: Quina.  
EARTH FARE
If Earth Fare were a part of the Star Wars universe, it would certainly be the forest moon of Endor. The interior is green and earthy. Comparison shopping at the Asheville-based grocer is difficult because it is an organic and natural food market, and organic costs more. But Earth Fare has consistently had competitive prices on bulk grains.
Of note are the exceptional meat and seafood sections, which are supported by extremely knowledgeable employees. These products are pricey, but pretty. Lamb is ground fresh here. On the day I visited, Earth Fare had gorgeous wild Copper River salmon ($14.99 pound, sale price) and oysters from Chincoteague, Virginia, home of the classic American salty oyster. The prepared food area is on par, with entrées, sandwiches, soups and smoothies.
QUICK TAKES
Location: 12235 Community House Road
Hours: Monday to Saturday, 8 a.m. to 9 p.m.; Sunday, 9 a.m. to 9 p.m.
Layout and ambiance: Well-organized with a down-to-earth attitude — literally. Frankie Valli in the music mix.
Produce: Lots of organic choices.
Fish Department: Above average. Wild coho and Copper River salmon.
Meat Department: Above average. Freshly ground lamb, helpful meat cutters.
Bakery: Breads, cookies.
Prepared Foods: Above average, with a soup counter and an eat-in café. Kids eat free on Thursday from 4 p.m. to 8 p.m. (with an adult meal of $5). Closes at 8 p.m.
Specialty Items: Abundance of products for people (and pets) with dietary restrictions.
International: Not the focus here.
Finds: Chincoteague oysters, Homestead Creamery products, organic raisins.
---
Did you know?
Food prices have increased sharply since January. The drought impacting the West has resulted in higher prices on fruit, vegetables, meat and dairy products while outbreaks of Porcine Epidemic Diarrhea Virus (PEDv) has led to stunning price increases in bacon, ham and pork. And in Florida, a citrus disease threatens the orange and grapefruit crop.
---
FOOD LION
It's been awhile since I saw a "White Zin" sign hanging above the wine shelves, but one exists at the Food Lion I visited. In 2013, Food Lion, owned by the Belgian Delhaize Group, started an ad campaign to tout Food Lion as a low-price market. But I found that its most competitive prices were sale items. Food Lion came in first place on vine tomatoes, which were $1.29 per pound on sale. But the regular price of $1.69 per pound would come in second to Super G Mart's $1.49 per pound. Food Lion's chicken on sale for $.99 per pound tied in first with Walmart's regular-priced chicken. Food Lion's regular price, $1.29 per pound, would be in second place.
QUICK TAKES
Location: 10120 Johnston Road
Hours: Daily 7 a.m. to 11 p.m.
Layout and ambiance: Built as a Hannaford in 2003, but renovated. Some boxes on the top shelves. Curved aisles. Upbeat music. MVP card needed for discounts.
Produce: Average.
Fish Department: Frozen.
Meat Department: Extensive beef section.
Bakery: None. Cakes baked offsite, but decorated in house.
Prepared Foods: Mainly fried chicken and salads.
Specialty and International Items: Latino
Finds: Bush Latino beans: Frijoles Charros Machacados, Frijoles a la Mexicana and Frijoles Negros Machacados; Friendly's ice cream.
FRESH MARKET
Fresh Market, aren't you a little small to be a supermarket? This regional grocer established in Greensboro, North Carolina, in 1982 is known for being selective and crowded. People come for the prepared foods, ready-to-eat meals, the Moravian spice cookies, and chicken on Tuesdays when it's on sale. Free samples of coffee are usually offered.
Seasonal items include German stollen and Bûche de Noël cakes at Christmas and king cake during Lent. The meat department will cut and grind meat, including lamb. Additionally, Fresh Market sells locally grown food, such as South Carolina's McBee peaches in the summer and North Carolina apples in the fall. Hard-to-find paella rice and whole milk (there's fat-free and 1-percent, too) Fage Greek yogurt is here, too.
QUICK TAKES
Location: 4223 Providence Road in Strawberry Hill Shopping Center
Hours: Monday to Saturday 8 a.m. to 9 p.m.; Sunday 9 a.m. to 9 p.m.
Layout and ambiance: Small and aisles are difficult to navigate when crowded. Classical music.
Produce: Some organic items. Local honey.
Fish Department: Small, but well chosen.
Meat Department: Excellent. Whole pigs available, meat cut or ground to order, prepared meat and poultry items ready to cook.
Bakery: Known for its loaf cakes.
Prepared Foods: Salads, sandwiches and rotisserie chicken counter.
Finds: Candy is sold by the pound and seasonal candy displays include a summer offering of nostalgic candies such as Chuckles and NECCO wafers.
GRAND ASIA MARKET
I send more people to Grand Asia than any other store in Charlotte — um, Stallings. Why? It carries hard-to-find items. Grocery items come from China, Japan, Korea, India, Philippines, Indonesia, Vietnam and Thailand. Curiously, a section for Russian goods has popped up, too. The rice selection is overwhelming while the fish tanks brim with tilapia. Also, there are live blue crab ($4.99 per pound), clams, oysters, lobsters and squid. The meat bins have an assortment of cuts and offal. One poultry item of note is the Chinese Silkie, a chicken with dark blue, almost black skin and flesh, which is considered a delicacy throughout Asia. Silkies are sold whole ($11.99 per pound). Grand Asia carries plum wines, sake and Kingfisher beer.
Anyone who enjoys the Chinese bakeries on the West Coast will find themselves at home here. Chanelle Cake, the Chinese bake shop, offers a viewing window into the busy bakery and ridiculously inexpensive and delicious products: egg custard tarts, rice cakes, fried sesame balls, pineapple buns, savory pork buns, scallion breads and hot dog rolls, the Chinese version of the corn dog.
QUICK TAKES
Location: 4400 Potters Road, Stallings
Hours: Monday to Saturday, 10 a.m. to 8 p.m.; Sunday and holidays (including the Dragon Boat Festival, Moon Festival, and Chinese New Year), 10 a.m. to 6 p.m.
Layout and ambiance: Well-lit and extremely clean. Music.
Produce: Asian focused, including fresh lychee, long an, and nine varieties of choy.
Fish Department: Extensive, large tanks with live fish, frogs and turtles.
Meat Department: Packaged.
Bakery: Superior. Chanelle Cake is a Hong Kong-style bakery that bakes more than 60 different breads, cakes, cookies, and pastries daily on the premises.
Prepared Foods: Joy Luck Club dining area, steamed buns.
Specialty Items: Dim Sum on weekends
Of Note: Student discounts for active members of Chinese student clubs.
Finds: Sweet brown rice, live blue crabs, fresh duck eggs and Indian long peppers.
---
Vote for your favorite grocery store here. The winning store will receive a coveted Best of Charlotte Readers' Pick award when our annual issue comes out in October.
---
HARRIS TEETER
In January, Cincinnati-based Kroger closed the $2.5 billion acquisition of the locally owned Harris Teeter, catching the attention of many shoppers, myself included.
The Morrocroft flagship store has such amenities as freshly baked pizza, hot and cold buffet lines including an Asian buffet, several ready-to-eat counters, a bakery, as well as an expansive fresh produce section with a growing quantity of organic and international items. The seafood counter frequently has North Carolina wild head-on shrimp.
But the real finds at HT are the manager's specials — often whole carts of products that have been discontinued. H.T. Traders sea salt, tasting like expensive French fleur de sel, costs two bucks. Plus, Harris Teeter's regular-priced eggs tied with ALDI for cheapest in town.
QUICK TAKES
Location: 6701 Morrison Blvd.
Hours: Open 24 hours daily. Closed Dec. 25.
Layout and ambiance: Fairly easy to navigate. Large floral section. VIC card needed for sale items. Music.
Produce: Large selection of mushrooms, some exotic fruits.
Fish Department: Above average.
Meat Department: Above average. Dried, aged beef has its own locker.
Bakery: Breads from DePalo, a Belmont bakery, and La Brea.
Prepared Foods: Large area, but food lacks oomph.
Specialty Items: An affinage, or curing, case for the soft cheeses.
International: Some Indian, British, Irish, Australian, Asian and Latino items.
Finds: South African Piri Piri sauce.
PUBLIX
Publix is the new kid on the block, but anyone who has visited Florida is familiar with this family-run grocery store. Today, there are 1,077 stores in the Southeast, with more coming to the Charlotte area. Publix's motto is "Where Shopping is a Pleasure," and this begins with each employee greeting you. Publix is the Nordstrom of the grocery world: Customer service is hardwired in these employees. Ask where an item is located and that employee will fetch it for you. The location I visited was spotless and well-stocked; to be fair, though, it is also brand-new. Also, Publix doesn't have a loyalty card, so sale prices apply to everyone.
Publix beat out the 11 other contenders in two categories: whole milk for $3.79 and the 32-ounce jar of Duke's mayonnaise for $2.91. Thus, Publix is the winner of my six-item price comparison.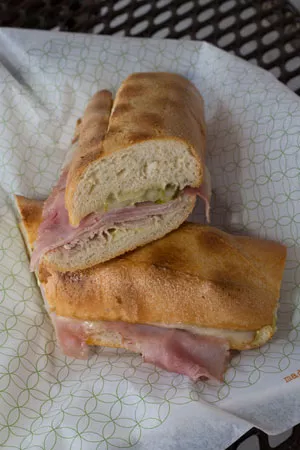 Pressed Cuban sandwich found at Publix
QUICK TAKES
Location: 1222 Providence Road West in the Ballantyne Town Center
Hours: Daily 7 a.m. to 10 p.m.
Layout and ambiance: Brand-spanking-new. Bright.
Produce: Attractive and well-priced.
Fish Department: Loads of shellfish.
Meat Department: Extensive with various cuts of lamb, including neck.
Bakery: Renowned for its cakes and pies. Samples of pies offered regularly. Fresh apple butter and Cuban bread.
Prepared Foods: A variety of entrées, sandwiches and salads with seating available to one side.
Specialty Items: One-pound can of Old Bay Seasoning in a shellfish seasoning section.
Finds: Pressed Cuban sandwich; Publix Aprons program performs cooking demonstrations.
SUPER G MART
Super G Mart is the Mos Eisley Cantina of the grocery world — from the exotic to the bizarre. It has live blue crabs ($4.99 per pound), live crawfish ($4.99), and whole fresh — not frozen — duck ($3.99 per pound). Its produce department has the largest collection of roots in town: tubers, tuberous roots, corms, rhizomes, taproots and bulbs. Exploring the aisles is a great way to kill an afternoon. Some products don't have English labels, so you can buy mystery food here.
The produce section at Super G Mart
QUICK TAKES
Location: 7323 E. Independence Blvd.
Hours: Monday to Thursday, 8:15 a.m. to 9:30 p.m.; Saturday, 8:15 a.m. to 10 p.m.; Sunday, 8:15 a.m. to 9 p.m.
Layout and ambiance: Confusing. Since products are grouped by cultural origin, different rice packages can be found in the Japanese, Chinese, Middle Eastern, Indian and Latino sections, while enormous bags of rice are at the front of the store.
Produce: Inexpensive. Banana leaves, fresh Southeast Asian herbs, green coconuts, Shanghai bok choy.
Fish Department: Extensive, including live blue crab, whelk, sea snails.
Meat Department: Packaged.
Bakery: Los Reyes Bakery with bread, sweets and cakes
Prepared Foods: Korean Restaurant, Honey Buns, an inexpensive Chinese steamed buns eatery. Eat-in area.
Specialty and International Items: The entire store.
Finds: Live crawfish. Medium-dark bulgur. Inexpensive spices.
TRADER JOE'S
Anyone with an acutely honed gathering instinct becomes addicted to Trader Joe's, the Han Solo of Store Wars. Each time I visit, a new find reveals itself. Right now TJ's is stocking New Zealand's manuka honey ($10.99 for 250 grams) with a UMF 10+ rating. UMF stands for Unique Manuka Factor, and 10 is the minimum rating. Many believe manuka honey has extraordinary antibacterial and anti-inflammatory properties. Whole Foods sells an organic manuka honey (500 grams) for $41.99. So you can see why Trader Joe's is crowded, especially the Piper Glen store. But parking is crazy at both the Midtown and Piper Glen locations.
Trader Joe's offers top-notch foods at great prices. A few months ago, it ran a four-buck special on GSM (grenache, mourvèdre and syrah), which proved to be an outstanding wine for that price. I bought two bottles and went back for more, but it had sold out. So the rule at Trader Joe's is if you see it — like frozen poutine or Ras El Hanout, a Moroccan spice blend — buy it right then.
Some popular items, such as the spiced apple cider and low-calorie lemonade, are seasonal. Trader Joe's also excels in providing single-serving meals, packaged and ready-to-go near the cash registers.
QUICK TAKES
Location: 6418 Rea Road
Hours: 8 a.m. to 9 p.m. daily
Layout and ambiance: Bright, tall shelves, wide aisles. Upbeat music. Samples always offered.
Produce: Good finds on seasonal produce at times.
Fish Department: Not a department: all packaged.
Meat Department: Not a department: on shelves, packaged.
Bakery: None on site. Good pita.
Prepared Foods: Sushi, salads, packaged meals.
Specialty Items: Excellent and constantly changing.
International: Large and mixed in.
Finds: Great prices on almost everything, including cheeses, yogurt, Spanish olive oil, astro droids and nuts.
WALMART SUPERCENTER
That's no moon: that's a Walmart Supercenter. Immediately inside the market entrance is a McDonald's, so the aroma in the neighboring produce section is distinctly fried foods. Walmart does not impress me. The floors need to be swept and shined. The seafood is frozen. I know people who swear by the prices at Walmart, but of the six items I compared at all 12 stores I visited, Walmart tied for lowest price in only one category: whole chicken for $.99 per pound.
QUICK TAKES
Location: 1830 Galleria Blvd.
Hours: 24 Hours daily. Closed Dec. 25.
Layout and ambiance: Easy. Long, wide aisles. Bright lights except, curiously, in the produce section. No music, but frequent intercom alerts.
Produce: Selection is good, but the appearance of some items is less than appealing.
Fish Department: All frozen.
Meat Department: Prepackaged.
Deli and Bakery: Adequate variety.
Prepared Foods: McDonald's.
International: Large Latino section.
Finds: Inexpensive flour.
WHOLE FOODS MARKET
Pricey? You bet. But Whole Foods has many positive attributes. It uses the color-coded "5-Step™ Animal Welfare Rating Standards" to allow consumers, especially those aware and horrified by factory farming, to make an informed choice about meat. Step 1 (orange) means the animal was raised without crates or cages. To earn the green Step 5, the animal must be raised with its well-being put first, "efficiency and economy are secondary." Whole Foods uses this system for its pork, poultry and beef products. (Of course, vegans and vegetarians might be offended just to read these steps.)
Whole Foods also collaborates with the Marine Stewardship Council to sell wild-caught seafood from fisheries certified sustainable. Farmed fish are sold as well. In fact, Whole Foods offers stunning deals on super-fresh whole fish, like Spanish mackerel.
The seafood department at Whole Foods
QUICK TAKES
Location: 6610 Fairview Road
Hours: Daily 8 a.m. to 10 p.m.
Layout: Milk, eggs and yogurt are located on an interior aisle. Covered parking is a bonus.
Produce: Small area, but select items including fresh fava beans.
Fish Department: Excellent.
Meat Department: Excellent.
Bakery: Breads and cookies sold by the pound ($10.99).
Prepared Foods: Known for this. The hot food and salad bars are $8.99 per pound. Hot pizza and excellent sandwiches, too. Dine-in area. Wine bar.
Specialty Items: Large selection of products for people on special diets.
International: Not the focus here.
Finds: Flank steak bison, poulet rouge, kosher chicken, French brioche loaf, and Planet Dog Orbee-Tuff dog toys.