Carolina Rebellion
May 4-6, 2018
Rock City Campground at Charlotte Motor Speedway


For the 8th year, Carolina Rebellion rolled into the Charlotte, NC area (one year at Metrolina Expo, one year in Rockingham, NC and the last six years at Charlotte Motor Speedway) with a multi-day metal extravaganza.
While numerous bands have played the festival multiple times, each year brings forth moments that stand above the rest. If you weren't at this year's three-day event, here's the top 5 moments you missed:
1. The Fever 333 brought the politics of Rage Against the Machine with the energy of a F5 tornado to Carolina Rebellion. Singer Jason Aalon Butler made a name for himself with his previous band, letlive, but The Fever 333 brings the fury to a new level. The band performed from the middle of the circle pit, did their best to tear up the stage (literally) and Butler even dragged the entire drum riser a few feet on his own. The band's 30-minute set on Sunday was the highlight of the entire festival.
2. Two years ago, Five Finger Death Punch welcomed cancer warrior and Leukemia fighter Allison to the stage for an acoustic version of "Wrong Side of Heaven." This year, Allison returned, still fighting her battle and making a lasting impression on the band and the entire crowd in attendance. Singer Ivan Moody spent a solid minute singing while in an embrace with Allison. Dry eyes were few and far between as the band wrapped up the acoustic "Remember Everything." Thousands showed their support of Allison's fight in a moment that transcended any music.
3. Stone Sour frontman Corey Taylor was only two songs into the band's set on Friday when he "felt something tear" in his leg. "I didn't tear anything in my throat," Taylor told the crowd as he battled through the rest of the band's set in visible pain. Taylor updated fans on Instagram that he had only sprained his calf. While plenty of other musicians might have bailed out in so much pain, Taylor powered through with professionalism and a whole lot of heart.
4. Greta Van Fleet didn't have it easy bringing a classic rock sound to a metal festival, but the young Detroit quartet showed why they're one of the hottest acts in the country right now.
5. With so much turmoil in the world, Carolina Rebellion consistently offers three days full of music that provides people with enjoyable entertainment and escape from the everyday mundane. While the music is aggressive, I've never seen one fight or act of aggression. It's continuing proof that the city can support a diverse rock lineup on an annual basis. So, thanks to the crowd and organizers for all they do. This year's Sunday lineup - Baroness, The Bronx, Clutch, The Fever 333 and others - proved that the festival can bring in plenty of other rock acts that deserve a listen.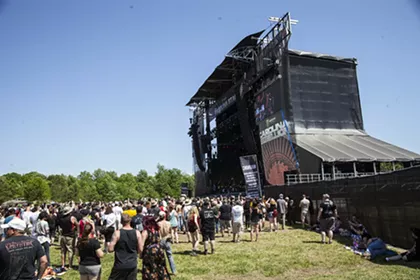 68 slides