UPDATE: Robby Hale, the Scowl Brow singer shown in the photo in this story, has since contacted CL, saying the image was taken out of context. See his quotes at bottom.
A disturbing photo posted by Robby Hale, the singer of a Charlotte punk band that has sparked controversy in the past with its misogynistic and homophobic lyrics and other antics, was making the rounds on Sunday. It shows the singer holding a burning cross.
In the wake of the Charlottesville tragedy involving white supremacists and the death of a counter-protester, Hale's actions have caused a palpable ripple through the local music scene.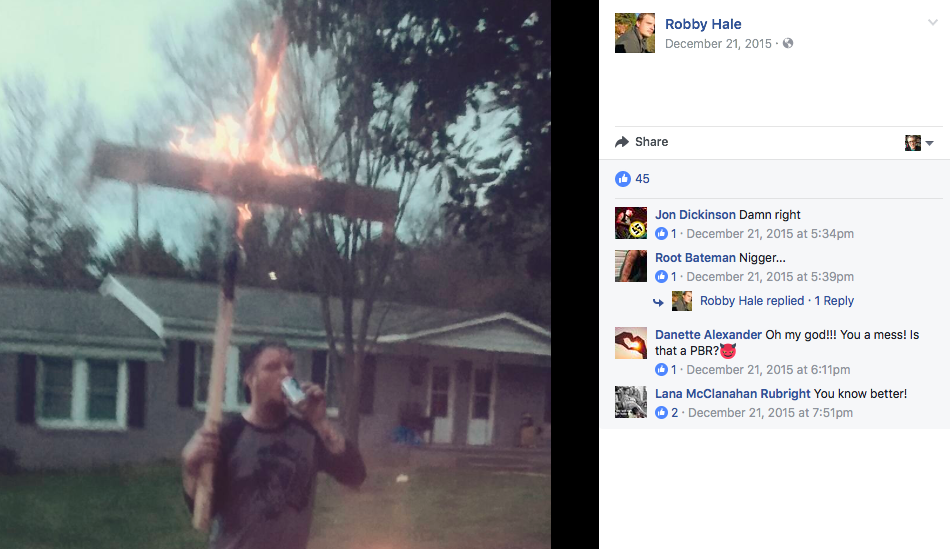 Scowl Brow singer Hale with burning cross.
"I'm 'bout to make a BIG stink about this," Phillip Gripper, co-founder of the Charlotte band Modern Primitives, said this morning after being shown the photo. "I've defended Robby when people have told me that he was racist."
The three other members of Scowl Brow — Rick Contes, Joshua Taddeo and Daniel Biggins — reached out this morning and said, "Language like that is disgusting and unacceptable and does not represent the entire band." (UPDATE: The three members have since announced their departures from the band.)
Josh Higgins of Refresh Records wrote in an email this morning that Scowl Brow has been dropped from the label. "The message that this image conveys is one that I find truly disgusting and do not condone nor wish associated with myself, Refresh, or any of our other artists," Higgins said. "We support equal rights for all, full stop.
"As of Friday, we have terminated our relationship with Scowl Brow and have begun the process of removing merchandise and music from our website and digital platforms," Higgins added.
Other members of the local music scene this morning said they've long been aware of Hale's threatening behavior.
"We have refused to play with this band for years and have probably lost friendships over it," said Scott Wishart of the band Late Bloomer and owner of Lunchbox Records. "There are also some pretty questionable lyrics in songs as well but that was explained as 'stories,' a la Bob Dylan or something."
Late Bloomer's Joshua Robbins said in a message to CL that he had spoken to the band and its record label, Refresh, about Hale's behavior in the past and that nothing was done about it.
"If we're going to indict Robby Hale for this," Robbins said, "are we going to indict all of the people that just didn't say anything when questionable things popped up over the years? The picture in question has been up for two years and no one has said anything, and also multiple people liked the picture that routinely speak out against violence and racism in the community."
Refresh Records' Higgins said he just learned of the photo last week and immediately took action. "I was not made aware of this image until Wednesday," Higgins said. "Although I knew what action Refresh would take immediately, I took Thursday to discuss the matter with our lawyer before terminating the relationship on Friday"
Robbins said he hopes the recirculation of the Hale photo can be a "teachable moment" for members of the Charlotte music scene.
"I myself have learned a valuable lesson today and over the course of this current [presidential] administration: These symbols aren't empty, this all holds weight," Robbins said. "We can't toy with this iconography and think it doesn't hurt people. Racism, sexism, homophobia and misogyny are real things that are still a huge problem in 2017."
For full disclosure and transparency, even Creative Loafing was aware of Scowl Brow's deplorable lyrics as recently as 2014, when the paper ran a review that failed to take a direct critical stance on it:
"[Hale's] also not afraid to give a frank perspective," the CL critic wrote, "even if it's far from politically correct. 'Tell me what the hell is going wrong in this town, every day there's more pussy hipsters around/You never know who's straight or who's off suckin' some dudes,' Hale sings on 'Mediocre My Ass.'" The critic went on to characterize the lyrics as "honest."
CL was tipped off to Hale's photo at 11:30 a.m. Sunday by Brett Green of Charlotte's Mineral Girls, and we immediately contacted Hale by Facebook Messenger. He has yet to return our message. We will be updating this story as it develops.
UPDATE: Hale contacted CL Sunday afternoon and said the photo in question has been taken out of context.
"That was a piece of a burning pallet I picked up out of a bon fire, and the racist comment was not of my own," Hale said. "This Nazi stuff wasn't happening when that picture was taken."
When asked what message he was trying to get across in the photo, Hale commented that he was just "drunk and being an asshole. I wasn't being a racist. I'm not a fucking racist. Some of my fucking best friends are black."
It should be noted that Hale's response to a commenter, who used the N-word racial slur on the page where the photo was posted, was, "Hahaaa, you're such a f****t [homophobic slur]."