Three days of rock, metal and mayhem have finally subsided and the dust is starting to settle. The Charlotte area's largest music festival made it through another year with plenty of surprises and stellar performances. Here are nine takeaways from the weekend:
•
Eagles of Death Metal
know how to party. From the opening chords to the final notes, singer Jesse Hughes was all smiles as he conjured up a rock 'n' roll revival. The band hit the ground running thanks to being joined by Mastodon guitarist Brent Hinds.
*
Taking Back Sunday
continues to mature and take their music to new places. While they could have been relegated to a Warped Tour headliner, the band showed its worth on the biggest side stage, proving they deserve a spot on one of the main stages the next time around.
• French metal quartet
Gojira
and English punk rockers
Frank Carter and the Rattlesnakes
led me to two conclusions. One, that Europe is clearly more innovative and interesting when it comes to breaking out of the metal mold. Two, that some of the bands on the smallest stages should have had a bigger spotlight.
•
Nothing More
continues to take drum solos to new heights, literally. During the band's previous tour, they used drum sticks on a bass guitar to create a rhythmic wall of sound. This time around, they played a "Scorpion tail" attached to the drum kit that lifted singer Jonny Hawkins up toward the lighting rigs. From there, the band played a heavy metal cover of Skrillex — but, surprisingly, it worked.
•
In This Moment
put on the most complete performance. From start to finish, the band went through costume changes and involved theatrical elements to keep the crowd hypnotized. Check them out at the Fillmore in June.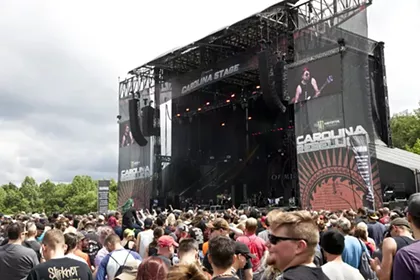 68 slides
• Lucky fans got a fun surprise thanks to Zippo. The Zippo Encore tent, located near the Rebellion Stage was the site of a number of acoustic performances. The biggest surprise came to those on Saturday at 4:30 p.m. A group of 100 people were led to the tent, unaware who was performing. I actually saw a woman cry when she found out it would be that night's headliner,
Korn
. The band played two songs, but for those lucky enough to witness it, it was enough.
•
Rival Sons
had one of the weekend's strongest vocalists. Far from the screaming heard by plenty of other bands, singer Jay Buchanan tore it up from start to finish. The band extended its songs with plenty of solos – they served the song far more than they were guitarsturbation rituals. But it was Buchanan who belted out note after note.
• Plenty of bands were considered headliners, but
Avenged Sevenfold
closed out the weekend in grand fashion, with massive screens and flames shooting from the stage.
• Best prop of the weekend goes to
Amon Amarth
who parked half of a massive Viking boat on their stage. The only downside was obscuring the drummer from public view. Other than that, I wanted to drink out of a massive horn like the rest of the band.
• Carolina Rebellion has turned into a well-oiled machine. It's a great weekend with plenty of music, but I have two big complaints. One is that some of the sets are too short. Get rid of a handful of bands on each day and bump up a few set times from 30 minutes to 45. Bands like
Radkey
,
Rival Sons
,
Machine Gun Kelly
and
Dorothy
offered slight diversity, but the event needs more. A number of bands have played the festival three times in seven years. I'd like to see more artists who have never played the festival before, or maybe open up the secondary stages to more diverse genres.
And, just for fun, here's a bunch of crowd surfers from the weekend: