Death Cab For Cutie w/ Chvrches
Charlotte Metro Credit Union Amphitheater
June 16, 2016
When Death Cab For Cutie and Chvrches announced they were touring together, it definitely raised questions about what type of crowd the two bands would draw together. Between Chvrches synthesized pop and Death Cab's indie rock, it was a toss-up. But the one thing you could be sure of? That it would be a huge crowd.
It was. The two headliners packed the Charlotte Metro Credit Union Amphitheater on Thursday night with quite the eclectic group of fans, uniting two powerhouses from different genres of music.
Since this tour is considered a co-headlining tour, both groups got about equal stage time, with Death Cab taking the stage last (after all, the guys are industry veterans who've amassed a cult following since 1997). Yet as young as Chvrches are as a band, especially when compared to Death Cab for Cutie, both are powerhouse bands in their own rights.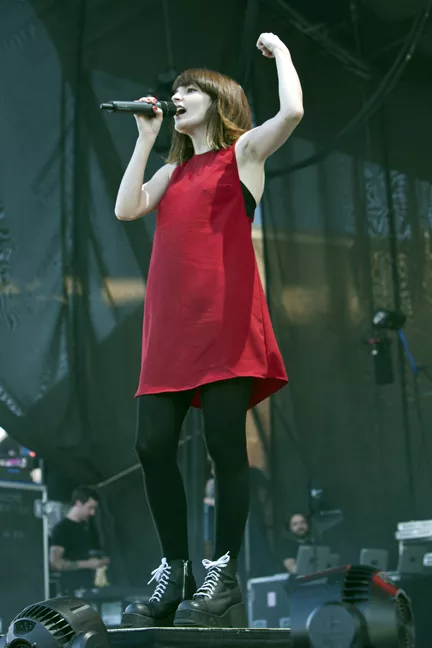 Chvrches frontwoman Laren Mayberry. (Photo by Jeff Hahne)
Once Oregon's Pure Bathing Culture warmed up the crowd with a solid set it was time for Chvrches to hit the stage. Immediately coming out of the gate with anthem "Never Ending Circles," they sounded flawless. They really brought the energy back despite the exhaustion of the heat and humidity. Frontwoman Lauren Mayberry was especially impressive, as she was the one forced to run from side stage to side stage to make up for the energy of her stationary bandmates. "I'm just going to hang my head in front of this fan like a dog out the window," she joked between songs, feeling the heat. "We come from a very rainy country where the sun never comes out, and this is nice, but fucking hell!"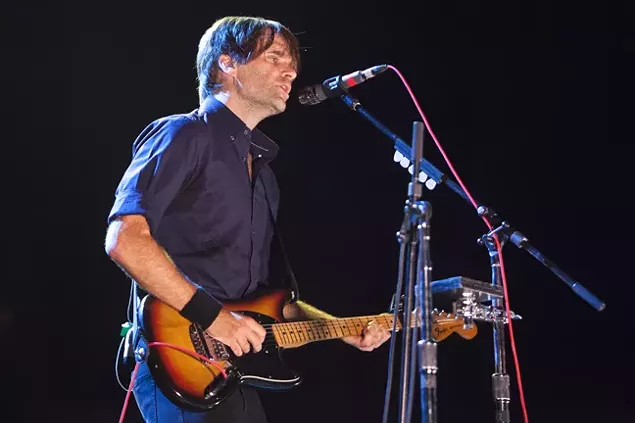 Death Cab For Cutie (Photo by Jeff Hahne)
They ripped through 10 tracks, a mixture of old and new songs that fans seemed to know every word to. By the time the sun went down, the crowd was thoroughly amped up and squirming for the next musical experience: the legendary Death Cab for Cutie.
Ben Gibbard and Lauren Mayberry took the stage prior to their set to bring attention to a cause near and dear to their hearts. "So just for a minute, we want to bring attention to why we're here, or I guess why we're not-not here," Gibbard said, bringing the crowd to a hush. He went on to explain that proceeds from this show were going to benefit North Carolina LGBTQ organizations and to the repeal of HB2. They brought out representatives from the Freedom Center for Social Justice and Southerners On New Ground, two local organizations fighting for full repeal of HB2.
"We had planned to come and talk to you all about HB2 tonight, but in light of the massacre in Pulse nightclub on Saturday, we're hoping to spark a different conversation about what it's gonna take for us to build safety for all of our communities in North Carolina and beyond," said Lyles, the representative of Southerners On New Ground.
The crowd listened as the trio of reps stressed the importance of recognizing the true issues at the heart of the matter, and as they read out the name of each individual victim of the massacre. An emotional moment for everyone in the amphitheater, the only sounds above the names being read were that of traffic in the distance. It was a powerful interlude.
Death Cab For Cutie (Photo by Jeff Hahne)
Death Cab for Cutie came out as a band after this recognition, to a subdued crowd that kicked into gear the moment they hit the first chord of "No Room in Frame." Chvrches had to warm the crowd up a bit to get them singing and dancing, but Death Cab merely had to grace the stage with their presence. The entire place was filled with the sound of every single crowdgoer crooning right along with Gibbard, making it hard to hear him at times. For favorites like "I Will Follow You Into the Dark," it was sometimes impossible to hear him—the raised voices of joy nearly tuned him out and the energy just kept building.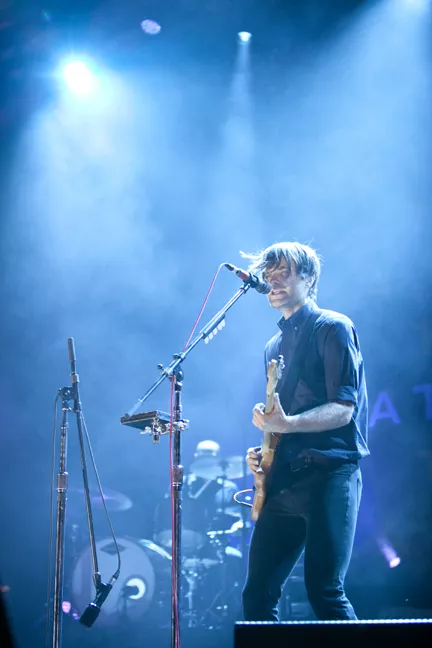 Death Cab For Cutie (Photo by Jeff Hahne)
They roared through a set consisting of mostly old crowd favorites, 12 songs played feverishly and flawlessly. For their encore the group took it down a bit, starting with just Gibbard's voice and a lone piano for ballad "Passenger Seat." They left the crowd wanting so much more with their last, "Transatlanticism," which ended on a high note, much like the show itself.
The entire show was an emotional rollercoaster masterfully conducted by two vastly different bands, yet it somehow came together flawlessly. This was the last night of the tour, but if you ever get the chance to see Chvrches and Death Cab sharing the same stage? Don't miss it.
Chvrches Setlist:
1. Never Ending Circles
2. We Sink
3. Keep You On My Side
4. Empty Threat
5. High Enough to Carry You Over
6. Bury It
7. Recover
8. Clearest Blue
9. Leave a Trace
10. The Mother We Share
Death Cab for Cutie Setlist:
1. No Room in Frame
2. Crooked Teeth
3. The New Year
4. Black Sun
5. The Ghosts of Beverly Drive
6. Brothers On a Hotel Bed
7. I Will Follow You Into the Dark
8. I Will Possess Your Heart
9. You Are a Tourist
10. Cath…
11. Soul Meets Body
12. Bixby Canyon Bridge
Encore:
13. Passenger Seat
14. Transatlanticism