Father John Misty
The Fillmore
April 27, 2016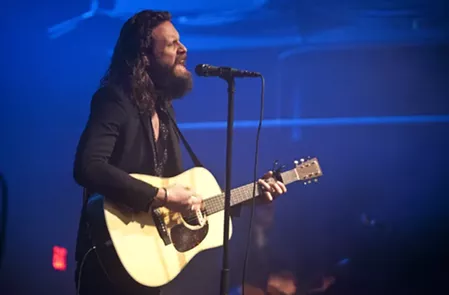 For the majority of his 90-minute set, J. Tillman, aka Father John Misty, played the part of the charismatic Americana troubadour. His vocal-focused folk-rock hinted at elements of soul and country, until he hit the encore. He lulled the audience with a solo acoustic rendition of "I Went to the Store One Day," and then unleashed the fury. 
Perhaps it was all a buildup to this, but in the blink of an eye, Tillman turned into a rock 'n' roll rebel that was free of any Father John Misty persona. "This is one of my favorite love songs," he told the crowd before playing a full-band, charged-up rendition of Nine Inch Nails' "Closer." From there, he closed the night with a blaring "The Ideal Husband." 
It's as if Tillman was slowly sexing up the audience for the majority of his set, giving them plenty of balladry and vocal foreplay. And just when you thought it was going to last all night, the set powered toward a fast and furious rock 'n' roll orgasm that left the audience packing the Fillmore satisfied and exhausted. 
Though outspoken about HB2 last week in a
Rolling Stone interview
, Tillman was short on words here. He briefly mentioned, "I'm getting over a cold" mid-song, and offered thanks at the end of his regular set closer, "I Love You, Honeybear." 
Outside of that, Tillman let his music and occasionally snarky lyrics do the talking. He danced, he offered some improv lyrics - for example, during "Bored in the U.S.A." he sang "got my own drone" instead of "subprime loan" -  and he dropped to his knees so many times I'd hate to see the bruises. 
Through it all, the crowd ate it up. They sang along, they danced and enjoyed every moment of Father John Misty's long-awaited Charlotte debut. 
Though he may not be a household name, this was a one-night stand that those in attendance would be happy to relive again soon. So, J. Tillman... call us?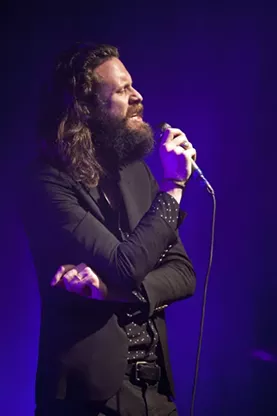 Setlist

Everyman Needs a Companion
Hollywood Forever Cemetery Sings
When You're Smiling and Astride Me
Only Son of the Ladiesman
Tee Pees 1-12
Nothing Good Ever Happens at the Goddamn Thirsty Crow
Funtimes in Babylon
Nancy From Now On
Chateau Lobby #4 (in C for Two Virgins)
I'm Writing a Novel
Now I'm Learning to Love the War
Bored in the USA
Holy Shit
True Affection
This is Sally Hatchet
I Love You, Honeybear
Encore
I Went to the Store One Day
Closer
The Ideal Husband