Rihanna
Time Warner Cable Arena
March 20, 2016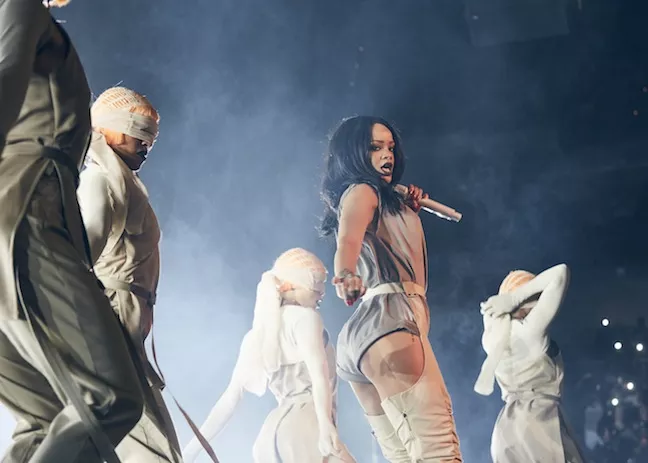 Dennis Leupold
Rihanna at a previous stop on the Anti World Tour.
With Monday mere hours away, you'd think the streets would be empty, everyone in the Queen City prepping for another day at work or school. Sunday night, however, they were empty because everyone was packed into Time Warner Cable Arena to see Rihanna's Anti World Tour. There wasn't a seat left empty in the house, and people from all walks of life, shapes, sizes and races came together to say: "Bitch Better Have My Money."
Well, that and about two-dozen of Rihanna's other hits, of which there are an impressive number for such a young artist. The Barbados singer (full name Robyn Rihanna Fenton) had her first hit when she was only 17, after being immediately signed on by then Def Jam president Jay Z, and her career has skyrocketed ever since. She's won eight Grammys, is one of the youngest solo artists to earn more than 14 number one singles, and just released her eighth album,
Anti
. And she's only 28.
Despite being so young, she's an industry veteran, and chose to really reinvent her style and sound for the release of
Anti
. She can be anything she wants to be, having embraced everything from badass to hood girl and everything in between, but this time around, the focus is just on artistry, musically and visually.
Dennis Leupold
Rihanna at a previous stop on the Anti World Tour.
The entire set up was extremely minimalist, even Rihanna herself, despite four costume changes. The stage, from floor to ceiling, was covered in white, quite literally serving as a blank canvas. In fact, every color on the stage seemed to keep to a monochromatic palette: white, grey, black and brown. Rihanna transitioned from one neutral covered covering to another, not relying on blatant sexy getups that would distract from her amazing vocals, yet she still somehow made oversized white jackets and bulky brown coats sexy. The focus was on the music, but let's face it: the girl still oozes sex.
Surprisingly, despite her reputation as such a sex kitten (just check out her Instagram feed), she's incredibly silly and charming on stage, even awkwardly adorable. A smile lit up her face the entire show, and with every move she shook side by side with her dancers, she'd make faces, stick out her tongue, basically embrace the silliness and have fun with it. It's why she has such universal appeal: because she is everything that we strive to be and everything we already are. There's confidence, sass, silliness, vulnerability and sex all embodied in one musical icon.
The show was divided into acts, each one showcasing a different side. There was the vulnerable side, which quickly evolved into the sexy side, as she kicked off the show with "Stay" and flowed into "Sex With Me." Rihanna grinded atop a floating catwalk, swinging her way towards the stage before hitting it and switching gears to the tough-as-nails hits like "Bitch Better Have My Money" and "Pour it Up."
The pop throwbacks came next, with hits like "Umbrella," "Live Your Life" and "Run This Town" all giving a nod to the dancehall hits she started with, followed by a feel of the island she hails from with songs like "Rude Boy" and "Man Down." She surprisingly chose to slow it down again for her final numbers, dressed in bulky brown pants and a jacket and singing in front of a psychedelic light projection for more churchy songs like "FourFive Seconds" and "Love On the Brain."
Overall, she did a fantastic job fitting in as many of her fan's favorites as possible while still devoting the bulk of the tour to the newest experimental material from
Anti
. Songs like "Disturbia," "S&M" and "Pon De Replay" were left out, along with many other monster hits, but with a back catalogue so full of billboard-topping favorites, something had to give. The Anti World Tour is only on day six, but based on what Charlotte got a taste of Sunday, it's sure to be one of Rihanna's most epic and successful tours yet.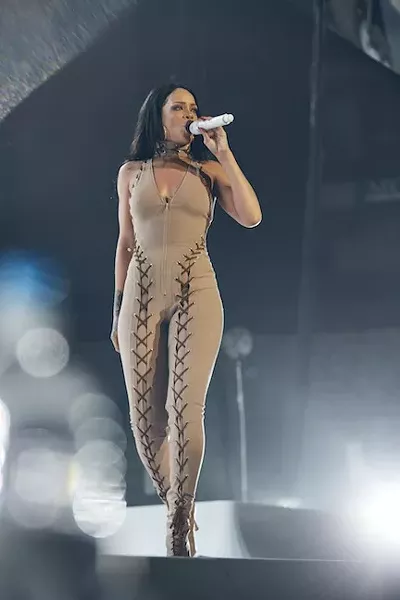 Dennis Leupold
Rihanna at a previous stop on the Anti World Tour.
Setlist
Stay
Love the Way You Lie
Woo
Sex With Me
Birthday Cake
Pour it Up
Numb
Bitch Better Have My Money
Pose
Consideration
Live Your Life
All of the Lights
Run this Town
Umbrella
Desperado
Man Down
Rude Boy
Work
Take Care
We Found Love
Where Have You Been
Needed Me
Same Ol' Mistakes
Diamonds
FourFiveSeconds
Love on the Brain
Kiss it Better