Jon Pardi w/ Brothers Osborne
The Fillmore
Jan. 29, 2016

It was supposed to be Jon Pardi's gig, but for me, it was Brothers Osborne who stole the show as the opening act. Walking out through a fog of incense smoke, T.J. and John Oborne cranked things up and got the crowd's attention in short order.
The duo, who earned a Grammy nomination for their song "Stay a Little Longer" before their debut album
Pawn Shop
was released, is quickly gaining a solid fan base. They opened for Darius Rucker last summer, are on tour with Jon Pardi now and will return to the Queen City this summer as the opener for Miranda Lambert.
The music leans toward pop country, but there are strong traditional country roots built in just as much as there are rock undertones. T.J. addressed it by telling the crowd, "Some people tell us we don't play country music. Who the fuck decides what's country anyway? So, for all the doubters, we put a country song on our album." The duo proceeded to play "Loving Me Back," which features Lee Ann Womack on the album (John sang her parts live.)
For "Stay," John unleashed a lengthy solo that carried the tune along to a close more than anything that was showy or over-the-top. To close their set, Brothers Osborne played a country-fried version of The Band's "The Shape I'm In." I'd suspect it won't take long before these guys are headlining bigger venues.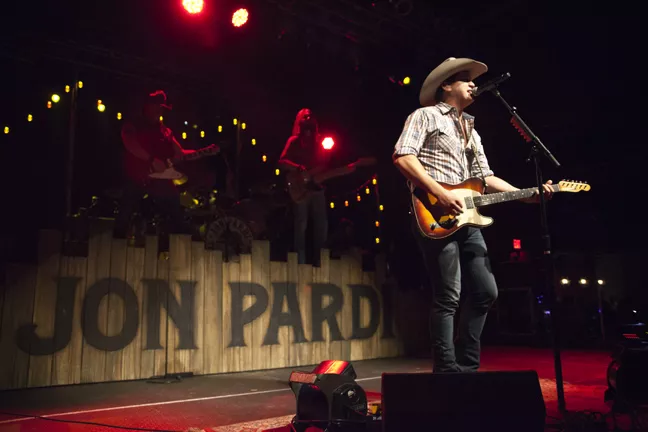 As for Pardi, his set got the crowd singing along and dancing with its at-times generic pop country sound. His "generic" songs of love, beer and all things cowboy fell into stereotypes too often. Pardi's vocals are a bit too tinny for my taste, but his performance grabbed the audience's attention and he did the most to move around the stage and draw the packed venue in for a more intimate feeling.
Brothers Osborne setlist
Greener
Let's Go There
Rum
Hey Good Lookin'
Aint My Fault
21 Summer
Loving Me Back
Pawn Shop
Stay a Little Longer
The Shape I'm In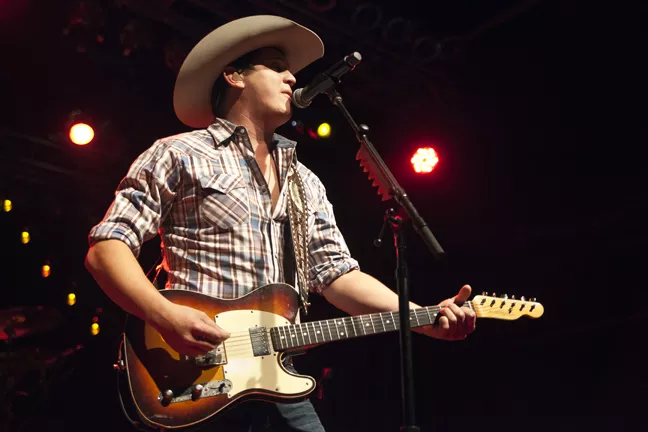 Jon Pardi setlist

Missing You Crazy
Empty Beer Cans
Trash a Hotel Room
Cowboy Hat
Back on the Backroads
Over My Head
Love You From Here
She Ain't In It
When I've Been Drinking
That Man
Chasing Better Days
Happens All the Time
Paycheck
What I Can't Put Down
All Time High
You Shook Me All Night Long
Write You a Song
Encore
Head Over Boots
Life in the Fast Lane/Fast As You
Up All Night