Metric
The Fillmore
December 16, 2015
Roaring out of the gate, Metric sailed into the one-two-three punch of the buzzing and ominous 'Lie Lie Lie," the bedazzled and stomping "Youth Without Youth" and the slashing and cyberpunk "Help I'm Alive." It was only at the conclusion of the final tune's sheets of metallic guitar that front woman Emily Haines addressed the crowd with an exuberant "Hello Charlotte!" Did I mention that she started the set dressed as a peacock?
Equal parts outlandish and stylish, Haines had strutted onstage earlier in her plumed, coal black big-bird attire, before shedding her feathers for a simpler goth-rock outfit of black shorts, black hat and black leather jacket. It made perfect sense for Metric, who play theatrical, thoughtful and tuneful modern rock - a mix of new wave, synth pop, and post punk, layered with the glam rock riffing of T. Rex on steroids. Though the band's most recent album,
Pagans in Vegas
, signals a shift toward moody and introspective electronics, on Thursday night, Haines and crew were in full tilt arena rock mode.
On "Cascades," guitarist James Shaw, bassist Joshua Winstead and drummer Joules Scott-Key donned luminous sunglasses – call them anti-shades - as Haines trailed a billowing swath of silk behind her like a set of angel's wings. Her electronically altered voice was sinister on the robotic dry hump verses and sugary hard rock candy on the soaring chorus.
Scott-Key's galloping beats ushered in "Black Sheep". True to the tune's lyrics about shape shifting, Haines' vocals turned on a dime from coy to lurid, brassy to breathy, reaching for crystal high notes over a bed of woozy keyboards and doomy bass.
Haines picked up an electric guitar on the fist pumping "Gold Guns Girls". Her stuttering vocals propelled the cantering melody over swirling cold wave keys, chunky bass and Shaw's knotty, labyrinthine guitar fills.
Wailing guitar and rattling snare kicked off set closer "Breathing Underwater." The most dynamic number of the evening, it segued to a spare, almost acoustic arrangement where all instruments dropped out save Shaw's gently strummed guitar. Engaging the audience in a sing-along, the band came to the lip of the stage, clapping and swaying. It was a moment made for a sea of waving cigarette lighters – if audiences still did that sort of thing.
True to their glam-and-art rock leanings, Metric's set was energetic and inspired, a brisk, solid slice of "Wham, bam, thank you ma'am!"
The night started with a brief set by Grizfolk and ended with a thunderous performance by Awolnation. All bands performed for the annual 106.5 The End Not So Acoustic Christmas.
Metric setlist
LLL
YWY
Help
Cascades
Black Sheep
Synth
GGG
Shade
Breathing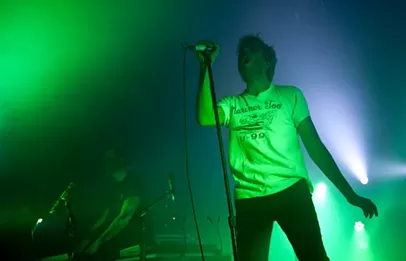 Awolnation setlist

Run
Hollow
Jump
Not Your Fault
Jailbreak
Kooks
Knights of Shame
Kill Your Heroes
Woman
All I Need
People/Plastic
Burn
I Am
Dreamers
Sail