Emily Kinney
Visulite Theatre
Nov. 24, 2015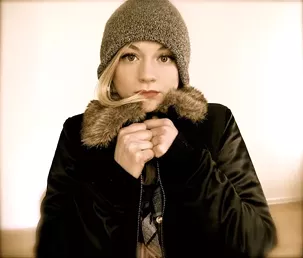 On a crisp November night in Charlotte, you are far more likely to find anyone braving the cold uptown on a bar stool than taking in a folk show on Elizabeth Street, but the chance to see Beth Greene (of
The Walking Dead
) back from the dead? The allure was strong: strong enough to pack the Visulite Theater for Emily Kinney's 75-minute set Monday night.
It may be fair to say that at least half of the spectators were there out of curiosity; apart from her forays singing on the show, it would appear that most of her fans didn't even know she was an actual singer until the release of her EP
Blue Toothbrush
(quickly followed up in 2013 with
Expired Love
), pushed more to the forefront after her abrupt departure from AMC's
The Walking Dead
. But Emily Kinney has actually been writing songs and playing around New York City for the past decade. She is one of those 'actor-slash-singer-musicians' that actually has earned the distinction of those slashes and if you ever get to see her with a guitar on a small stage you will instantly see why.
This tour, her first official after a scattered series of live shows, is named after album single
This is War
, and offers her fans their first real glance at the lyricist, folk musician and singer that really is Emily Kinney. A pop-folk artist with an impressive vocal range (much wider than portrayed in her brief bits on the hit show), profound lyrics and emotionally mature tracks, Nebraska-born Kinney got her start moving to New York City after graduating college and getting small bit parts on Broadway and in movies. Eventually landing AMC's megahit
The Walking Dead
in 2011, her role of Beth really helped to make her a household name, the perfect launching point to bring the music she's been writing for years to the masses.
In person, Kinney is adorable; there's really no other way to describe her as the petite 5-foot-5 blonde took the stage with a huge shy grin. She's engaging, constantly breaking between tracks to tell the crowd the story behind some of her favorite songs — most of them "about a boy I met," as she intros several of the new songs, but also some more scathing songs breaking up the sweet odes to love.
Even while introducing these more pointed jabs, like for "Julie" (In which she pleads with a guy she likes to send his girlfriend, Julie, home so they can get together) or "Molly," (about a man-stealing girl her boyfriend cheated with), Kinney is still bubbly and cute. It's funny to see a bubbly blonde smiling as she self-consciously says "This next song is about someone I really don't like," and then watching her rip into a former lover's current lover. Even at her meanest she is just charming as a person, whether she's singing about wishing a crush would leave his girlfriend for her or while politely (much more politely than most) asking the audience members singing along loudly to be quiet so the rest of the club could enjoy her songs.
Of course, Kinney is acutely aware of her audience and where she comes from, and did a great job of balancing fan perception of her while reminding them that she is more than just the show (it was impressive that she didn't even mention her ties to the show until halfway through her set). She did weave two songs into her set she sang as Beth during her time on
The Walking Dead
, "Be Good" and a Tom Waits cover "Hold On." Her beloved character may be dead and gone, but for the singer Emily Kinney, her life in the "musical bubble," as she so aptly puts it, is just coming to life and is sure to go on for a long, long time.
Setlist
Same Mistakes
This is War
Expired Lover
Married
Berkeley's Breathing
Michael
Never Leave L.A.
Julie
Dad Says
Birthday cake
Jonathan
Molly
Mess
Be Good (Waxahatchee cover)
Hold On (Tom Waits cover)
Last Chance
Masterpiece
Encore
Rockstar