Grace Potter
The Fillmore
Nov. 7, 2015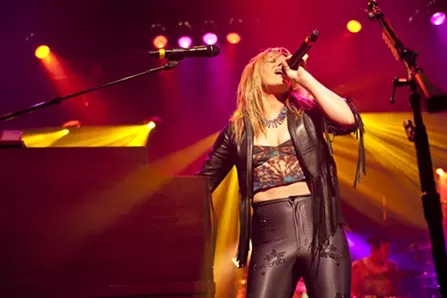 Photo by Jeff Hahne
Grace Potter
It didn't take long for Grace Potter to admit that it had been a while since her last concert in Charlotte, but fans of her music, and those of her band, the Nocturnals, didn't leave disappointed after a raucous and rocking concert on Friday night. 
Potter performed an array of songs from her solo album,
Midnight
, as well as a bunch from the Nocturnals days. With original Nocturnal Benny Yurco on guitar, those songs have a lot of the same vibe going for them. Notably missing — and the source of much gossip around the crowd — was Potter's husband, drummer Matt Burr, but his replacement/fill-in did a fine job.
This show, however, was clearly a "Grace Potter" concert as she and her keyboard were front-and-center on stage and the spotlight was solely hers. For the most part, the songs remained the same — from the rocking Nocturnals tunes to her more pop and energetic solo material.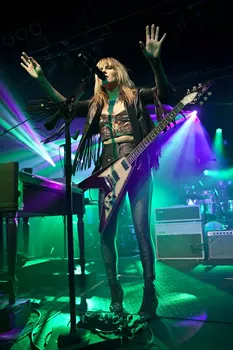 Photo by Jeff Hahne
Grace Potter
The most notable difference came during "Nothing But the Water." Where Potter has, in the past, sung the song a capella, this time around it was given a meatier backdrop as she strummed along on her Flying V guitar. "The Lion The Beast The Beat" was as fired up as ever, and she belted out the lyrics to "Stars" with all her might. Sure, she might be the main focus these days instead of the band-driven performances of the past, but her heart never weakens for the music she loves to sing.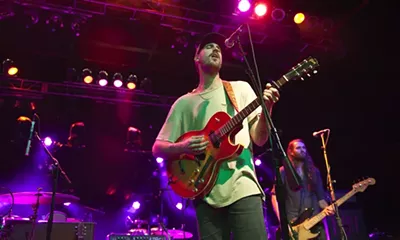 Photo by Jeff Hahne
Rayland Baxter
Also noteworthy was a lengthy opening set from Rayland Baxter, who didn't hesitate to give a shout-out to the Evening Muse, one of the first places he played in Charlotte years ago. Baxter's long jams sounded good for a long drive as the band often found time to stretch its legs on the indie-rock rhythms. 
Photo by Jeff Hahne
Grace Potter
Setlist
Hot To The Touch
Never Go Back
Ah Mary
Empty Heart
Timekeeper
Biggest Fan
Low
Let You Go
Low Road
Nothing but the Water (I)
Turntable
The Lion The Beast The Beat
Stars
Your Girl
Instigators
Encore
Alive Tonight
Medicine
Paris (Ooh La La)