Of Monsters & Men
Uptown Amphitheatre
Oct. 8, 2015
Photo by Jeff Hahne
Of Monsters and Men
With a rapidly growing fan base to support them, Icelandic indie outfit, Of Monsters & Men, has done what so many bands do – or fail at trying to do – and grow into deeper, more complex shoes. That's not to say the band's debut album
My Head is an Animal
lacked emotion or depth, but it is to say their sophomore effort,
Beneath the Skin
, is no slump. It's supplementing the bands solid reputation for song writing. There's something deeper and darker in their latest album's nature and it's felt just as much as it is heard at the band's live shows.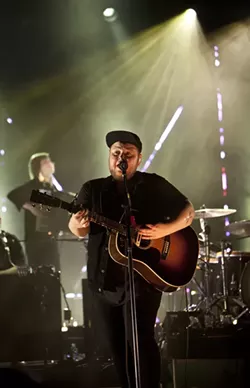 Photo by Jeff Hahne
Of Monsters and Men
A nine-piece band dominated the stage, some members switching out instruments, throughout the night. Singer/guitarist duo Ragnar 'Raggi' Þórhallsson and Nanna Bryndís Hilmarsdóttir had their staple stage presence of leading, pairing and supporting.
Hilmarsdóttir thanked the crowd sweetly throughout the set and commented on her fears of bugs that seemed to be drawn to her because of the spotlight. But that's the only fears that appeared, as she tore though song after song with her soft and, at times, raised vocals shining through.
Photo by Jeff Hahne
Of Monsters and Men
The set consisted of songs from both discs with a mix of jumpy, folk-tinged ditties and more somber numbers. Of the latter, "Organs," which was played during the encore, was backed by some light trumpet playing that brought levity to songstress Hilmarsdóttir's emotionally tense vibe. Some folks chattered a bit during this song, clearly not the band's most popular, but definitely one of their softest and strongest yet.
Other highlights from the show include pumpy jams like "Lake House" "King & Lionheart," "Mountain Sound," "Little Talks," "Dirty Paws," and many more, layered with anthemic-like drum rolls and cheery/mysterious elements. This is a band that can do no wrong on the stage. Two albums and a tour across the globe has armed them with a presence. It only amplifies in a crowded amphitheater of fans - who are just as likely to sing-along as they are to carry an Icelandic flag for the band throw around onstage.
Photo by Jeff Hahne
Of Monsters and Men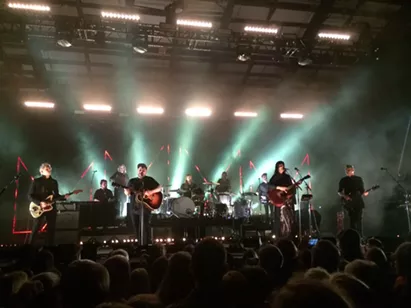 Photo by Jeff Hahne
Of Monsters and Men
Setlist
Thousand Eyes
Empire
King & Lionheart
Mountain Sound
Human
Black Water
I of the Storm
Backyard
Crystals
Hunger
Wolves Without Teeth
Lake House
Little Talks
Six Weeks
Encore
Organs
Dirty Paws
We Sink