Sylvan Esso w/ Helado Negro
Neighborhood Theatre
Jan. 16, 2015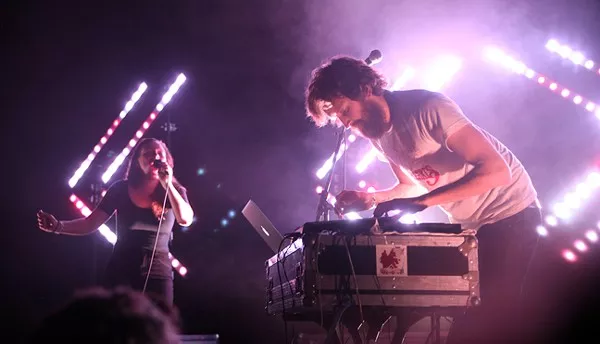 For a band that doesn't have a lot of songs (they only released their debut album on Partisan Records in May of 2014), Sylvan Esso packs its live sets with songs that carry a powerful punch. The indie-pop electronic duo makes up for quantity with quality. At one point, they admitted to not having many songs to play - they played around 11 songs during their show at Neighborhood Theatre - and thanked the sold-out crowd for coming.
The band, which hails from Durham, North Carolina, is comprised of two members - songstress Amelia Meath and producer/keyboardist Nick Sanborn. The duo filled the room with energy during its short and sweet set.
Highlights included Meath letting out sultry howls on "Wolf," and a set filled with melodic, indie electro-pop dance beats like "Uncatena," "Could I Be," and the band's biggest hits "Dress," "Coffee," "Hey Mami" and "Play It Right."
They saved their slowest, a swaying, lighter-friendly song, "Come Down" for an encore. The duo, who put on a solid performance, with captivating beats and synth soundscapes, also presented a personable vibe between songs.
They messed up on two songs during the set, but rolled through it, admitting to their mistakes and starting over. The band kept a cool and calm attitude that resonates in the music they play.
Roberto Carlos Lange, better known as Helado Negro, opened for Sylvan Esso. The New-York based, Florida born singer/songwriter of Ecuadorean descent, presented an experimental electronic set that featured songs in Spanish and performance art — three people covered in silver tinsel that remained onstage for the entire set. It was odd, but not necessarily memorable.
All-in-all, it was Sylvan Esso who left a lasting impression. I'd bet the band plays an even bigger venue in the Q.C. in the future. Keep them on your radar and get your tickets quickly the next time they schedule a date in town.
Sylvan Esso setlist
Could I Be
Dreamy Bruises
Dress
Coffee
Wolf
Uncatena
Hey Mami
H.S.K.T.
Play It Right
Encore
(New Song)
Come Down