Chris Robinson Brotherhood
Neighborhood Theatre
Nov. 2, 2012
Chris Robinson grooved and sang his way through song after song during the Chris Robinson Brotherhood's Nov. 2, 2012, concert at the Neighborhood Theatre. While he occasionally grinned at his bandmates during lengthy jams, he reserved his biggest smiles of the night for his biggest fan. Standing just off the stage was his daughter, Cheyenne, who will turn 3 next month. Wearing big pink headphones and a black shirt emblazoned with a glittery "I Love Rock and Roll" across the front, Cheyenne watched, danced and stared as her father got the packed NoDa venue dancing and singing along.
Robinson, with his full greying beard, clearly relishes his new group and its laid-back vibe that combines elements of classic rock in the vein of the Tulsa, Okla., sound that bred musicians like Leon Russell and stoner-fried jams in the spirit of the Grateful Dead.
The hour-and-15-minute first set got started with the rollicking, "Let's Go Let's Go Let's Go" as the band scattered a mix of songs from each of its two albums along with the sporadic cover. The first set included the Dead's "Bertha" and a sped-up, country-rock rendition of Carl Perkins' "Blue Suede Shoes."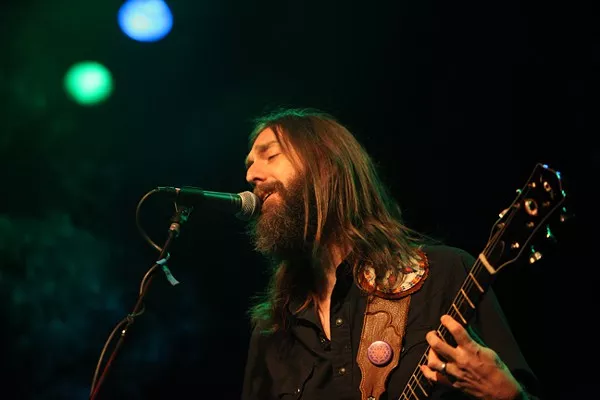 The band's brand of upbeat rock mixes with slow, soulful musical explorations which controlled the vibe of the entire venue. Robinson not only showed off his vocals, but also guitar-playing abilities that weren't often seen in his days with the Black Crowes.
Robinson plays rhythm to Neal Casal's lead guitar, while Adam MacDougall's keyboards sparkle and shine on top. The frontman had plenty of moments where he could sit back, smile and watch Casal or MacDougall take the spotlight and take the song in different directions. While the band generally stays true to its studio renditions — most songs are nearly 10 minutes on the albums, too — you can also hear where, much like the Dead before them, they let the moment carry them away and see where the tunes will take them.
The second set included the lively "Little Lizzie Mae," and a song from Robinson's solo album, New Earth Mud, "Sunday Sound." The night ended with a two-song encore including a cover of the Dead's "Mr. Charlie."
While the band performed for nearly three hours, you get the impression that Robinson would play all night, every night if he could. The night's biggest singalong was no surprise, coming at the close of the second set with Rosalee's "Is the air getting thinner, are we getting high?" chorus. Those clamoring for a Crowes reunion aren't likely to see one in the near future. Robinson simply looks like he's having too much fun with the CRB to stop anytime soon.
Setlist
- Set One -
Let's Go Let's Go Let's GO
Tomorrow Blues
Mother of Stone
Star or Stone
Bertha
Vibration & Light Suite
Little Lizzie Mae
Blue Suede Shoes
- Set Two -
Meanwhile in the Gods...
40 Days
Train Robbers
Hello L.A. Bye Bye Birmingham
Badlands Here We Come
Tough Mama
Sunday Sound
Rosalee
- encore -
Reflections on a Broken Mirror
Mr. Charlie