Metric w/ Half Moon Run
The Fillmore
Sept. 17, 2012
The highlights of Monday night's Metric concert at The Fillmore were more like unexpected gifts. One was an acoustic song performance by the headliners and the other was proof that you should always check out an opening act.
For the most part, Metric's 15-song set cruised along as expected — energetic synth-rock driven by the vocals and high-stepping of singer Emily Haines. Set against a wall of square lights, the band cruised through a handful of hits — including "Youth Without Youth," "Help I'm Alive" and "Gold Guns Girls" — and songs from its latest album, Synthetica.
However, it was the last of a trio of encore songs that stood out from the pack. Haines and guitarist James Shaw stood front and center of the stage, bathed in a few white lights and performed an acoustic version of "Gimme Sympathy." It not only gave Haines time to shine as a vocalist against a simpler backdrop, but brought forth a stronger connection to the 1,000 or so people in attendance.
The song was the perfect bookend to a night that got started with a 40-minute set by Half Moon Run. The Montreal-based quartet drew growing applause throughout its set as the band won over the crowd with a combination of sparse indie-folk, stellar harmonies and, at times, heavy percussion.
Multi-instrumentation was on full display with a keyboardist/guitarist, singer/guitarist, drummer/keyboardist and percussionist. During "Call Me In the Afternoon," the band showcased stunning, CSN-style harmonies before three of the quartet would hammer away on drums and thunder the song along until the next chorus.
The beauty in the band's music came from the splashes of falsetto vocals, layering of textures without sounding cluttered and an overall easy delivery, exemplified on the song "Nerve." At the end of every song, there was a feeling of — "I'd like to hear that one again."
Half Moon Run was the perfect example of why it's good to give every band on a bill a chance. Keep an eye out for them in the future...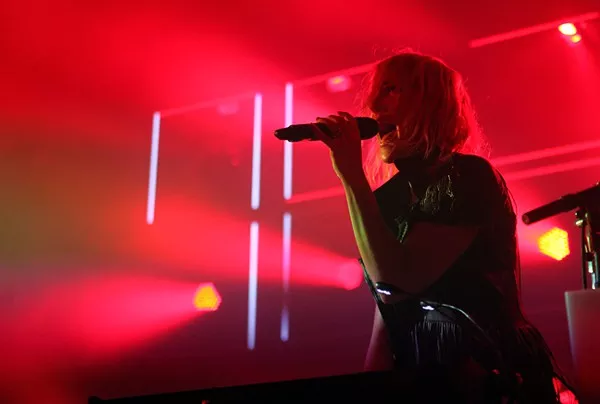 Metric setlist
Artificial Nocturne
Youth Without Youth
Speed the Collapse
Dreams So Real
Empty
Help I'm Alive
Synthetica
Clone
Breathing Underwater
Sick Muse
Dead Disco
Stadium Love
Encore
Monster Hospital
Gold Guns Girls
Gimme Sympathy (acoustic)