106.5 The End Weenie Roast f. Garbage
Verizon Wireless Amphitheatre
Sept. 16, 2012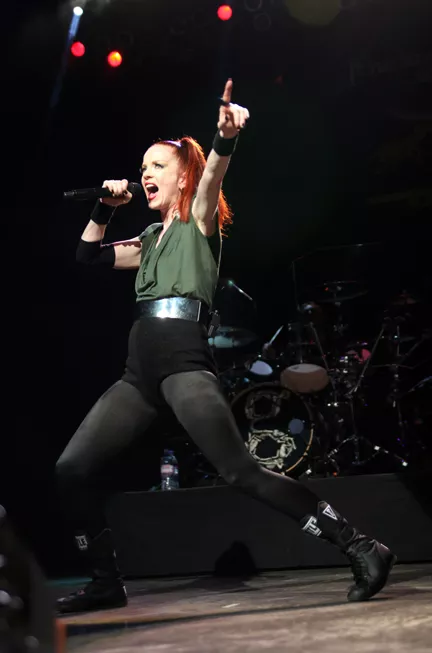 2012 may have marked the first new studio album from '90s alt-rockers Garbage since 2005, but Sunday also marked the band's first Charlotte performance since 1999. The last time Shirley Manson and company were in town was when the band hit UNC Charlotte as part of an MTV campus invasion tour. This time around, the group was one of the headliners for 106.5 The End's reignited Weenie Roast, which also featured The Offspring, Flogging Molly and Coheed and Cambria among others.
Manson was clearly in the spotlight — literally — from the moment the quintet hit the stage. As her bandmates — drummer Butch Vig, guitarist Duke Erikson, guitarist Steve Marker and touring bassist Eric Avery (formerly of Jane's Addiction) — sat in the shadows, the flame-haired fireball practically did an aerobics workout as she bounced around the stage singing hit after hit.
Wearing a pair of boxing shoes, 46-year-old Manson was in fighting form with her vocals, displaying perfect power and poise despite obvious in-ear monitor problems. While sound may have been an issue on stage, the band sounded great from the amphitheatre — the kickdrum and bass providing enough booming low-end to the band's upbeat pop-rock anthems.
Though only performing 10 songs during its 50-minute set, Garbage pulled out a bit of everything from four of its five studio albums including "Stupid Girl" and "Vow" from its self-titled debut, "Paranoid" and "Push It" from Version 2.0, "Cherry Lips" from Beautiful Garbage and "Automatic Systematic Habit" and "Blood for Poppies" from its latest, Not Your Kind of People.
The night's stand-out song came during set-closer "Only Happy When it Rains." The song's intro was stripped and slowed down before ramping up to its catchy chorus. It'd be nice if the band could return to Charlotte for a full show sometime before another dozen years pass by.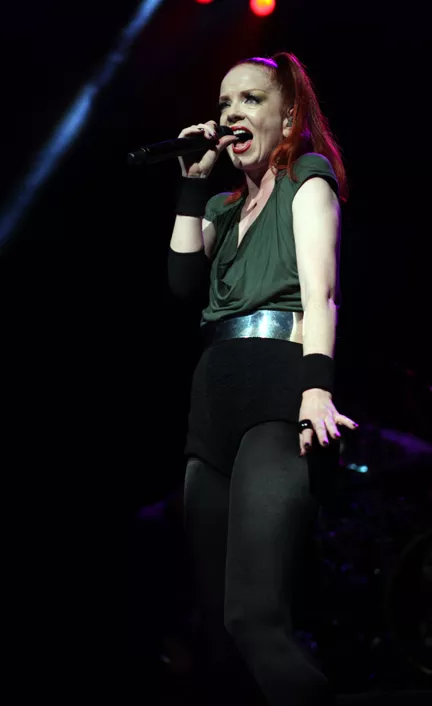 Garbage setlist
Automatic Systemic Habit
I Think I'm Paranoid
Blood for Poppies
Stupid Girl
Cherry Lips
#1 Crush
Control
Vow
Push It
Only Happy When it Rains
Offspring setlist
All I Want
Come Out and Play
Days Go By
Have You Ever
Bad Habit
Turning Into You
Staring at the Sun
Why Don't You Get a Job?
Gone Away
Americana
Gotta Get Away
Pretty Fly (for a White Guy)
The Kids Aren't Alright
Encore
Self Esteem