Styx, REO Speedwagon, Ted Nugent
Verizon Wireless Amphitheatre
May 17, 2012
Styx, REO Speedwagon and Ted Nugent performed at Verizon Wireless Amphitheatre on May 17, 2012, as a stop on the Midwest Rock 'n' Roll Express Tour. For those in attendance, it was a trip down nostalgia lane and you could easily tell what you'd see before the first notes rang out.
Ted Nugent hit the stage first for an egocentric trip down guitar-flash lane. Would you expect anything less? With a hand's free microphone, Nugent stomped around the stage screaming and singing, letting out as many vocal whoops as flashy guitar riffs. And, of course, there were plenty of hits - "Wango Tango," "Cat Scratch Fever" and "Stranglehold" among them.
When REO Speedwagon appeared, the waves in the audio pool were much calmer than when the Nugent storm rolled through. REO Speedwagon is one of those groups where you can't name one song off the top of your head, but when the band plays, you realize you know most of them. "I heard that Ted doesn't like our songs and thinks they're too soft," singer Kevin Cronin told the crowd. "But, when you go home tonight, would you rather make love to one of our songs or to 'Wang Dang Sweet Poontang'?" Cronin (who himself left and rejoined the band) was REO's second singer after original vocalist Terry Luttrell left the band in 1971. Keyboardist Neal Doughty remains the only original member of the group whose setlist included "Keep On Loving You," "Can't Fight This Feeling" and "Don't Let Him Go."
The night ended with a set by Styx who was full of flash and smiles. The band members constantly broke into poses, winks and grins that stopped just shy of being choreographed. Singer/guitarist Tommy Shaw is clearly the leader of the pack and made full use of the large stage. The band threw a few hits in their set including "Too Much Time on My Hands," "Come Sail Away" and "Renegade."
So, let's face it. The half-filled amphitheatre and older-leaning crowd proved this tour is clearly a trip down memory lane for most, or a chance to see some radio-friendly rock ballads in a live setting. Familiar? Yes. Cheesy? A bit. Bland? At times. But for fans and performers alike, they appeared to simply enjoy the moment, kind of going through old photos — they're nice to bring out and look at once every few years, but then you put them back in the shoebox under the bed.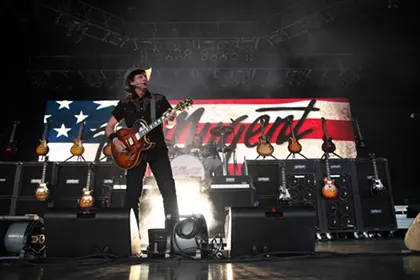 15 slides