Monophonics
Double Door Inn
May 17, 2012
An hour into Monophonics' set at the Double Door Inn on May 17, 2012, people were still walking in the door of the Elizabeth venue. Apparently, word got out. San Francisco funk-and-soul sextet was absolutely
killing it
on stage.
While the group brings a retro Motown vibe to its albums, some of that is lost in the live setting - only in a good way. The band drops the retro and drives forward with spirit and soul. Where a studio version might be like a smooth excursion, the live rendition comes through like a roller coaster. Singer/keyboardist Kelly Finnigan was dripping with sweat after the first song and the entire band played with a these-are-the-coolest-songs-we've-ever-heard attitude - swaying, sweating and smiling.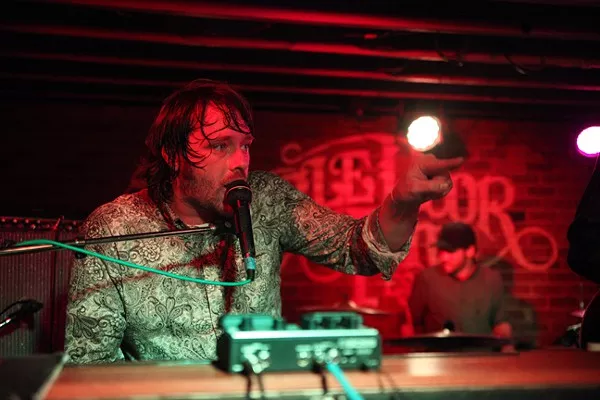 Seated behind his Hammond and Rhodes keyboards, Finnigan's voice showed wear and tear as his rasp brought grit to every syllable. When you learn he's the son of Mike Finnigan, a keyboardist who played with Jimi Hendrix, CSN, Buddy Guy and Etta James among others, you get a good feel of where all his talent comes from.
The retro side of Monophonics' sound gives the songs familiarity, but the band brings them to an updated level which doesn't make the music feel dated. The band's recordings might sound best on vinyl, but the live performance is an entity of its own combining funk, rock, blues, jazz and soul into one tight package.
The music quickly got feet moving and had the comfortably packed venue enthused with every heartfelt vocal, drawn-out note and extended jam. Wah pedals, vocal delays and plenty of horn section swells kept things fresh and funky.
Touring in support of the recently released third album, In Your Brain, Thursday night was Monophonics first appearance in the Queen City and, judging by crowd reaction, certainly not their last.