MC Cataclysm
The Milestone
March 30, 2012
In Charlotte, it's not often that hip-hop and breakdancing are intertwined into one event. However, both arts showed their colors at the Milestone on March 30 when a b-boy battle took over the floor leading to a short-but-intense set of quality rhymes from locals MC Cataclysm and MC Exactly.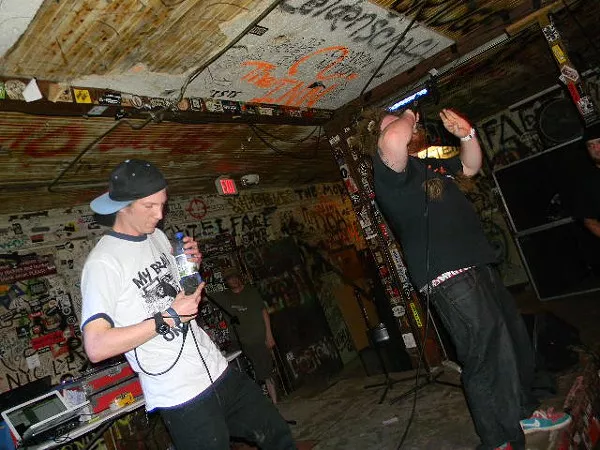 After an energetic start to the breakdancing competition, Cataclysm and Exactly tore it up with meticulous rhyme schemes atop dope beats produced by Justin Aswell and DJ Ray. The majority of Cataclysm's content displays a thorough knowledge of societal and political issues while paying respect to hip-hop by bringing the hype.
Cataclysm has been a character in the Q.C. hip-hop scene since his start with duo Quantum Foundry in 2008. He has developed a respect for the power of lyrics, highlighting various social issues while maintaining his goofy demeanor and ability to get down as he ferociously displays his skills.
With the help of MC Exactly, Cataclysm spit his most upbeat, battle-driven and catchy track, "Switch it Up." Meanwhile b-boys and girls danced, overwhelming the senses with their gymnastics and ability to spin like an out-of-control carousel. The vibe was right to experience the dance/live hip-hop hybrid.
After only a handful of songs, presented with intense delivery and energy circulating the room, Cataclysm and Exactly bowed down and let the breakdance battle continue. The duo proved that quality reigns over quantity, as most people were still feeding off the energy the two MCs brought to the room.
It was a great finish to a night that started off tumultuously thanks to promotional confusion. When the promoter of the event failed to list the venue as 18 and up, several people who traveled from S.C. to battle on the dancefloor had to be turned away. There's nothing more that a venue hates than turning away a music fan, but they have to by law.
The energetic aesthetics of the breakdancing talent and flavorful content of MC Cataclysm and MC Exactly managed to eliminate any negative vibes in the night.