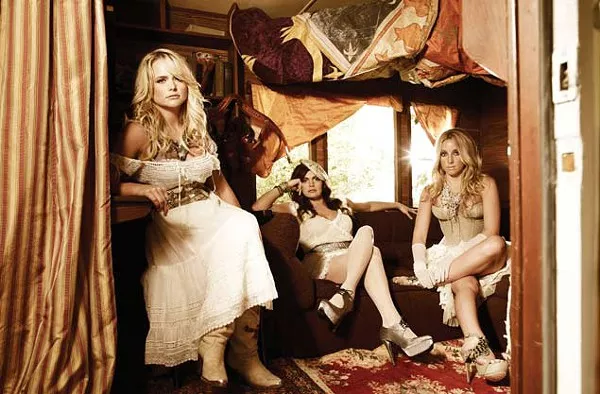 Our sister paper in Nashville,
The Nashville Scene
, has released its
12th Annual County Music Poll
. As the editors tallied the results, it became clear that 2011 was dominated by Miranda Lambert the solo artist vs. Miranda Lambert, member of the trio Pistol Annies.
The result was something of a split decision. Pistol Annies, Lambert's trio with Ashley Monroe and Angaleena Presley, won the Album of the Year voting with their debut effort, Hell on Heels, which established a comfortable lead over Lambert's No. 2 album, Four the Record. The title track from the Pistol Annies' album was voted the No. 2 single — edging Lambert's No. 3 "Baggage Claim" but falling short of Kenny Chesney and Grace Potter's No. 1 "You and Tequila." Pistol Annies were voted the Best Group or Duo and the Best New Artist, but Lambert was named the Best Female Vocalist, Best Songwriter and Artist of the Year.
Music journalist Geoffrey Himes' annual list has become country music's version of legendary rock crit Robert Christgau's influential Village Voice "Pazz and Jop" poll, which has run in some form since the early '70s and focuses on pop and rock.
The Scene's results include the top 30 albums, top 20 singles, top 10 reissues, top 10 male and female vocalists, top 10 live acts, top 10 songwriters, top 10 duos or groups, top 5 new artists and the 10 artists of the year. You can read more about their decisions here and find the results here.