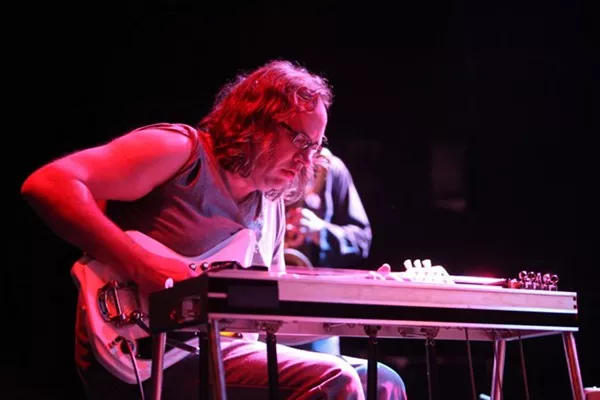 The Charlotte music community lost one of its finest participants on Friday with the sudden passing of Rodney Lanier. Lanier, who performed with the groups Sea of Cortez and Jolene (among others), had been battling cancer since a recent diagnosis. Word of his passing spread quickly last night through Facebook and the Charlotte music scene.
I've spent the greater part of the last 17 hours or so trying to put my thoughts into words, ever since I heard of his passing. I can't say I was a close friend of Lanier's, though I wish I could. He was one of those genuine people with a quick wit that was always fun to be around. The big bear, aka Oso Grande, had a gravitational pull — a friendly face that greeted you whenever you were at the Evening Muse or passed him on the NoDa streets. I'll always remember Rodney for the brief conversations we shared in front of the Evening Muse and the moments when he told light-hearted jokes just to get everyone smiling and laughing.
A benefit concert for Rodney was held at the Chop Shop in October — an event that raised thousands of dollars to help with his medical bills and one that was attended by hundreds of people. You could see Lanier taking in the scene that night, appreciative of all the love in the room and trying his best to give it right back through his music.
John Schacht, who wrote a preview of the event for Creative Loafing in October, has posted his thoughts about Lanier here.
I'm sure everyone who ever crossed his path has a story to share, and when it comes to Lanier, I don't know if there's a bad one to tell. Hopefully, the planned Dec. 17 benefit at the Muse will still go on this week, but as a tribute to the passing of a talented musician.
You'll be missed, Rodney. NoDa and the music scene has lost a truly special part of its soul.
UPDATE: Funeral arrangements have been made for Rodney, they are open for his friends and family. There will be a viewing tomorrow night, Sunday from 6 p.m. - 8 p.m. at Hayworth-Miller Funeral Home, KINDERTON CHAPEL 108 E. Kinderton Way, Advance N.C., 27006. The funeral services will be Monday at 3 p.m. at Bethlehem United Methodist Church 321 Redland Road in Advance, N.C. 27006. The family asks that donations be sent in lue of flowers to the Rodney Lanier Support Trust 4242 Folkston Dr. Charlotte, N.C. 28205.