Foo Fighters w/ Social Distortion and The Joy Formidable
Time Warner Cable Arena
Nov. 8, 2011
Kurt Cobain may have hated being a rock star and the fame that goes along with it, but his bandmate, Dave Grohl, absorbs every ounce of it he can. Grohl, the former Nirvana drummer, brought Foo Fighters to Charlotte on Nov. 8, and played the role of rock frontman to his best abilities for more than two-and-a-half hours.
Dressed in black pants and button-down shirt, his hair hanging in his face, Grohl unleashed the lyrics, "These are my famous last words!" from "Bridge Burning" as the band kicked of an energetic set packed with raucous screams and heavy-handed rock.
From there, the band rolled through hit after hit, mixing in a handful of tunes from its latest album, 2011's Wasting Light, along with a couple of cover songs. The general admission floor was generally mosh-pit- and crowd-surfer-free despite countless warning signs to the contrary. That's not to say it was lifeless as people sang along to every word of every song.
While 12 video screens with various graphics and photos rotated above the stage, Grohl was clearly the center of attention as he ran around the stage, punched the air repeatedly while playing guitar and addressed the crowd often. "We don't play little hour-and-15-minute shows... not even hour-and-45-minute shows... or little two-hour-and-15-minute shows. It's gonna be a long night!" he said between hit songs "My Hero" and "Learn to Fly."
Any time he stopped singing, the crowd sang without missing a beat. Along with call-and-response interaction during choruses, Grohl was comfortable with his conversation. Two-thirds of the packed arena put their hands up in response to this being their first Foo concert to which Grohl commented, "Where the fuck have you been for the last 16 years?" When he spotted a young boy in the audience, Grohl held his guitar up and told him, "Want to be a rock star? Fuck Guitar Hero, tell your parents to buy you one of these!" How the 42-year-old doesn't lose his voice via consistent screaming for hours each night is beyond me...
In addition to the expected hits performed — including "Monkey Wrench," "All My Life" and the first song they ever played together, "This is a Call" — the band tore through a crushing rendition of Pink Floyd's "In the Flesh" featuring drummer Taylor Hawkins on vocals.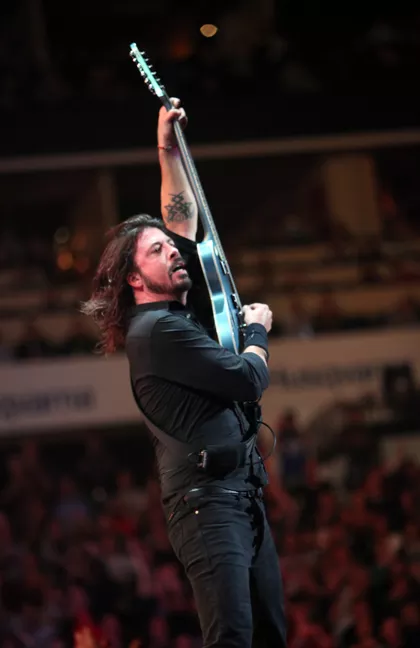 With so many songs in its repertoire, it's a bit disappointing that they play the same setlist each night — including the encore — but it's difficult to complain otherwise. It might be more discouraging if the band didn't bring a new energy to the songs, complete with extended beginnings or endings and different breaks — a guitar solo here, a drum solo there and a repeated chorus or two. A backstage video of Grohl and Hawkins trying to decide how many songs to play could have easily been pre-taped, but was entertaining either way.
To start off the six-song encore, Grohl ran down a ramp to a platform at the back of the arena to play a few acoustic songs. "What's up, shitty seats?!" he asked before playing "Wheels" and "Best of You," which got one of the biggest sing-alongs of the night. He started "Times Like These" on acoustic before the rest of the band joined in as Grohl made his way back to the main stage.
The band played a solid, charged-up cover of Tom Petty's "Breakdown" before ending the night with "Everlong." Earlier in the night, Grohl said after the band makes its next album, they'll be back to play a four-hour concert. Given the excitement in the arena, it's easy to assume most in attendance are looking forward to it.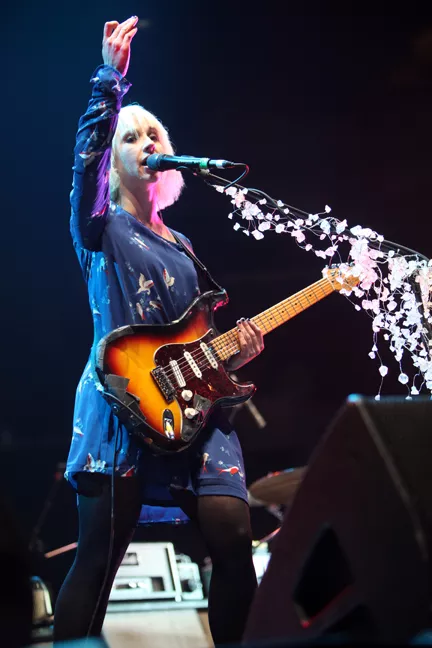 Openers The Joy Formidable played a solid 30-minute set of rock in front of a sparse arena, but didn't seem phased by it at all, enjoying the performance.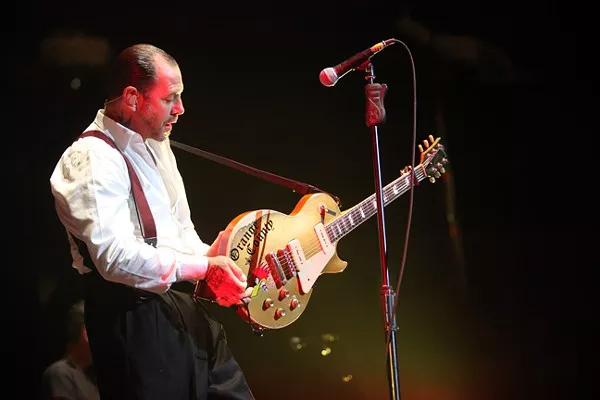 Social Distortion played for roughly 40 minutes, including "Bad Luck," "So Far Away," "Story of My Life" and wrapping up with a cover of Johnny Cash's "Ring of Fire."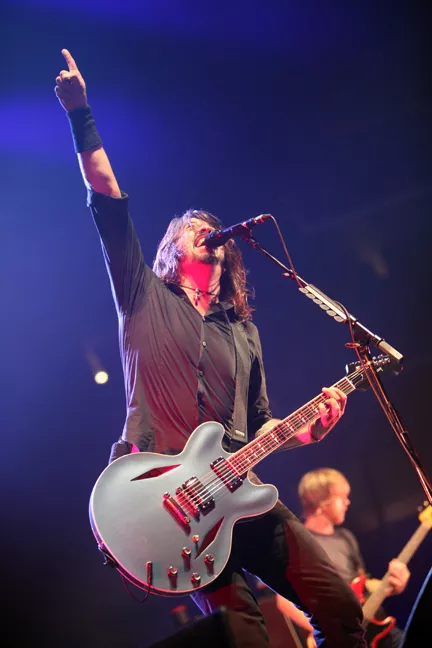 Foo Fighters setlist
Bridge Burning
Rope
Pretender
My Hero
Learn to Fly
White Limo
Arlandria
Breakout
Cold Day
Stacked Actors
Walk
Monkey Wrench
Let it Die
These Days
This is a Call
In the Flesh (Pink Floyd cover)
All My Life
Encore
Wheels
Best of You
Times Like These
Rosemary
Breakdown (Tom Petty cover)
Everlong