Aterciopelados
21st Latin American Festival, Symphony Park
Oct. 9, 2011
Photos by Jeff Hahne
A record-shattering crowd at Charlotte's 21st Latin American Festival thronged the edge of the pond fronting the bandshell as legendary rock en Español innovators Los Aterciopelados took the stage. The Grammy-winning, United Nations-honored and profoundly influential Colombian superstars must have known that many in the massive audience were there just for them. But you wouldn't have guessed it by the band's down-to-earth demeanor.
Charismatic vocalist and front woman Andrea Echeverri immediately set the earthy tone for the afternoon, using clothes pins to hang homemade peace banners at the front of the stage. Meanwhile, both guitarists, including Echeverri's longtime musical collaborator Héctor Buitrago, sat casually on inflatable yoga balls. But despite her everywoman, earth-mother appeal, Echeverri was far from laid back, unleashing intense and focused firepower as she attacked her acoustic guitar and launched into "Ataque de Risa" from the band's back to the basics triumph Rio. Effortlessly and immediately, she seemed to connect with each individual in the audience, with a poetic power reminiscent of Patti Smith.
On record, Aterciopelados are engaging and masterful. Live, they are a revelation. Sliding from a warm contralto to an astonishing upper register, Echeverri's vocals are even more intense in front of an audience, gaining a slightly rough, lived-in quality. Female percussionist Cata was a force of nature, laying into the conga, playing the box she was seated on and bashing the cymbals with her hands. I'm convinced this woman could play your kitchen floor and make it sound amazing.
This four-piece version of the band is far from a traditional rock combo, and arrangements throughout the performance were rootsy, embracing Colombian folk, Cumbia, pan flutes and native percussion.
Did I mention that this stuff rocks? The moody "Maligno" from Caribe Atomico got a hypnotic and psychedelic make over, where a spaghetti western showdown meets the smoky emotional intensity of Fado.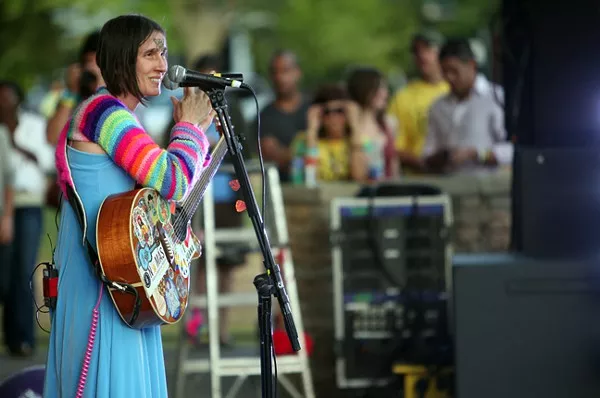 The title track from the group's 1997 breakout album
La Pipa de la Paz
summoned the fury of punk, including a blistering slide-guitar workout. But there was room for humor in the mix. Echeverri and Cata donned silly flower pot hats for the hit "Florecita" from the group's earlier
El Dorado
disc of 1995.
Indeed, Echeverri and the band never lost their personal touch. On the acoustic rockabilly stomp "Yo" from Echeverri's new solo album, Dos, she launched into a vocal breakdown, singing (in Spanish): "I don't want to be Lady Gaga. / Even though everyone drools over her. / I just want to be me."
True to her word, Echeverri seemed to do what felt right, crossing over the water at the foot of the band shell and mingling with the varied crowd that ranged from infant to elders. As the Indian summer afternoon shaded into dusk, Aterciopelados continued to weave its spell, embracing the audience in a shared celebration of music, living, and maybe a fine autumn day as well. More than a performance, it was a warm and inspiring experience. And we in the festival crowd were truly blessed to be a part of it.