Other Lives w/ Mates of State, Yawn
Visulite Theatre
Oct. 5, 2011
Spread out along the front of the stage — pushed there by the piles of equipment for the yet-to-perform headliner — Oklahoma quintet Other Lives drew the audience to the front of the room, if only so the small crowd could get a closer look at the conglomerate of instruments being played.
The band's music fuses the psychedelia of early Pink Floyd with Thom Yorke-esque vocals on a mellow-yet-intricate backdrop. They may have been sandwiched between the stale indie-pop of the appropriately named Yawn and the energetic indie-pop of headliner Mates of State, but Other Lives did enough to impress those in attendance at the Visulite Theatre on Oct. 5.
Other Lives presents its music in a format of atmospheric romps and textural journeys. There are some chords in there, but it's not the typical verse-chorus-verse structure. The percussion would sometimes drive the song forward thanks to the presence of a timpani — that is, when the notes aren't being teased by the cello or played with by acoustic guitar strums or keyboards.
On its sophomore album, Tamer Animals, the band's music can be sleepy and scattershot at times, where live the intricacy of what they're doing and the layering becomes more apparent. While one band member is playing trumpet and keyboards at the same time, another is sliding a bow across the guitar strings. There's so much music going on that the lyrics are almost an after thought to the casual observer. The band uses brief harmonies as an instrument instead of complementing a storyteller's voice.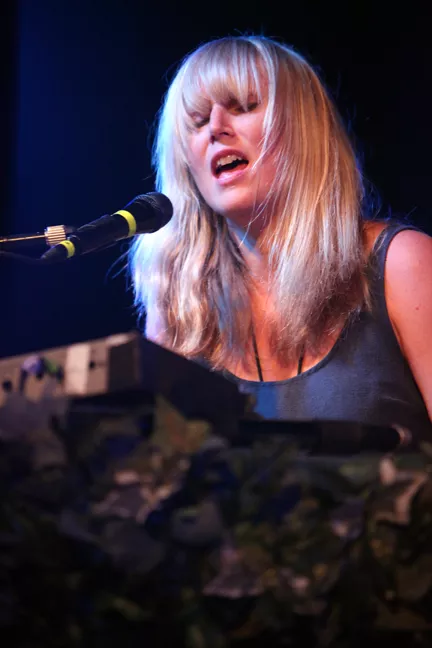 Mates of State wrapped up the night with a consistent performance of roughly 20 songs full of danceable rhythms that had much of the crowd moving, including one dancer who was asked to do his thing on stage for a few songs.
Mates of State setlist
Get Better
Maracas
Actor
Unless
Re-Arrange Us
Think
U R Free
Sway
Goods
Parachutes
Haha
Whiners
Like U Crazy
At Least
Now
True Love
Encore
Offer
Proofs
Palomino