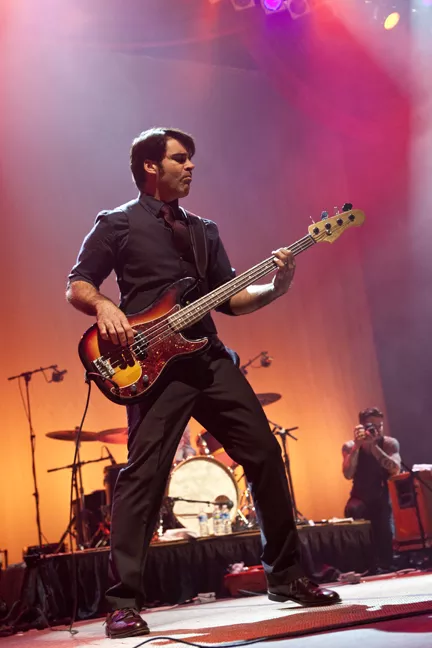 Avett Brothers bassist Bob Crawford posted on the band's Web site last week that he is taking a leave of absence from the band to focus on the health of his daughter, who was diagnosed with a brain tumor. Here's what he had to say:
One month ago today my wife found our 22 month old daughter, Hallie, in her crib having a seizure. Paramedics rushed her to the hospital where an MRI revealed a brain tumor approximately one quarter of the size of her brain.

Surgeons were able to remove 90% of the tumor and decided to stop there as her vital signs were unsteady. Following surgery she suffered a stroke. Her condition was critical for the next several days as her brain continued to swell. In an attempt to save her remaining good brain she was placed in a coma for five days.

Since being removed from the coma, Hallie has undergone a second brain surgery, has been waking up, and is doing her best to recover quickly so she get ready for the next phase of her fight against cancer.

The tumor is a Grade 3 Ependymoma. This is a very rare, but deadly brain tumor that effects roughly 100 children a year in the United States. We do not know what Hallie's next step is in her treatment. Her situation is very fluid and there are a number of complicating factors, but we do know that she is fighting hard every day.

My wife Melanie and I would like to thank everyone for their love, care, and support during the most difficult time in our lives. I would like to thank everyone for their understanding of the gravity of this situation and ask for respect to our privacy. When people ask us what they can do to help, we ask them to pray for Hallie's recovery. We feel that God has already worked miracles through Hallie and we pray they keep coming.

Someday I will return to the stage with my brothers. When that will be I can not say. We are truly living one day at a time.

Thank you again for your love and support for my family during this time.

I look forward to seeing you all again soon.

Bob Crawford
There's no word on who will replace Crawford for the band's upcoming tour dates at this time.