Fernandina
McHale's (Fort Mill, SC)
June 10, 2011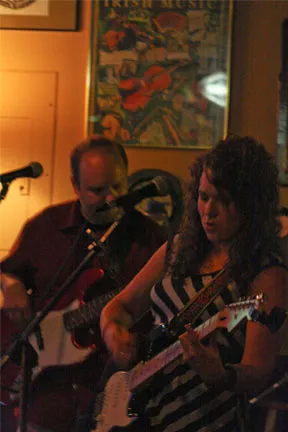 The Deal: Fernandina, a rock/alternative/country trio from the York County suburbs of Charlotte, brought some catchy indie rock with a rockabilly twist to a disappointingly small crowd at Fort Mill's McHale's. Surrounded by an ambiance from artifacts of an Irish-American person's den, musical multi-tasker Amy Coccia stepped up to the lead mic with a guitar and a harmonica. Following her were drummer Dan Viands and bassist Jason Poore. I knew Amy and Jason at least were high-quality musicians since I played with each of them in various high school band ensembles, so I was willing to take a chance on a not-my-cup-of-tea genre on the basis of well-written music's defiance of the boundaries of stylistic pigeon-holing. Several songs into their extra-long set, I patted myself on the back for taking that gamble.
The Good: Every song had a charm to it that made it unique from every other. Though I often find that going to see a band in an unfamiliar genre tends to make all the songs sound the same to me, Fernandina was an exception. I thoroughly appreciated the multitude of journeys through the genres in their music. Amy's vocals are clear and bright, showing excellent control of the scoops, slides and flips that display her full utilization of her vocal instrument. Her guitar work wasn't too shabby either. On some songs she reminded me of a female Tom Petty; on others she channeled more of the Dixie Chicks, but both the rocker chick and the country girl have a home in her chords. Bass master Jason Poore tore up the bass lines like a Victor Wooten, Jr., adding interest and intrigue beneath the soaring voices of Amy and her Stratocaster. Even though Jason certainly enjoyed grabbing the spotlight for a few bass solos and the like, he played fair and traded solo time with Amy. The two harmonize as well vocally as instrumentally, singing in tandem for most numbers, including a breathtaking duet accompanied by a lone guitar.
The Bad: Through the entire first set, I tried to find my typical points of conflict so I could find some way to keep my reputation of being a hard-nosed music critic. Um… the bass was too loud sometimes from where I was sitting and the venue was as dark as a tomb so it was impossible to photograph. That, and the full parking lot gave the lion's share of its occupants to the classic rock cover band playing tired tunes on McHale's back porch. I didn't go check them out, but I would bet Fernandina's covers of "Proud Mary" and "Walk Like An Egyptian" put their slapdash Skynyrd to shame. That's all I've got — they really were that good.
The Verdict: While the genre of this band is hard to classify without a lot of slash marks—the closest I could attempt would be "indie rockabilly"—the level of quality is readily apparent: fantastic. If toe-tapping tunes and superb singing aren't enough to get people out to a Fernandina show, it's worth the trip just to watch Jason play the bass like it was the lead guitar.