Deftones w/ Dillinger Escape Plan, Le Butcherettes
Time Warner Cable Uptown Amphitheatre
May 26, 2011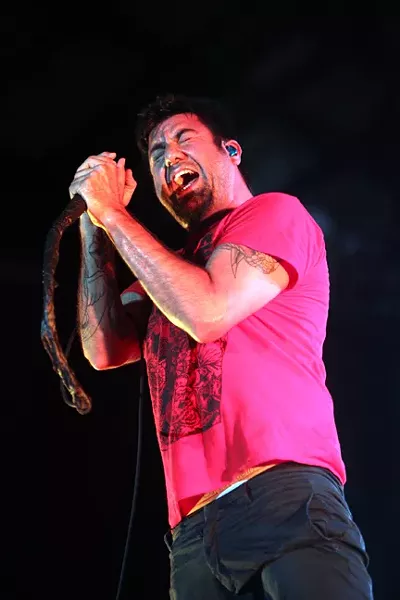 The Deal: Deftones hit Charlotte with two openers; show gets stopped early due to thunderstorms and tornado warning.
The Good: The evening got started with the trio Le Butcherettes. Leaning toward the goth side of rock, the band's music launched the theme of the night — poetic style of lyrics that has no defined chorus or riff for the audience to latch on to, instead looking at the songs as a whole. It took a few songs for singer Teri Gender Bender to warm up and make more use of the stage.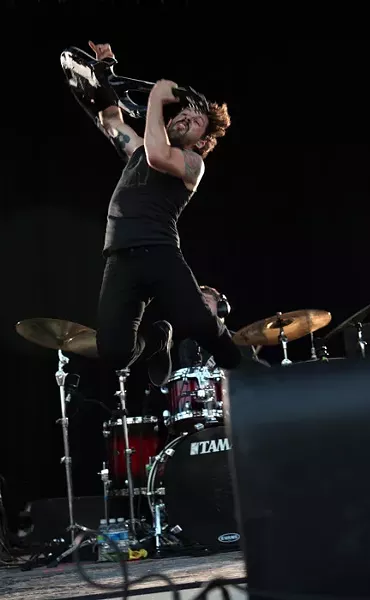 Dillinger Escape Plan was up next and made use of the entire stage, including a railing going down one side of the crowd. The band is known for its manic energy on stage and found ways to jump on and off just about everything they could get their feet on.
Deftones hit the stage shortly before 9 p.m. on their way to a 19-song set that had fans screaming along to every word. It's basically the same set they've been playing each night on this tour, starting with "Diamond Eyes," "Rocket Skates," "Birthmark" and "Engine No. 9."
Singer Chino Moreno could rarely stand still, running up and down a ramp in the front of the stage and making his way to both sides and the back of the stage as well. The band had a large backdrop behind them showing a variety of movies, from Japanese horror films to more abstract traffic scenes and space launches.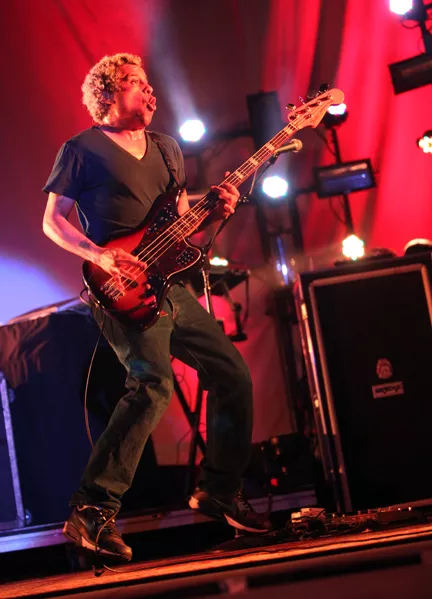 Deftones music is more the same style of poetic lyrics that don't follow a normal cadence and create more of an atmopsheric metal presence.
With storms rolling in, I rolled out early, but heard the set ended with "Passenger," featuring Dillinger Escape Plan singer Greg Puciato. I can't imagine the set ending much better than that.
The Bad: The weather rolling in and cutting the show short, though only cutting out a few songs including an encore is better than losing more than that, i.e. Jason Mraz's canceled concert.
The Verdict: A strong night of metal to kick off the Uptown Amphitheatre concert season.
Deftones setlist
Diamond Eyes
Rocket Skates
Birthmark
Engine No. 9
My Own Summer (Shove It)
Digital Bath
Knife Prty
Korea
Minerva
Hexagram
Bloody Cape
You've Seen The Butcher
Beauty School
Sextape
Feiticeira
Be Quiet and Drive (Far Away)
Elite
Change (In the House of Flies)
Passenger (with Greg Puciato)