Interpol w/ School of Seven Bells
The Fillmore Charlotte
May 3, 2011
The Deal: NYC's Interpol makes its Charlotte debut in front of half-full Fillmore.
The Good: The night opened with a set by School of Seven Bells. The trio's atmospheric brand of rock centers around the vocal work of Alejandra Deheza, at times just held notes as if she was a human keyboard adding to the sonic layers, and the guitar work of former Secret Machines member Benjamin Curtis.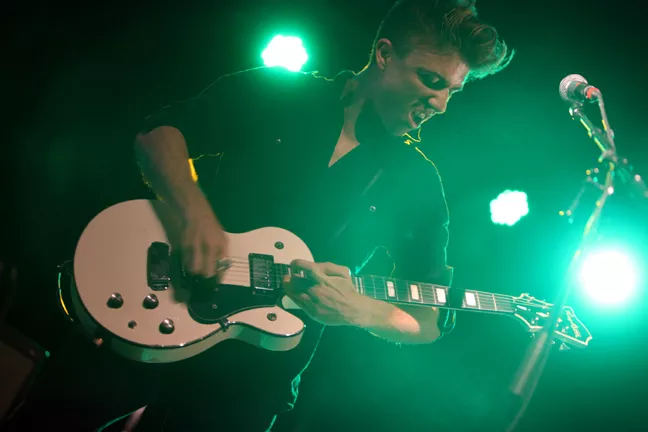 Curtis used an array of samples and effects creating a depth not ordinarily heard by a trio.
Interpol walked out onto a dark stage and launched into its 70-minute set (plus encore) starting with "Success." Driving bass lines, bristled guitars and simple-but-steady drumming was the theme of the night, providing a backdrop for the baritone vocals of singer Paul Banks. Though only two original members of the band remain, the band's setlist mixing old and new was steady throughout the night, offering a seamless flow between songs.
At times, Banks (and his semi-mullet) and the band reminded me of the tone of Bauhaus, though not nearly as gothic. The band's sonic delivery and style may be fluid and not too dynamic, I wouldn't call it boring. There's enough brought forth through the lyrics and delivery to keep a listener interested in its brand of no-frills mood rock. Keyboardist Brandon Curtis, also of Secret Machines, is the brother of SVIIB's Benjamin.
The setlist included "Evil," "Obstacle 1," "Heinrich Maneuver," "Lights" and "Summer Well," with an encore that included "Not Even Jail" and "Slow Hands." Though many shouts called for it, "Stella" hasn't been seen on the band's setlist during the current tour.
On an unrelated note, it was nice to see the beer special offering domestic pints for $5. Still expensive compared to other places in town, but much better than the usual $9-$12.
The Bad: In a kind of theme for the night, both bands suffered from a "this song sounds just like the last song" syndrome. Deheza's movements on stage were the same throughout the set — shake her head a bit, raise one hand toward her face, raise two hands, repeat. Meanwhile the guys in Interpol were relatively static as well and didn't talk much, aside from an occasional thank you. Not to say the performances were at all dialed in, but this was a no bullshit, no glitz concert where the sound clearly outweighed any visual aspect.
The Verdict: A disappointing crowd for the band's Charlotte debut, but a strong performance trumps it.
Interpol setlist
Success
Say Hello To Angels
Length of Love
Hands Away
Barricade
Rest My Chemistry
Evil
Lights
Specialist
Summer Well
Take You On a Cruise
Heinrich Maneuver
Memory Serves
Obstacle 1
Encore
NYC
The New
Slow Hands