Dum Dum Girls, Reading Rainbow, Dirty Beaches
The Milestone
March 9, 2011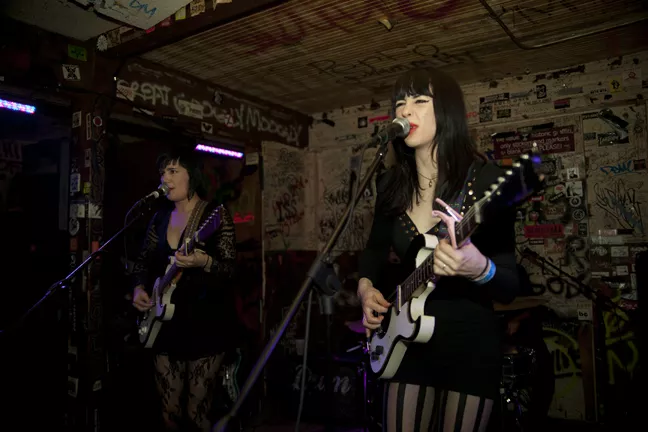 The Deal: Dum Dum Girls plays to nearly sold-out Milestone crowd on a rainy night.
The Good: The night got started with a set by Dirty Beaches. More on that later.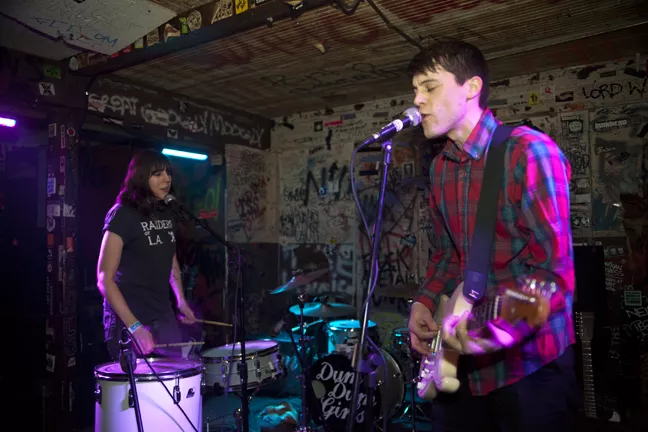 The second opener was Reading Rainbow. The Philadelphia-based husband and wife duo offers noise-pop with harmonized vocals and simple rhythms. Kinda reminded me of a simple garage band that could have used another bandmate or two to fill out the sound, but in some ways it worked in the stripped down version that was presented.
The night, however, belonged to Dum Dum Girls who tore through a 45-minute set, plus an encore that left all in attendance happy and satisfied. Lead singer Dee Dee has a solid rock vocal, as her bandmates often backed her up to layer the sound. The quartet was dressed in all black and though there wasn't much "action" on stage, they still exuded a solid stage presence that drew listeners in. Songs from the band's debut album I Will Be sounded more filled out with a full band — they were performed solo by Dee Dee on the album — and kicking off the set with a toned-down cover of "Play With Fire" by The Rolling Stones was a great introduction to any uninitiated fans.
No need for stage banter here. Dee Dee didn't really address the crowd and the bandmates didn't show much interaction, but it wasn't needed. They perform the songs, do it well and captivate the audience just the same. Hints of fuzz coated the guitars and reverb hit the lyrics but in just the right amounts. It was just enjoyable in every way — nothing that completely stood out, but nothing wrong with it either. Sometimes solid songwriting goes a real long way.
The Bad: Dirty Beaches opened the night and I wasn't quite sure what was going on at first. Alex Zhang Hungtai took to the stage playing a simple backing track, guitar strung around his neck and tiny microphone in his hand. The repetitive tracks were basic beats with hints of rockabilly as Hungtai offered reverb-soaked, off-key moans and simplistic lyrics. His guitar "playing"? Atrocious, but luckily it didn't happen very often. If you can't play guitar, don't. I watched him slide a single finger up and down the neck, pluck random notes and stomp around like he was Hendrix. If someone told me Hungtai never had one lesson, I wouldn't be surprised. Minimalism is one thing, talent is another. His cover of "The Singer" by Johnny Cash was hardly recognizable, and "No Fun" by The Stooges wasn't much fun either. He might have a better chance with a full band, but this was almost hard to watch. I felt like I was getting a glimpse at someone in their bedroom trying to be a rock star without any talent to back it up. I know some people will disagree as a few people picked up his albums after the set. Of course there was one annoying guy to my right that kept yelling out, "You're so fucking cool!" and I couldn't tell if he was kidding or serious. It just wasn't for me and, in some ways, it was 30 minutes of my life I'll never get back.
I'll say it every time I come back from a show at The Milestone. I love the vibe of the place — the people, the graffiti, the grime... but I'm tired of smelling like the bottom of an ashtray every time I leave. Seriously — Didn't they make a law about that?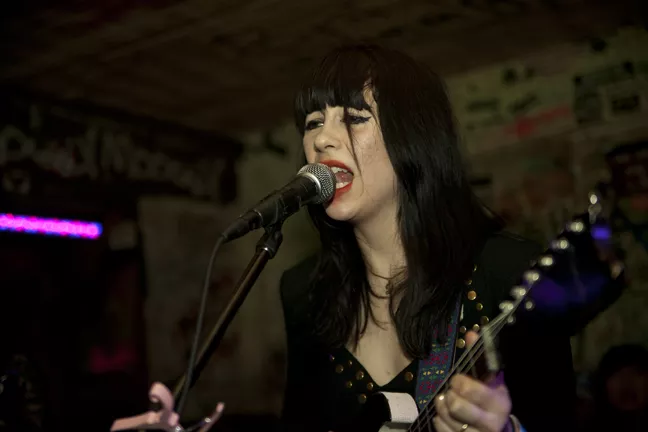 The Verdict: Dum Dum Girls were clearly the shining light on the night's musical landscape. The band's '90s style doesn't sound dated and you'd never guess singer Dee Dee has any kind of stage fright. There's nothing over the top — just straight forward punk-laced rock music.
Dum Dum Girls setlist
Play With Fire
Hey Sis
He Gets Me High
Catholicked
I Will Be
Bhang Bhang
Take Care
Jail La La
It Only Takes
Teardrops
Everybody's Out
Lavender Haze
Rest of Our Lives
Encore
There Is A Light That Never Goes Out