Buckcherry, Hellyeah, The Damned Things
The Fillmore Charlotte
Feb. 22, 2011
The Deal: Three strong metal bands hit The Fillmore for half-full house.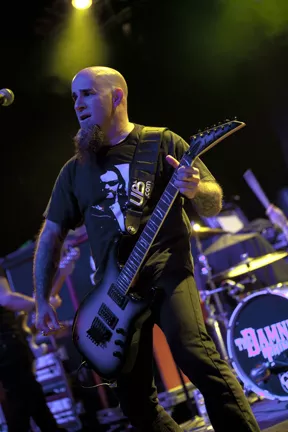 The Good: The night started out with a strong set by newly formed band The Damned Things. Made up of members of Anthrax, Fall Out Boy and Every Time I Die, the band cruised through a roughly 35 minute set full of triple-attacking guitars and pounding drums. Of course guitarist Scott Ian of Anthrax was immediately recognizable and charismatic on stage. The band wrapped up its set with its first single, "We've Got a Situation Here." Hopefully, they'll be together for a while, because there is plenty to like about this group.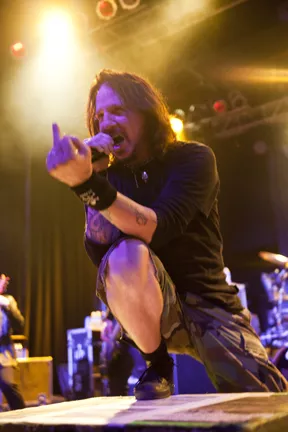 Hellyeah was up next. Another "supergroup" formed by members of Mudvayne, Pantera, Nothingface and Damageplan, the band pulls no punches and smacks listeners in the face with aggressive riffs and lyrics. Singer Chad Gray always appears as if he's struggling to contain his energy, and former Pantera drummer Vinnie Paul was all smiles behind the drum kit and more animated than in previous times I've seen him perform. The band played a handful of songs from each album during its 50-minute set. Gray also took a moment to recognize that there are "no egos" on stage and that everyone in the room was either family or a friend. In moments like that, you realize that there are certain people, when they say things from the heart, that do not sound cheesy and instead convey a certain honesty that is refreshing.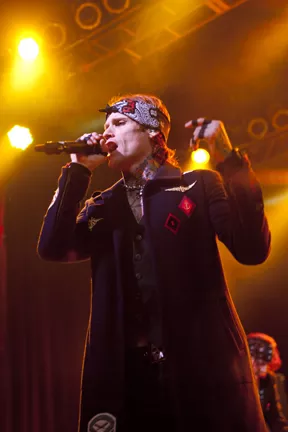 The headliner for the night was Buckcherry who played an hour and 15 minutes of songs from a variety of its albums. It wrapped up its main set with "Crazy Bitch," of course, but included a handful of other songs throughout the night that got the crowd singing along. Singer Josh Todd is one of the best rock frontmen around these days — getting the crowd energized, dancing around and having a good time.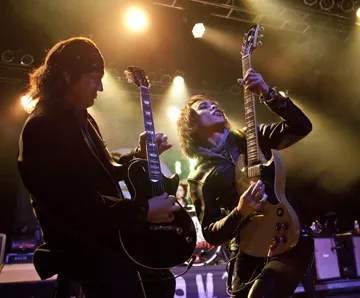 Some will undoubtedly call it "cock rock" or "frat rock," but here's the deal — the band isn't trying to reinvent the wheel and write epic musical tales that will get listeners to ponder their existence. The band is a guilty pleasure. It's about forgetting the pains of the day and having a good time just to have a good fuckin' time. Their songs are about drinking, doing drugs, having sex and enjoying life. Why? Because sometimes, that's really all you want — a brief escape to a catchy tune that can put a smile on your face and let you say, "that was fun." It's also impressive that a recovering addict, Todd, can continue to sing about drinking and drugs on a regular basis.
The Bad: Tickets and online sources listed the show as starting at 7 p.m. So, you can imagine my surprise when I showed up at the Fillmore at 6:55 p.m. and learned the first band had already played and The Damned Things were finishing up its third song. Then I heard that All That Remains had finished their leg of the tour. So, one less band but you start an hour earlier? I call "bullshit." NEVER start a show earlier than listed.
The Verdict: Buckcherry puts on an entertaining show, but after the "supergroups" that preceded them, it was a tough spot to be in. Regardless, all three groups would be great as headliners.
Hellyeah setlist
Cowboy
Matter
Stampede
Hell of a Time
Betterman
Goddamn
Wouldn't Know
Alcohaulin Ass
Hellyeah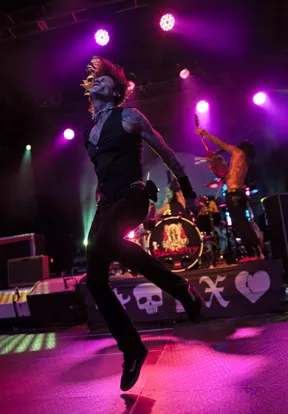 Buckcherry setlist
Dead
Rescue Me
All Night Long
Everything
I Want You
It's a Party
Next 2 You
Lit Up
Slamin
Lawless and Lu Lu
Onset
Sorry
Crazy Bitch
Encore
Out of Line
Whiskey