Slash, Brand New Sin, The Fabulous Miss Wendy
The Fillmore Charlotte
Feb. 17, 2011
The Deal: Former Guns N Roses guitarist hits Charlotte for final headlining show on current tour.
The Good: The night got started with L.A.-based The Fabulous Miss Wendy. Not one to pull punches, Wendy let the crowd know early that she was all business. The singer/guitarist offered a brief intro while facing her stacked amps and let loose a torrent of riffs, feedback and fretwork to show off her talent. Her 30-minute set later included an extended solo which included her whipping her hair around and biting the microphone stand and later, an instrumental version of Led Zeppelin's "Whole Lotta Love."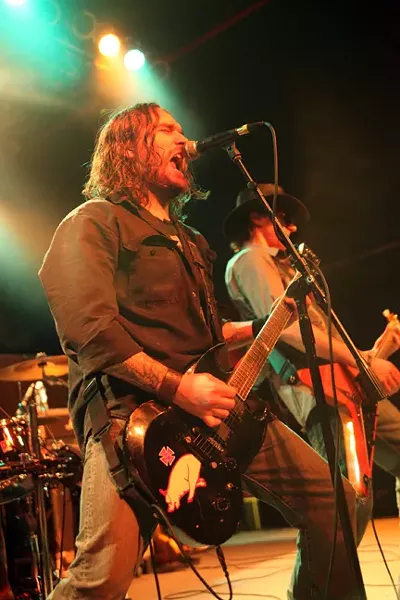 Next up was Brand New Sin. The band's brand of hard rock was a perfect fit for the night, yet not incredibly memorable.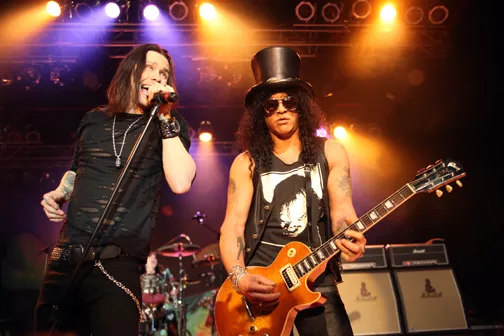 The majority of the 1,500 or so in attendance were clearly there to see Slash. The former Guns N Roses guitarist played in front of a triple-set of Marshall stacked amps and stole the spotlight from the openers and any of his bandmates, including singer Miles Kennedy. Kennedy, who is the singer for the band Alter Bridge, offered the perfect range for the Guns N Roses song and hit every range of note you could possibly ask for.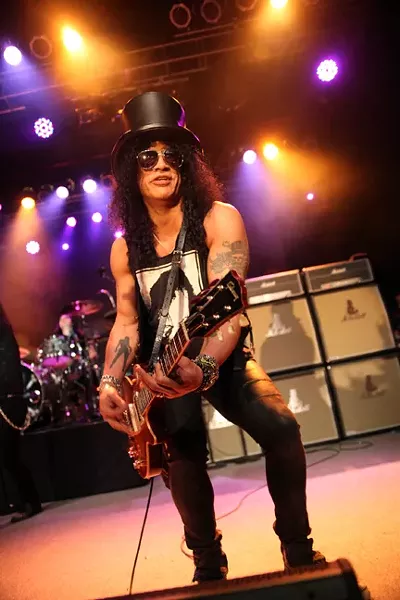 Hardcore fans sang along to every word of every song — whether it was from his solo album, from Slash's Snake Pit or any other band Slash has been a part of. He played a cover of Lenny Kravitz's "Always on the Run" (he was featured on the original), Velvet Revolver's "Slither" and, of course, plenty of GnR tunes.
With his signature top hot and sunglasses on, Slash spent a good part of the night simply leading the way on guitar and moving forward song after song. He did, however, find the expected moments of guitar-sterbation — the instrumental "Jizz Da Pit," an extended solo on "Always on the Run" and a healthy spotlight grabbing solo at the end of "Paradise City." He never appeared to be showboating, instead offering the vibe of "look how fuckin' easy I make this look."
While most people would expect "Sweet Child O' Mine," "Paradise City" and "Slither," it was nice that he pulled out some other GnR tunes such as "Civil War," "Mr. Brownstone" and "Rocket Queen."
Another unexpected twist was the appearance of Charlotte resident and Aerosmith guitarist Brad Whitford who joined Slash on a cover of the Aerosmith song "Walkin' The Dog."
Slash capped off his two hour performance with "By the Sword," "My Michelle" and "Paradise City." This was the final headlining show on a tour where he is currently opening for Ozzy Osbourne.
The Bad: The Fabulous Miss Wendy's stage banter needed a little work. From the "we came all the way from California just to play for you!" line that was a bit cheesy and telling the crowd that Brand New Sin was from Charlotte when they're actually from Syracuse, N.Y., were both bad ideas.
I saw a few people leave after the first three songs of Slash... more left about halfway through... a whole bunch left after "Sweet Child o' Mine." Let's face it, without Slash there, this would have been a cover band playing to a couple hundred people. "Always on the Run" was great on guitar, but Kennedy lacked the soul to pull of Kravitz's tune.
The Verdict: For guitar enthusiasts, it was a hell of a display — from the opening intro of The Fabulous Miss Wendy to the final shredding moments of "Paradise City." Slash put on a clinic on how to be a laid back, strong-handed guitarist that can take the spotlight from just about any singer. No matter how you look at it though, it wasn't Guns 'N' Roses. (Note to Axl: Put the ego away and get the boys back together!)
Slash setlist
Ghost
Mean Bone
Night Train
Been There Lately
Rocket Queen
Civil War
Nothing to Say
Back From Cali
Starlight
Always on the Run
We're All Gonna Die
Walkin' the Dog (with Brad Whitford)
Jizz Da Pit
Just Like Anything
Mr. Brownstone
Sweet Child o' Mine
Rise Today
Slither
Encore
By the Sword
My Michelle
Paradise City