Making a left into a dimly-lit industrial area just past Tremont Music Hall late on a Friday night, you'd probably expect to stumble upon a B&E, much less a recording session.
Checking the address twice, I parked outside Charles Holloman Productions and after getting buzzed into the building, I'm instantly blown away by the inside. It's pretty lush, no way you could tell from the outside. Walking past two women doing vocal warm-ups in the hallway, one of them points me towards the studio, "Jeff's in there."
Charlotte native and indie hip-hop performer, Jeff Lucky, is back in town from L.A., where he moved a few years ago, to wrap up production on his next album, Soul Motivation, due out later this year on SummerSoul Records.
Opening the studio door, there's about a dozen people on the other side, not saying a word, all nodding approvingly to the alto sax player currently in the booth improvising over the instrumental that's blaring through the speakers. Other session musicians fiddle around with their instruments and are packing up — guess I missed that part.
The sax player is done, or so he thinks. He comes out the booth to PGA Tour-esque applause shaking his head saying, "I love that booth."
I'd slipped in pretty much under the radar with everyone focused on the music. Explaining to the few that inquire, "I'm with CL," all just nod and move on. Lucky turns around and daps me up again with a strange look on his face saying, "What's your name again? You look familiar." We had never met.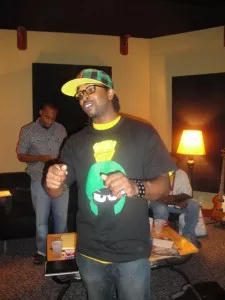 Lucky, who made a name for himself years ago as part of the Charlotte hip-hop duo, DPS (Dirty Pretty Shit), goes back to tweaking the session musicians. Sipping on Bacardi Select, he explains what he's looking for. He's winding down. Determining where ad libs will go with the audio engineer on hand and trying to figure out how much time he has left. There's only two hours left in this recording session and it's supposed to be his last one. That doesn't stop him from posing for pictures with a professional photographer randomly wandering around the studio like a club on Friday night.
As they get the booth ready for the next person in, the engineer on hand flexes his music geek muscle breaking into a discussion about the equipment they're using it's relation to the former East and West Germany. Chicks on the couch dish about nail salons and iPhones with empty cups and Rolling Stone magazines all over the table, until the saxophonist is ready to record again.
Over a smooth instrumental, the sax player is looking like the breakout star of the session. He's been getting everything in one take and this track is no different. Lucky turns around to say,"that dude sounds wonderful!" and everybody agrees. Lucky continues to gush about how lovely the dude sounds.
With that portion wrapped up. Lucky, wearing a Marvin the Martian shirt, explains he loves how Marvin has an ice grill without even having a face, as the booth is setup again. Another round of applause starts up for the backing band and vocalists who've wrapped for the evening. The clock is ticking but Lucky still poses for pictures with his session musicians and works out details for them to work together again in the future.
The engineer breaks things up to mention there's missing audio files from the session, Lucky doesn't seem to sweat it. His positivity is setting the tone for the whole session and everybody seems to be vibing with it, including a backing vocalist who's apologetic for being under the weather.
As Lucky gets in the booth to record some ad libs, the band breaks out, except for the sax player. Side conversations about times we've been robbed. (My car had been broken into the night before) and stories of dumb shit we did in college are shared.
Lucky takes no time to do his part, then plays some unfinished cuts from the album for everybody in the room. It sounds good — great even. You never know what to expect from Charlotte music sometimes but thankfully, it doesn't sound remotely local. Even if the production was jumping out more than the lyrics. Between Coke and green tea chased alcohol, he shares the back story on all the songs he's playing for us. It makes sense but I have to jump in when he gets to one track in particular saying, "that can't be the single."
"Oh no!" says Lucky with laughs all around. That one was way too deep to be radio-friendly. Everything seems to be done, but with time left and recording time already bought, they try and figure out how to burn it. Didn't take long before the saxophonist is back in the booth to have him "sprinkle" on a couple more tracks as the producer put it. He still sounds good.
Everybody's packing up, content with the fact they'll need another recording session, another day to finish up and trying to figure out their next move for the night, harping on what's on the radio now (everyone has an opinion of Gucci Mane and Waka Flocka Flame) and once we're in the parking lot, Lucky finally remembers where he knows me from.
It's a story I interviewed him for in 2007, Searching for an identity: Discovering hip-hop in  mid-major metropolis. I was an intern at CL at the time and that was my first feature ever for them. Even I'd forgotten about it. I take this opportunity to try and work in some questions I'd scribbled down in my notepad into the conversation.
"What part of town you from?" I ask sort of off-topic. He says, "Greenville." That's the neighborhood surrounding the N.C. Music Factory and the one I grew up in. We go back and forth trying to narrow down specifics and discrediting the other actually living in the neighborhood before I pull out my driver's license to confirm my back story.
Luckily, his label rep, Janalyn, and I all grew up on the same street, just a few houses down from one another and had never met, never went to the same schools, anything. It was the weirdest thing.