Lollapalooza 2010
Grant Park, Chicago
Aug. 7, 2010
Day two of Lollapalooza got started, for me, around 1:45 p.m. with a set by Blues Traveler. The blues-rock jam band kicked off its set with "Runaround" before going into a cover of Sublime's "What I Got," both of which quickly won over the crowd.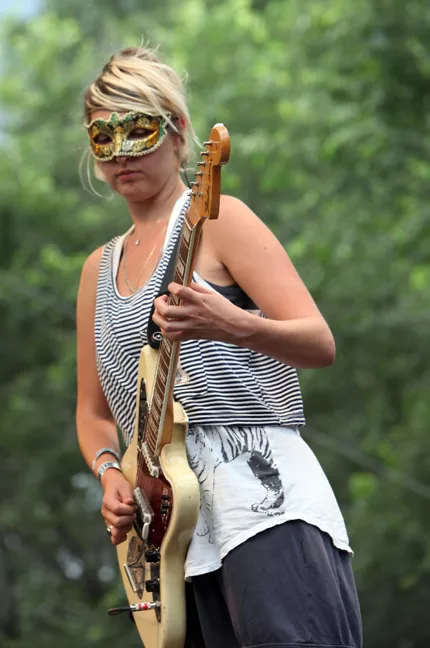 From there, I made my way over to see Warpaint on the Sony Bloggie Stage. The quartet of women offered some atmospheric rock that worked well in the shady confines around the stage.
Back across Grant Park to the Adidas Mega stage to see Against Me! Wearing all black, the band was hardly deterred by the mid-day heat as singer Tom Gabel was full of smiles and the crowd was loving every note.
After a quick bite to eat, it was off to Perry's Stage to see Perry Farrell join Chris Cox on the turntables. Farrell kicked off the set by singing "Stop" to a remixed version of the Jane's Addiction song. The hour-long set ended with a song performed, and possibly lip synched, by his wife, Etty.
Next up on the Adidas Mega stage was AFI, who clearly had a large contingent of fans up front screaming every word to their songs.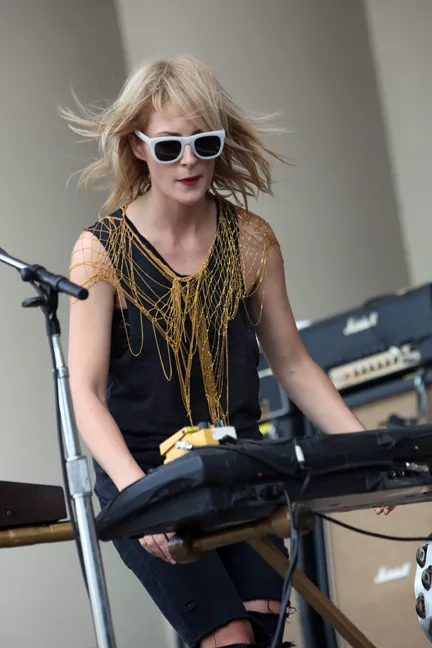 Metric was on the other side of the grounds on the Playstation Stage.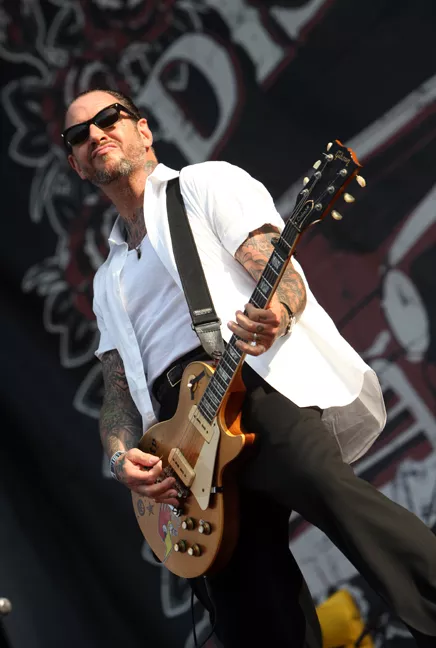 Social Distortion brought their rough rock to the Parkways Stage and ran through song after song getting the crowd greased up and ready for the day's headliner.
Once again, I had to wait in line to get a spot to try and photograph Green Day and missed some other acts I hoped to see, including Edward Sharpe and the Magnetic Zeros. However, I wound up being one of 40 photographers who shot pics of the headliner.
Green Day hit the stage with a furious energy and never let back for the duration of their two-and-a-half hour set.
The band ran through hit after hit, often seeking crowd participation and inviting people on stage. The first guest was a man with a French flag who then proceeded, at the urging of singer Billie Joe Armstrong, to do a stage dive to the photo pit about 10 feet below — which he did successfully.
Armstrong even found time to visit the hearing-impaired sign language provider with a brief over the head solo.
Later, Armstrong invited a guy up to sing its hit, "Longview." The guy was all over the stage, knew every word and you'd have to assume he was at least the singer for a band somewhere to have such stage presence. Armstrong was so impressed, he gave him his guitar.
Armstrong continually asked the crowd to "get crazy" and hinted that they would play past the 10 p.m. curfew, which they did. The band, amidst an array of fireworks, finished its set with a four-song encore that included "Jesus of Suburbia" and ended with "Time of Your Life."
Green Day Setlist
1. Song Of The Century Play Video
2. 21st Century Breakdown Play Video
3. Know Your Enemy Play Video
4. East Jesus Nowhere Play Video
5. Holiday Play Video
6. Letterbomb Play Video
Give Me Novacaine Play Video
Are We The Waiting
St. Jimmy
Boulevard Of Broken Dreamso
Nice Guys Finish Last
Paper Lanterns
2000 Light Years Away
Hitchin' A Ride
When I Come Around
Iron Man/Ain't Talkin' Bout Love/Sweet Child O' Mine/Highway To Hell
Brain Stew
Jaded
Longview
Basket Case
She
King For A Day
Shout/Chicago, Chicago/(I Can't Get No) Satisfaction/Hey Jude
21 Guns
Minority
Encore
American Idiot
Jesus Of Suburbia
Encore 2
She's A Rebel
Wake Me Up When September Ends
Good Riddance (Time Of Your Life)