Paul McCartney
Time Warner Cable Arena
July 28, 2010
The Deal: Legendary musician hits Charlotte for two-hour-and-45-minute show full of hits, classics and solo tunes.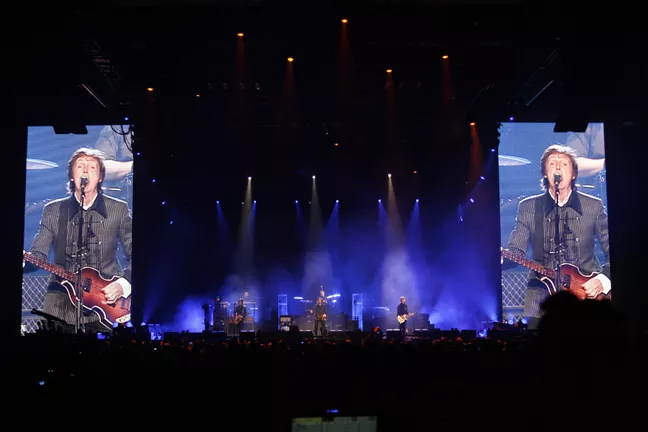 The Good: Flanked by two massive vertical screens, Paul McCartney hit the stage around 8:20 p.m. and performed non-stop through nearly 35 songs of material covering The Beatles, Wings and his solo career — even one song, "Highway," done by The Fireman.
Clearly enjoying himself and having a great time in every way, McCartney was often seen raising his hands or instruments to the crowd at the end of songs, sometimes even giving a shake or shimmy as he danced the night away.
His energy was infectious as the crowd was on its feet and singing along for most of the night. Cameras flashed, signs were waved as his setlist incorporated few changes from what he's been playing on all stops this tour.
After opening with a trio of Wings songs — "Venus & Mars," "Rockshow" and "Jet" — McCartney launched into the upbeat Beatles classic "All My Loving."
Aside from the dancing and waving, McCartney also found time to share a few brief stories between songs, including one about seeing Jimi Hendrix perform, and also segued into a bit of "Foxey Lady" after "Let Me Roll It."
He showed off a ukulele given to him by George Harrison before performing "Something." He also found time for a quick chat with a woman holding a license plate spelled "MCCARTNY" — "It's spelled wrong, but I like it. It's easier for the kids to understand."
The multi-instrumentalist spent the night switching between his bass, electric guitars, the previously mentioned ukulele, a mandolin, grand piano and upright piano. One of the highlights of the evening were two solo acoustic performances he gave — "Blackbird" and "Yesterday."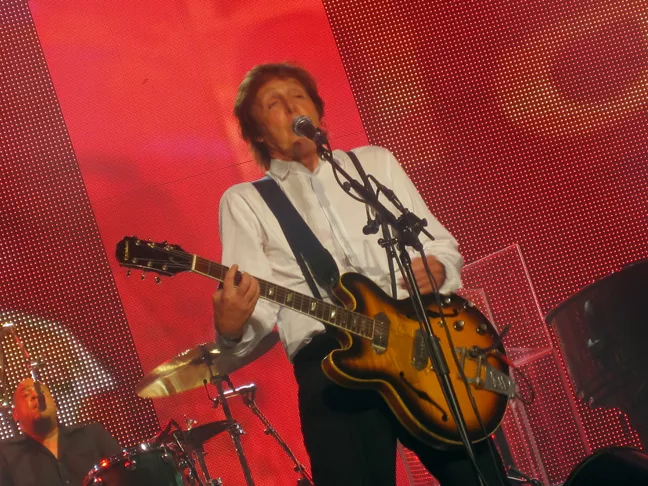 McCartney's first performance of "Ob-La-Di, Ob-La-Da" in North Carolina — a song the Beatles never performed while on tour in the states — had the whole place dancing. He later performed "Paperback Writer" with the original guitar used to record the song in the 1960s.
His set wrapped up with a number of hits, concluding with "Let It Be," a fireworks frenzy during "Live and Let Die" and, of course, "Hey Jude."
He returned for the encores waving a North Carolina flag. His second encore, which started with "Yesterday" was followed by the rowdy "Helter Skelter" and "Sgt. Pepper's" leading into "The End." As the band walked off, and McCartney thanked the crowd, confetti cannons sprayed out red, white and blue paper all over the audience — the end of a perfect celebration of music.
The Bad: What can anyone possibly complain about — he's a freakin' Beatle!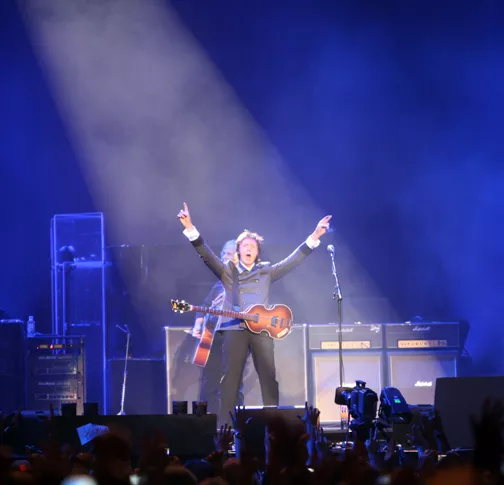 The Verdict: You're familiar with the songs, but to see first-hand them being performed by the person who wrote them was an amazing experience. Sure, with the immense catalog under his belt, everyone had songs they would have liked to hear, but it's hard to argue with a setlist of nearly 40 songs.
Setlist
Venus & Mars/Rockshow
Jet
All My Loving
Letting Go
Drive My Car
Highway
Let Me Roll It> Foxey Lady
Long and Winding Road
1985
Let 'Em In
My Love
I've Just Seen A Face
And I Love Her
Blackbird
Here Today
Dance Tonight
Mrs. Vandebilt
Eleanor Rigby
Ram On
Something
Sing the Changes
Band on the Run
Ob-La-Di, Ob-La-Da
Back in the USSR
I've Got a Feeling
Paperback Writer
A Day in the Life>Give Peace a Chance
Let It Be
Live and Let Die
Hey Jude
Encore 1
Day Tripper
Lady Madonna
Get Back
Encore 2
Yesterday
Helter Skelter
Sgt. Pepper's Lonely Hearts Club Band (Reprise)
The End